It's the day before Thanksgiving, and you think everything is set for the big day.
But something might be missing. A homemade tortilla, red chile for those mashed potatoes, an apricot pie — that finishing touch, from New Mexico with love.
Thankfully, three Northern New Mexico chefs and a local cook have opened their kitchens and their hearts to share some easy-to-prepare family recipes — and the warm memories that come with them.
For Olga Garcia, head chef and owner of El Paragua Restaurant in Española, there is an essential ingredient at every Thanksgiving.
"Traditional Thanksgiving meals always, always, always include red chile on our mashed potatoes, green chile carne as a side dish or green chile in our stuffing," Garcia said.
Garcia, who worked alongside her grandmother and her mother in the kitchen since she was 14, recalls the delicious scent of the red chile simmering in the pot on the stove and how it made her feel the love of her grandmother and mother. Growing up as the oldest in a family with nine brothers and sisters, Garcia's mother, Frances Torres Atencio, relied on Garcia to cook with her in the family restaurant. "Knowing that my mother trusted me enough with the very important duty of holding all of the recipes and cooking for the family made me feel very special," Garcia said.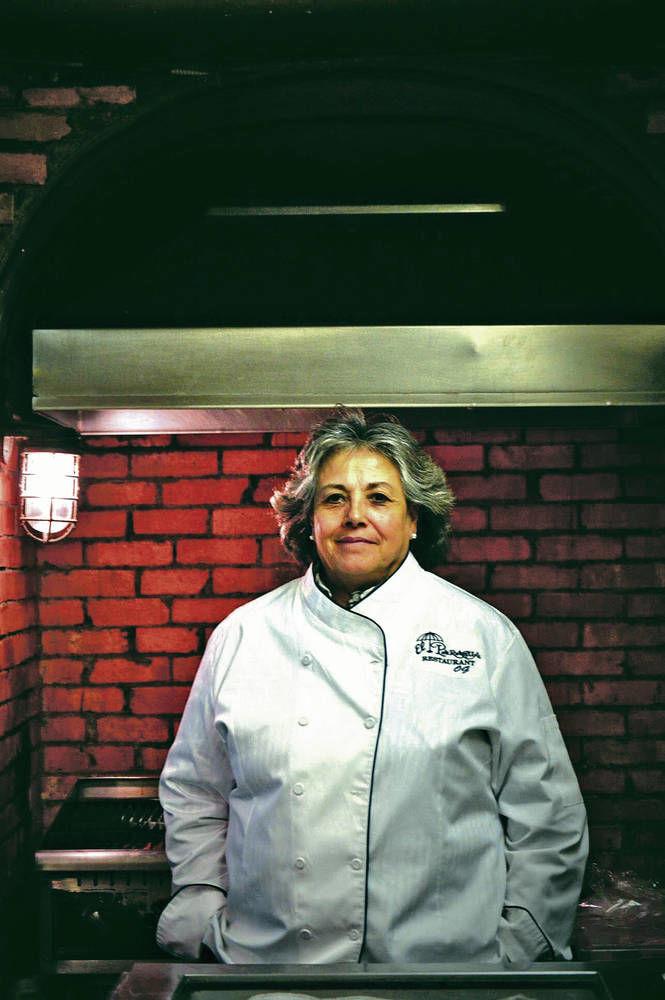 Her mother died 12 years ago, and Garcia cherishes those memories and is filled with gratitude for the gift of cooking that her mother and grandmother gave to her on Thanksgiving and every day.
Olga Garcia's easy Traditional Stuffing with Green Chile
1 16-ounce box herb seasoned stuffing
2 cups diced yellow onions
2 cups diced celery stalks
½ cup sliced black olives
1 cup fresh cut green chile, roasted, peeled, seeded and dried
Preparation: In a large skillet, melt butter, then add celery, onions and mushrooms. Sauté until vegetables are soft. Next, in a large bowl, combine stuffing, sautéed vegetables, olives and green chile and stir together. Pour chicken broth over the mixture until well moistened and season to taste with salt and pepper. You may stuff the turkey or, if you prefer, it may be cooked in a greased casserole dish covered at 350 degrees for 35 to 45 minutes. Finally, remove cover and cook for another 15 minutes.
One of Josie Gallegos' fondest memories was learning to make her first apple pie with her dad.
"My dad was known for his butterscotch cream pie," said Gallegos, the chef and owner of Josie's Casa De Comida catering company. "He taught me to use the freshest ingredients and I still do to this day."
For Gallegos, Thanksgiving pie is an "absolute tradition," and her catering menu features French apple, Dutch apple, pear, apricot, pumpkin pie and more.
"Cooking is in my blood," Gallegos said. "My mom, Lucita Duran, was a caterer and my dad, Joe Duran, was a chef and our Thanksgiving table always had a turkey, ham, sweet potatoes, calabacitas, red chile gravy for our mashed potatoes, red chile enchiladas and lots of pies, and it still does."
Though it's a little late to order one of Gallegos' popular pies (there's always Christmas), she shared recipes for some of her most popular — including apple pie.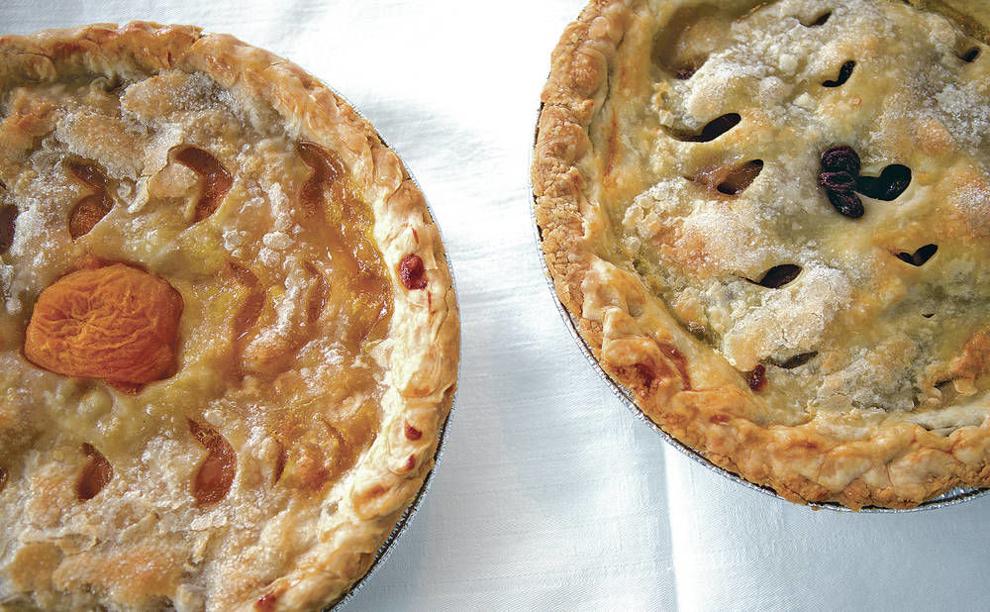 Josie's Apricot Pie Recipe
5 cups of apricots (Josie freezes her apricots peeled from summer) or 5 cups nonsweetened fresh frozen apricots
Preparation: Preheat oven to 375 degrees (do not put pie in until the oven is at 375 degrees). Place frozen, peeled apricots in water 2 inches above apricots in pot on stove. Turn on high to boil. Next, mix 3 tablespoons cold water with starch and add to apricots. After water comes to a boil for 5 minutes, take apricots out of water and add the sugar, cinnamon and clove.
Next make the piecrust. Put the flour in bowl with warm water and mix, then add Crisco. Knead the dough and roll out two layers for the top and bottom. Place into pie pan. Add filling, then cover with top layer and pinch together the edges around the pie. Cut slits into the top for venting and place in oven.
4 medium sized Granny Smith apples or 3 cups sliced apples
Pinch of cinnamon to taste
Preparation: Slice apples and put filling in a bowl. Next, mix ingredients gently. Put pie crust ingredients on flat surface. Knead together, then roll the dough out into two pieces and put in pie shell. Add top layer and pinch together the edges around the pie. Cut slits into the top for venting. Bake at 375 degrees. Bake for 1½ hours but check at 1 hour and keep an eye on it until the crust turns a golden brown.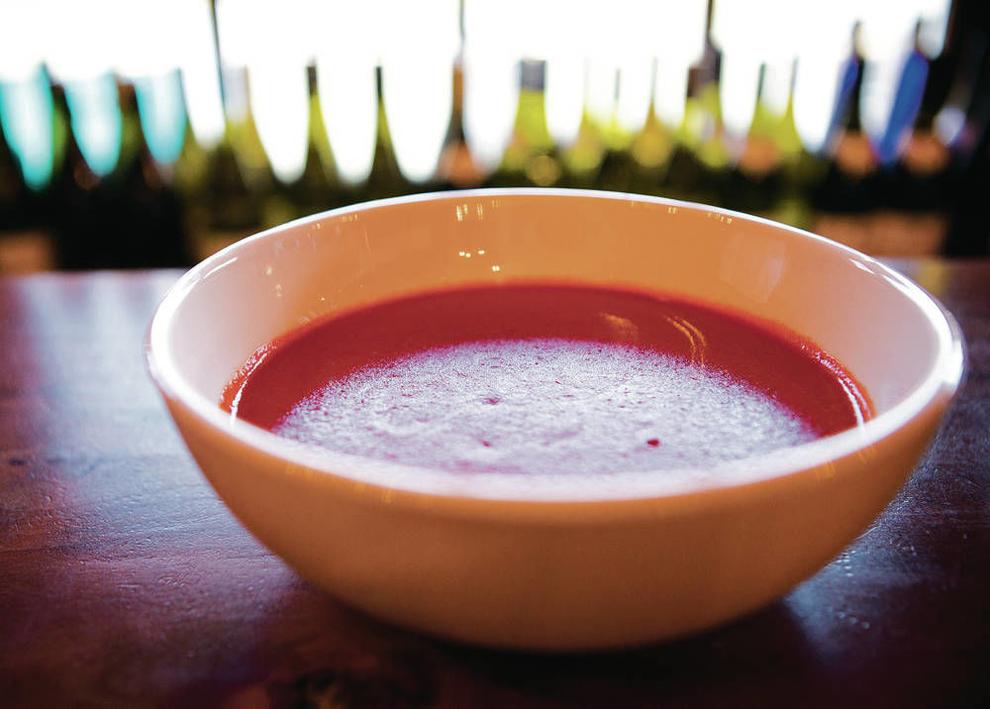 Estevan Garcia always feels a sense of gratitude around Thanksgiving, especially to his tia (aunt), Josephita and his mom, Andrea, for including him in the all-important job of helping in the kitchen, especially on Thanksgiving.
"I would work all day in the kitchen with my mom and my tia making turkey, homemade tortillas, delicious and fragrant Chimayó red chile, chicos [dried corn] and all kinds of pies made from the freshest ingredients," said Garcia, the executive chef and owner of Estevan Restaurante.
Spending this valuable time in the kitchen gave Garcia the roots for his passion for cooking as well as a strong sense of identity. "I felt more secure with myself knowing how much I loved cooking, and this security and foundation is what enabled me to open my own restaurant."
Garcia will be in the kitchen again on Thanksgiving, this time at his restaurant, and he's still cooking with family. "I don't have kids, so my staff is my family now. After we close on Thanksgiving, we will all sit down for a festive meal together and I will let them know how grateful I am to have them in my life."
Estevan Restaurante will be open from 1 to 6 p.m. on Thanksgiving.
Estevan's Chimayó Red Chile Sauce
2 garlic heads, coarsely chopped
Preparation: First, clean and seed dry chile pods, Place chile pods in a pot with warm water and cook for 40 minutes. Place pods with hot water and broth in blender and blend until mixture thickens. Next, add garlic and salt and continue to blend until it becomes creamy. Then, put chile mixture in a sieve and press mixture into a container. Throw dry chile pods out. The chile left in the container, cook for 45 minutes on the stovetop on low.
Santa Fe native Andrea Vigil remembers the buzz and scents of preparing the house for Thanksgiving.
"Thanksgiving was always one of the most special holidays because it is about gratitude, family and delicious food," Vigil said.
"Growing up with 11 brothers and sisters, we were all given our chores to get the house ready for Thanksgiving," she continued. "I felt so blessed to have the job of spending time in the kitchen with my great grandmother, Andrea, and my mother, Rosie."
Vigil remembers how her late mother and great grandmother were always very patient with her. She continues that tradition while sharing the family recipes, which she now cooks with her granddaughter, Charlie Jo.
Vigil has even showed the pros a few things. Years ago, Vigil was eating at a local restaurant where French chef Ludo Lefebvre was filming his show, Ludo Bites America. Lefebvre's look on his face while eating a bowl of green chile made Vigil laugh. He noticed and asked, "Do you eat like this all the time?" She explained her history of cooking with her mother and grandmother, and he asked if she would share her family recipe for homemade tortillas. With that, Vigil invited him — and his show — to her house to share her great grandmother's famous tortilla recipe, something she makes every Thanksgiving.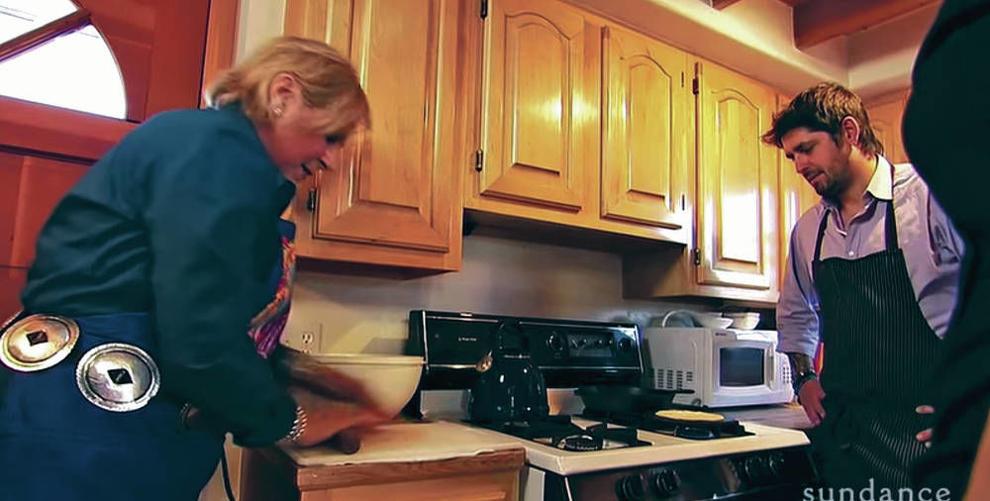 Andrea Vigil's Tortilla Recipe
Small cup of bacon drippings to thicken.
Preparation: Mix together with hands then put bacon drippings in. Don't make it too sticky
or too hard. Pat it together until round shape of tortilla. Then, put on hot comal (smooth, flat griddle) until desired texture is seen.