Of course, it started with a skillet.
Las Vegas, N.M., native Isaac Sandoval made the 300-pound cast iron pan with friends during his art school days at Fort Hays State University in Kansas.
"My buddy was like, 'You should make the world's largest skillet,' " Sandoval remembers. "… I think he was probably being sarcastic, but I was like, 'Yeah, that's a great idea.' "
Sandoval and his now-wife, Shawna Sandoval, started cooking for people on the massive pan, drawing on their younger days when both had worked in restaurants. Their first meal, a simple green chile quesadilla, fed hundreds at the cast iron art festival where Isaac had forged the skillet with a diameter of more than 3 feet.
"Taking green chile to the Midwest, people were just thrilled," Shawna Sandoval said. "The reaction was just amazing, and I think it just kind of clicked with us: This is something we both have a background in. We both got really excited about the idea, and it just went from there."
Nearly seven years after that first quesadilla, the humongous metal pan hangs from the stone facade of the historic Taichert Wool Warehouse building in Las Vegas — home of The Skillet restaurant and bar.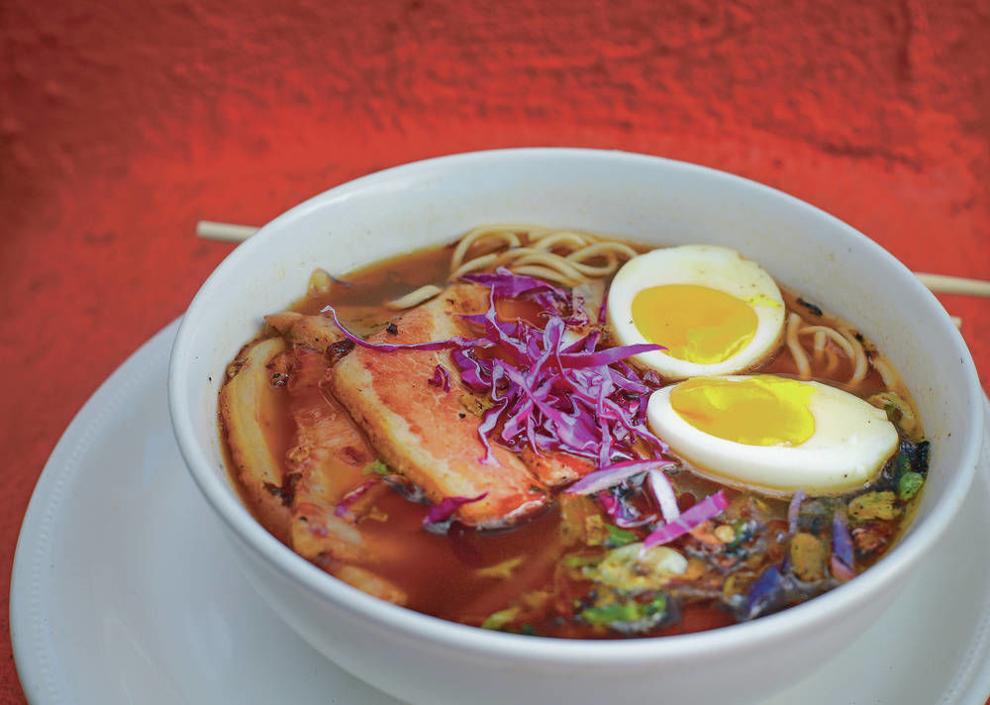 The restaurant, which opened in late 2017, is the brick-and-mortar evolution of a seasonal food truck the Sandovals opened in Isaac's hometown in 2014.
To step inside The Skillet is to realize the space is more than an eatery: It's an immersive display of the Sandovals' artwork. It's a foodie haven, playing with fun twists on the classics. And, if you couldn't tell from the photos of Jay and Bey (Jay-Z and Beyoncé) that serve as gender signs on the bathroom doors, The Skillet is a very hip place to be.
"I did not expect this in Las Vegas," said Dale Kier, who moved to Las Vegas to work at nearby New Mexico Highlands University last summer.
"This is more reminiscent of living in a big city," his wife, Shawna Kier, added.
Why? Well, first take a gander at the menu.
When the Kiers stopped in for lunch on a midwinter Monday, they were nibbling on one of their favorites: a plate of loaded ribbon fries (spiral-cut potatoes) that come smothered in beans, green chile and a multitude of toppings.
From there, things get a little crazy.
Consider the winter special of pork belly ramen with Brussels sprouts, mushroom and chile; the po'boy shrimp taco; or one of the restaurant's best-sellers: an orange chicken burrito filled with spicy Asian-style chicken, bell peppers, cheese and basmati rice ($8).
"I think the food is the best in town," Dale Kier said, "and there is good food in this town."
For dessert, munch on one of the rotating flavors of Rice Krispies treats, which, on a recent weekend, included playful ingredients like Cap'n Crunch and diced gummy bears.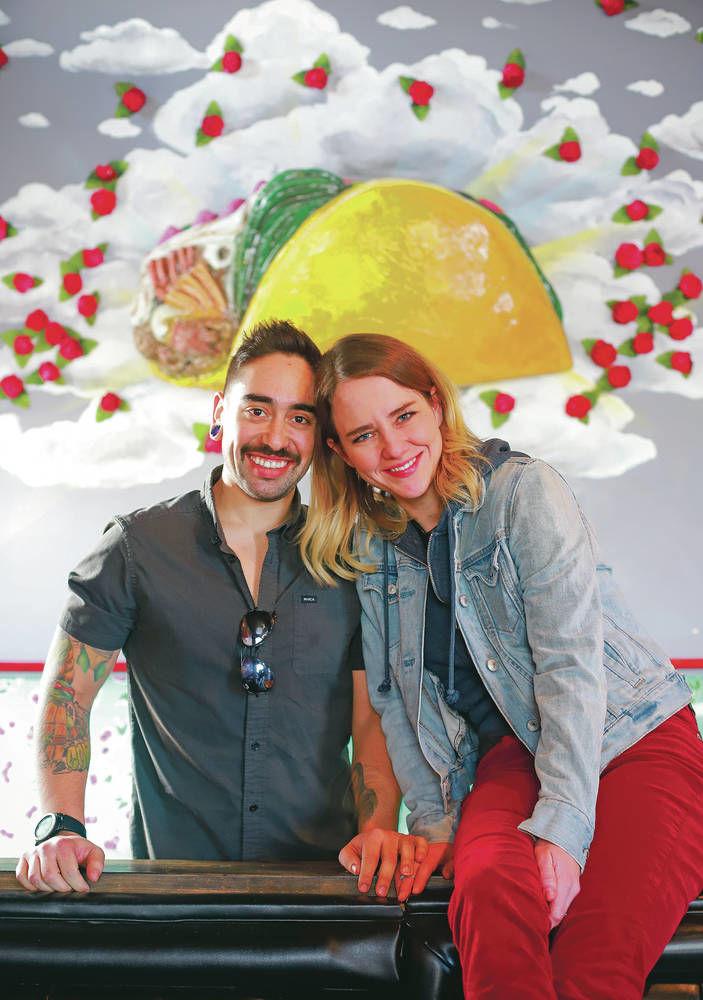 And there's the stellar drink menu. The Skillet has a number of rotating beers on tap and a cocktail list with ingredients — and low prices — that wow. A particular standout — at $6 — is the High Plains Drifter, a gin cocktail with sage, juniper and lemon.
Still, the food is only half the experience.
The restaurant also is an artistic immersion built by the Sandovals, who, in addition to running The Skillet, keep their art studio next door. The walls are loaded with colorful murals and sculptures, including a 3D taco surrounded by roses, a festive donkey-head sculpture and a wall-sized mural of a bug-like creature interacting with a bug-eyed human.
"We wanted it, you know, to just be a place where you could come and relax and enjoy," Shawna Sandoval said. "All of the pieces came together individually, but I think it's pretty cohesive in the way that it's all very bright and colorful."
If the artwork looks familiar, that's because the Sandovals' creations also decorate another popular Las Vegas establishment, Charlie's Spic and Span, just down the street.
Charlie Sandoval is a major investor in The Skillet. He's also Isaac's dad.
"It's a partnership. He believed in us and trusted us to do this project," Isaac Sandoval said. "He's a total business mentor. … We meet with him every day."
Almost a year and a half after the restaurant opened its doors, the Sandovals say the turnout has exceeded their expectations. They did have a bit of a leg up in the restaurant game, the pair admit, because of their loyal food truck following. During construction, Isaac said he had to change his phone number because he was getting so many calls from customers trying to place orders or find out when the restaurant was opening.
"There are certain things you can only learn with experience," Shawna Sandoval said. "Overall, I think it's been amazing. Successful beyond expectations. It was a huge risk, a huge investment, but so far it's going good."
Asked about the future, the Sandovals — both in their early 30s — are quick to say they're invested in the restaurant long-term. They're already planning expansions, including opening up more of their space to create an events venue and extending their outdoor patio area.
As Las Vegas invests in what Shawna Sandoval calls a "renaissance," including projects such as the renovation of La Castañeda Hotel, the Sandovals hope they can be one more reason people stop by Las Vegas and learn to love it like they do.
"You can hit the Spic and Span in the morning, hit the hot springs and come back for a late lunch," Isaac Sandoval said. "Check out the antique stores, the flea market — it's just one more thing that can get people to stay and see what we see in Vegas."