If the idea of a beautiful beach resort sounds pretty good right about now, you can at least get a taste at a new Santa Fe food truck.
Tacos Acapulco opened Jan. 10 in the spot on St. Francis Drive near West San Mateo Road — and the truck — that most recently was the home of Bonsai Asian Tacos. The truck's exterior has been transformed with a sunny-skies blue hue and cheerful, idyllic imagery of a dolphin leaping above the ocean amid palm trees and clear tangerine skies, which practically beckon drivers to detour off the busy thoroughfare. A picnic table and round tables with red chairs offer diners a place to sit in the sunshine.
A short menu on neon green poster board lists a few Mexican and American options: carne asada, fajitas, bistec (or braised beef), quesadillas, a cheeseburger, turkey sandwich and, of course, tacos. There are no prices listed, though nearly all the dishes are $10.
That's largely because for owner Julio Rodriguez, the menu is still very much a work in progress. A veteran on the local restaurant scene who works at Tia Sophia's and previously worked at the Zia Diner,
Rodriguez is testing dishes out with his clientele (tamales, for example, are on offer but not yet on the printed menu).
"I want customers to try the food and see what they enjoy most," Rodriguez said through a translator on a recent weekday inside his food truck.
Rodriguez, who owns the truck with his brother, Leonardo Muñoz, has been cooking since he was 18 and decided the time was right to start his own business.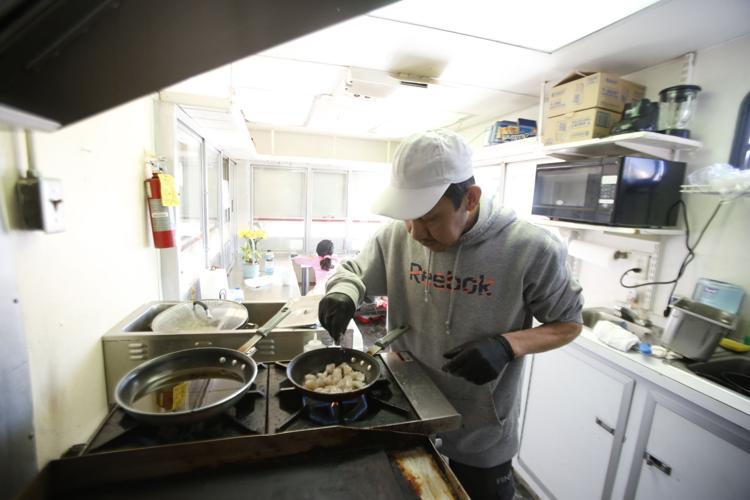 The stars of the brothers' offerings are the tacos, which come $10 for four and are served with a refreshing Acapulco salad that includes mango, jicama, red cabbage, carrot and lettuce.
You can order camaron (shrimp), pescado (fish), barbacoa (braised beef) or carne asada tacos. They're dressed simply, with a crisp slaw and cilantro, served with a lime wedge and plastic cups of moderately spicy green and red salsas.
Bottled water is available, as well as bottled Mexican Coke and canned Coke.
Rodriguez hails from Acapulco, the large beach resort town on Mexico's Pacific coast that was once a midcentury getaway destination for Hollywood celebrities, but its high homicide rate has led to a massive drop in international tourists. Though the city is legendary for its nightlife, its cuisine is noteworthy, too, much of it based on its access to fresh seafood. Rodriguez's hometown influence shines through in his cooking, he said.
"The food is very good here," he said. "I've spent my life learning about food, and I enjoy making what people like."