"Out of the eater, something to eat, out of the strong, something sweet."
Whether or not you know this biblical riddle, the message is appealing, and Lion & Honey, the Guadalupe/Railyard area's newest coffee and snack spot, offers a plethora of delicious answers to that ancient conundrum. The space, tucked like a secret into the side of the Jean Cocteau Cinema building, 418 Montezuma Ave., has an eye-popping, deliberately Willy Wonka vibe. It's brightly colored and just shy of overstimulating, with a row of subversive cereal boxes and jars of candy, and behind the counter is the strong, sweet and culinarily enthusiastic Grant Kosh.
You may not know Kosh, but you have likely seen his art. His hyper-realistic portraits of celebrities used to hang in the Atomic Cafe (eating a midnight Rasta Pasta dish while staring up at Kosh's rendering of Tupac Shakur was a quintessential Santa Fe experience of yesteryear). Kosh grew up in Santa Fe, attending Waldorf and then Desert Academy, and graduated from one of the last classes at the College of Santa Fe. The space now occupied by Lion & Honey was formerly his dedicated gallery space, but location is everything, and that location, apparently, was destined for something else.
"I had people constantly coming in asking, 'Do you know where we can get some coffee, something to eat, something to drink?' " Kosh says. "I was giving people more directions than selling art."
"I always wanted to do a cafe when I got older," Kosh says. "My dad's a chef in Colorado. I knew what it would take to get something up and running."
The space was an empty box, so Kosh had to build everything from scratch, but now Lion & Honey is a full-blown coffee bar, serving exclusively Italian dark-roasted Illy coffee in pour-over, espresso or nitro — cold-brewed coffee combined with nitrogen and served on tap. Kosh makes his nitro, which has the consistency of a fine pint of Guinness, in a regular or super-strong formulation, opting to serve it straight instead of beginning by reducing it down to a concentrate.
"It's got to sit for about 12 hours to really mix well, and then it pours through a stout tap," he says. "I think it's the best nitro in town."
Lion & Honey hits the spot with guilty pleasures that are hard to find elsewhere in Santa Fe. That divine smell wafting out the door all day is fresh waffles — specifically "bubble waffles," a trendy new street food originating in Hong Kong. Sometimes called "egg waffles," bubble waffles have round pockets of perfectly toasted batter instead of the distinctive crisscross shape of Belgian waffles, making them look like delicious alien packing material. Kosh serves them either on a plate for sit-down consumption or, as often seen on Instagram, wrapped up as a cone for noshing on the go. The plain waffles with powdered sugar are delightful all by themselves, but you can kick them up a notch with any number of toppings. There are even a couple of house specials named the Augustus Gloop (with Nutella, strawberries and bananas) and the Veruca Schnozberry (with blueberries and lemon curd).
However, Kosh is no junk-food pusher — his coffees and drinks are all made with organic ingredients and filtered water, and even his waffles have a tinge of virtue to them.
"They're all gluten-free," Kosh says. "We've got custard powder, tapioca powder, a little vanilla, a little evaporated milk, eggs, and our flour is a gluten-free Red Mill flour made of white rice and sweet brown rice and tapioca."
In case those aren't enough bubbles, Lion & Honey also has the downtown area's only bubble tea (sweetened milk tea with tapioca pearls). It's also Santa Fe's only 100 percent from-scratch bubble tea, made from a freshly brewed tea base (pick your flavor — there's Thai tea, rooibos, PG Tips black and even horchata) and organic milk.
"It makes a difference when it's real," Kosh says. "It doesn't have that powdery, too-sweet taste. The real milk is the key."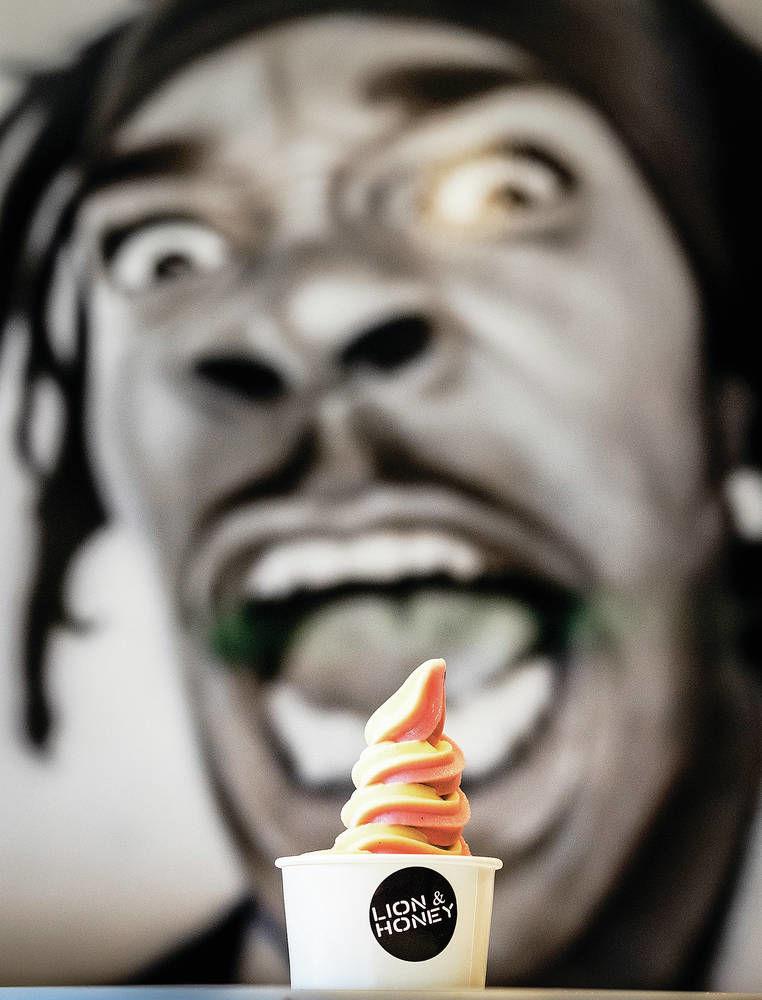 Lion & Honey also carries its own line of CBD oil, a completely legal, hemp-based oil that theoretically contains many of the pain-relieving and soothing components of medical marijuana without the high. Lion & Honey's CBD oil is made from coconut-derived MCT (medium-chain triglyceride) oil, the stuff CrossFit enthusiasts put in their butter coffee, and can be added to any of Lion & Honey's drinks. Soon, they'll also offer CBD-laced honey, compiled by Santa Fe's Honey Salon.
And what Pee-wee's Playhouse-esque coffee shop would be complete without the circus world's gift to ice cream? Kosh has a soft (-serve) spot for those who go to rodeos and circuses specifically to indulge in the stuff.
"I put in a soft-serve machine. I was always a sucker for soft-serve," laughs Kosh. "Whenever I went to The Beach [waterpark] in Albuquerque, I had to have a swirl."
The heady glee of Saturday morning cartoons is evoked at Lion & Honey with "Cereal Saturdays," when bowls of cereal are $2 (primarily aimed at children, but adults shouldn't be shy). Cereal is a bit of a theme at Lion & Honey — the top shelf of the dazzlingly bright, toy-peppered back wall features a row of collectible "Cereal Killer" figurine boxes by artist and pop culture iconoclast Ron English.
"I've been collecting Ron English characters … for about 10 years, and I was pushed by my girlfriend to put them up," Kosh says. The ever-evolving cereal lineup tends to run to the sugary, appropriately enough. "Those are the cereals that I always liked as a kid," he says. "I know that there's some in there like Lucky Charms, Cap'n Crunch and Cinnamon Toast Crunch that a lot of parents won't buy boxes of for their kids, but maybe they'll buy a bowl of cereal on Saturdays."
In May, Kosh will begin offering paninis for lunch, in classic combos such as turkey and cheddar, grilled cheese and caprese. And to go with them, Kosh plans to offer another long-lost Santa Fe favorite: David Jacoby's famously addictive Hungarian mushroom soup from the much-missed Back Street Bistro — a coup that only someone who has put in their time being part of the Santa Fe scene could pull off.
But everything at Lion & Honey is personal for Kosh, from the color of the Starbursts in the jars (pink, exclusively) to even the name of the cafe. While Lion & Honey usually refers to the aforementioned riddle of Samson (which, gruesomely enough, involves a slain lion carcass becoming a home for honeybees), it has an entirely different, more personal meaning for Kosh.
"My girlfriend [Stas Carter] is the honey," explains Kosh. "My girlfriend and I met in high school, and we fell for each other doing theater, The Wizard of Oz. I was the lion. To her, I've always been her lion."
Correction: April 5, 2018
A previous version of this story incorrectly attributed a biblical riddle to Solomon instead of Samson.