This is how the pros make risotto in your favorite restaurant. I know this because in addition to being Italian, I used to be one of those pros. This is a dish that for some wonderful reason, always feels special, and it only takes about 20 minutes to make once you get cooking, which is not any longer than most pastas. It's an incredible side, but more than enough for a meal on its own.
The key to making risotto is gathering all your ingredients in advance before you start, having them measured out, ready to go in bowls. I know, it's going to feel like you're on a cooking show, but it just makes everything easier. Once you start, you really don't want to step away.
Over the years, I have worked with incredible chefs who taught me their favorite ways to make this dish shine. And really, like many things, the beauty lies in its simplicity. You can use red wine or no wine, pretty much any vegetable, a variety of broths, you could even add meat or fish. You can come up with all kinds of flavor combinations, but I have discovered most of the risottos that have stopped me in my tracks and embedded themselves into my memory are the ones that highlight a few complementary ingredients — beets and horseradish in early summer, wild mushrooms and caramelized onions in fall, red wine and braised short ribs in winter, and the one I am sharing with you, spring vegetable risotto, which celebrates the glorious green shoots that are just starting to pop out of the ground.
This is probably one of the easiest and most delightful dishes to make for a dinner party. You can cook the rice until it's just undercooked and spread it in a thin layer on a sheet tray to cool, then keep refrigerated until you are ready to serve. When you are ready, just reheat it on the stove with hot broth until it finishes cooking and add your finishing ingredients. Leftover risotto served with a poached or fried egg makes a delightful breakfast, too.
There are a couple of other tips I want to share. In the ingredient list, you'll notice the recipe calls for 1 cup of finely grated Parmesan. This is Parmesan that is grated with a microplane, which creates a light and fluffy pile of cheese. If you use a box grater or use Parmesan that has been freshly grated in the store, you can reduce this amount to ¾ cup. There is also a special ingredient I like to add right at the end: fresh whipped cream. This adds a creamy, velvety and airy texture that takes this risotto to the next level. You can serve the risotto in bowls, which is totally fine or, if you want to eat it like the Italians do, spread it out on a warm, flat plate, garnish with Parmesan and chives, and serve immediately.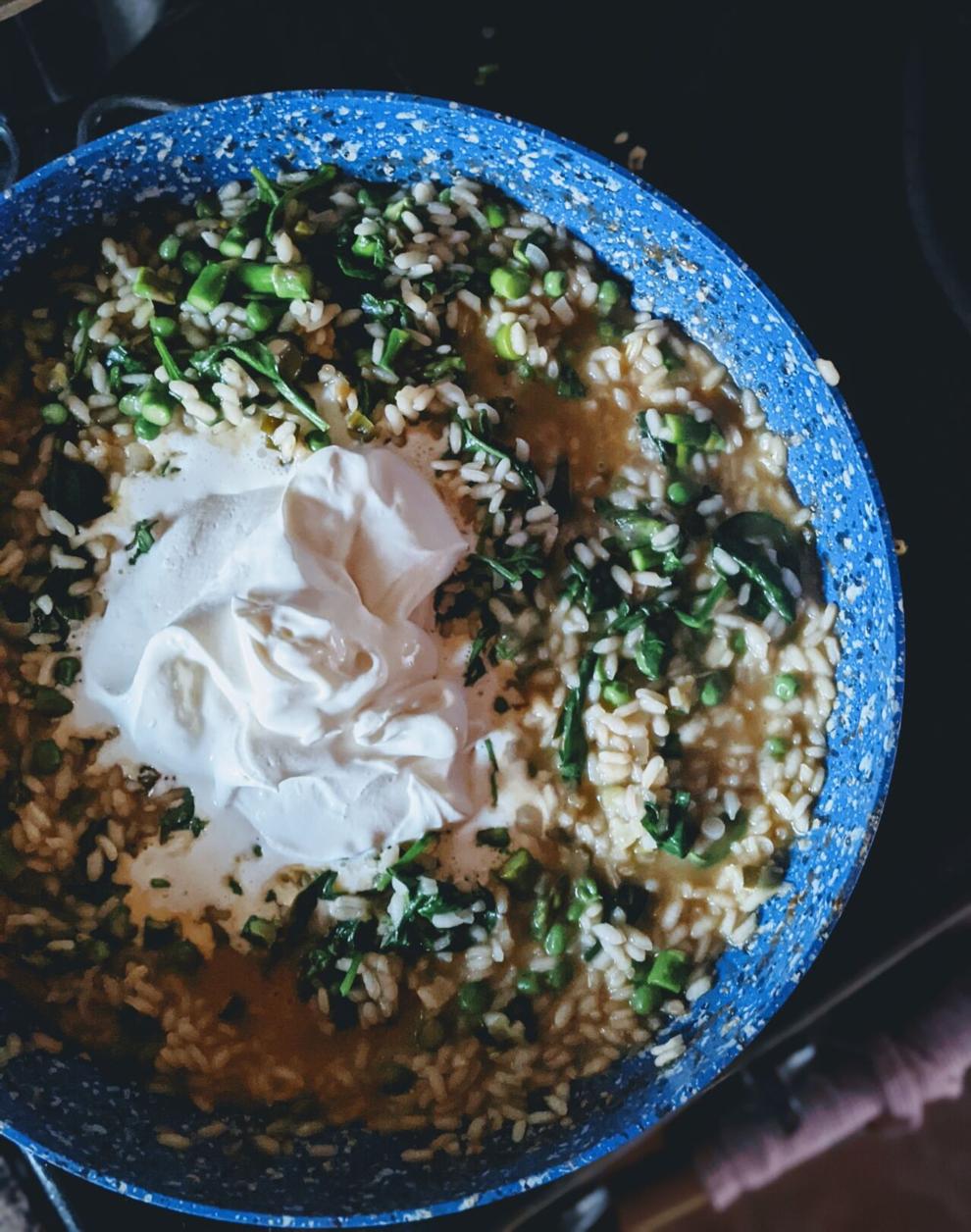 Spring Vegetable Risotto
Makes: 6 servings; total time: 30 minutes
2 cloves of garlic, thinly sliced
2 cup carnaroli (or arborio) rice
1 bunch of asparagus, trimmed and cut into 1-inch pieces
1 cup finely grated Parmesan, plus more for grating
½ cup heavy cream, whipped to stiff peaks and kept in the fridge
¼ cup minced chives, for garnish
Preparation: Bring vegetable broth to a simmer in a medium saucepan. In a large, heavy-bottomed pot, melt butter over medium heat. Add shallot, a pinch of salt and stir with a wooden spoon. Cook on low for a few minutes until the shallot begins to soften. Add the garlic and cook another minute or two more.
Add the rice and stir for a few minutes. This is called toasting the rice, even though you're not getting any toasty color on it. It is a very important step because this creates a protective shield around each grain, which controls the amount of starch that is released during cooking and also prevents it from absorbing liquid too quickly during cooking. Once you can hear the rice start to crackle, It's time to deglaze.
Pour the white wine into the pan and stir, scraping off any bits stuck to the bottom of the pan. Continue to cook until the wine has almost evaporated (a few minutes). Add around a cup of hot broth at a time, waiting to add more until the rice absorbs it. Along the way, taste the rice. It's done when it tastes tender with a bite (al dente). It should take around 20 minutes of stirring, adding broth and tasting. I recommend sipping on your favorite beverage while you stir.
Right before the rice reaches the al dente perfect texture, add the peas and asparagus and cook for a couple of minutes. Add the arugula and stir until it wilts into the pot. Now you're ready to finish and serve.
I like to call everyone to the table at this point. I add the cheese and stir that in for a minute. I season with salt and pepper and I give it a taste. Now fold in the whipped cream. Don't stir it vigorously or the air will dissipate. This adds a luxurious light and airy texture. Taste again and add salt and/or pepper as needed. Spoon into bowls or spread on a large, flat plate. Garnish with cheese and chives, and most importantly, eat it while it's hot.