Bagels with cream cheese. Biscuits and gravy. Light, fluffy blueberry muffins.
That's just the start of the all-vegan lineup at Plantita Vegan Bakery, which has been serving Santa Feans from an eye-popping menu of sweet and savory goodies since November.
Owner Thomas Kamholz bakes from scratch and to-order in a Rufina Street kitchen next door to Alicia's Tortilleria. A vegan, an avid cyclist and a DJ with years of food experience but also a degree in history, Kamholz kicked around several inventive business ideas after moving to Santa Fe in fall 2019. Among them: running a bike-powered food cart and selling his own tempeh. But Kamholz spotted a niche in this town for an all-vegan bakery, and the idea of offering vegan food with minimal waste synced with his values.
"If I was going to do my own food, I wanted to do it in a way that I can feel more empowered," he said. "In wanting to create a job for myself aligned with my values and ethics, it made sense."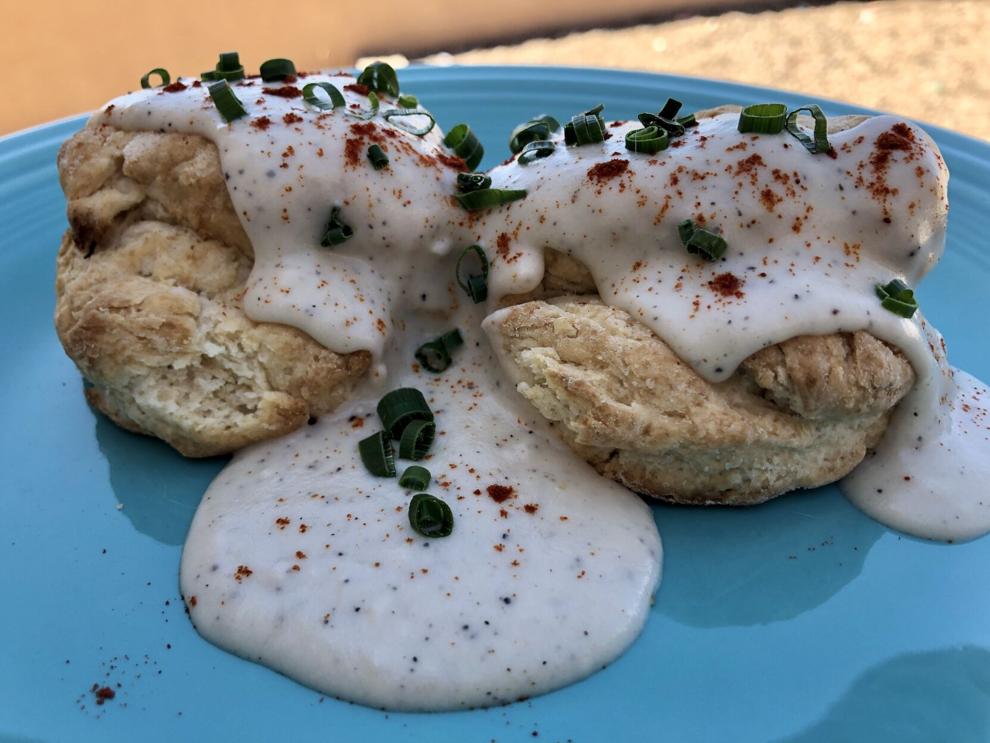 Armed with creative substitutions that load his bakery items with flavor without the use of butter, eggs or milk products, Kamholz has created a menu that can satisfy nearly any carb-based craving. (Plantita does not have gluten-free bakery options, though.) There are more than a half-dozen bagel choices ($14-$16 per half-dozen, $26-$30 for a dozen) along with two savory spreads made with coconut-based cream cheese. There's banana bread, cornbread and cinnamon rolls with vegan cream cheese frosting.
And there are cookies, most available by the dozen or half-dozen — the oatmeal chocolate chip ($18 half, $30 dozen) are the most popular, but I'll be putting in an order sometime soon for the Mexican hot chocolate variety, made with a blend of organic, fair-trade cocoa, cayenne and cinnamon. The rugelach — flaky dough made with organic cashew yogurt and filled with a sweet walnut and cinnamon mixture — are another popular choice, Kamholz said.
There's granola and muffins and pies and a trio of savory empanadas. (Secret menu alert: The blueberry muffins, like many of his items, can be ordered with whole wheat flour, and they're particularly good with the substitution, he said.)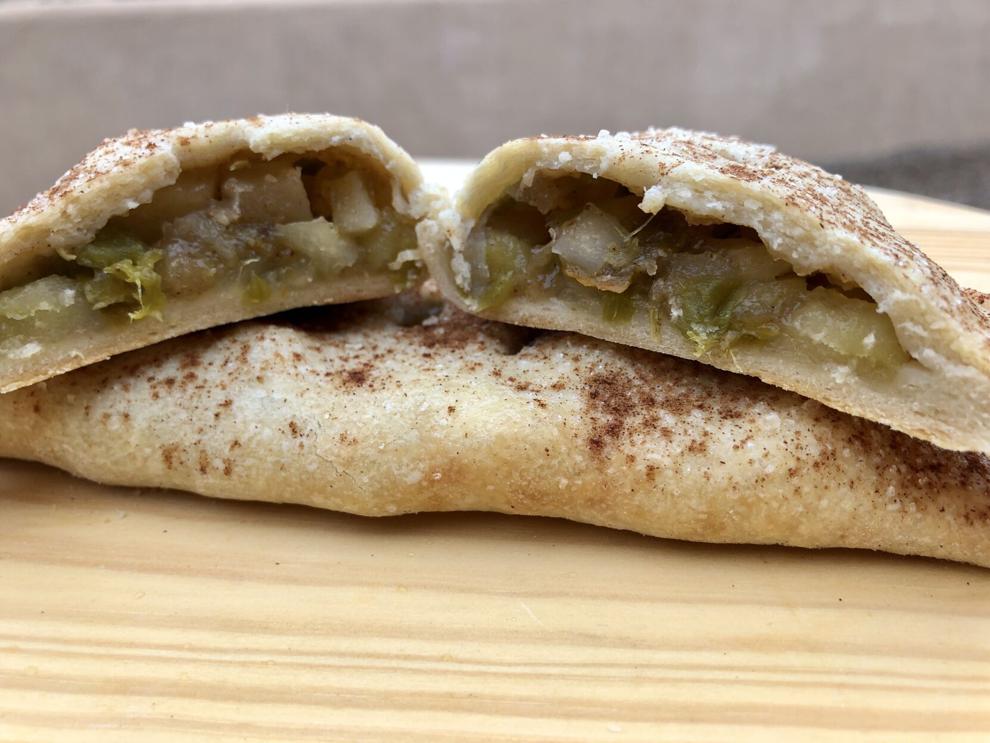 I tried the apple hand pies ($24 for a half dozen, $45 for a dozen) with green chile added (an extra $3), and was instantly transported to the New Mexico State Fair, where we never leave without having had a slice of apple green chile pie. These struck an addictive balance between the tart, sweet Granny Smith apple, the warmth of the cinnamon and the pleasingly bold chile.
Then there's the biscuits and gravy, which pairs the light and fluffy biscuits with an impossibly creamy and peppery organic cashew gravy (six for $20, 12 for $38). As recommended, I added a little nondairy milk to the gravy and gently warmed it in a saucepan as my biscuits reheated, then topped it all with a little paprika and minced chives.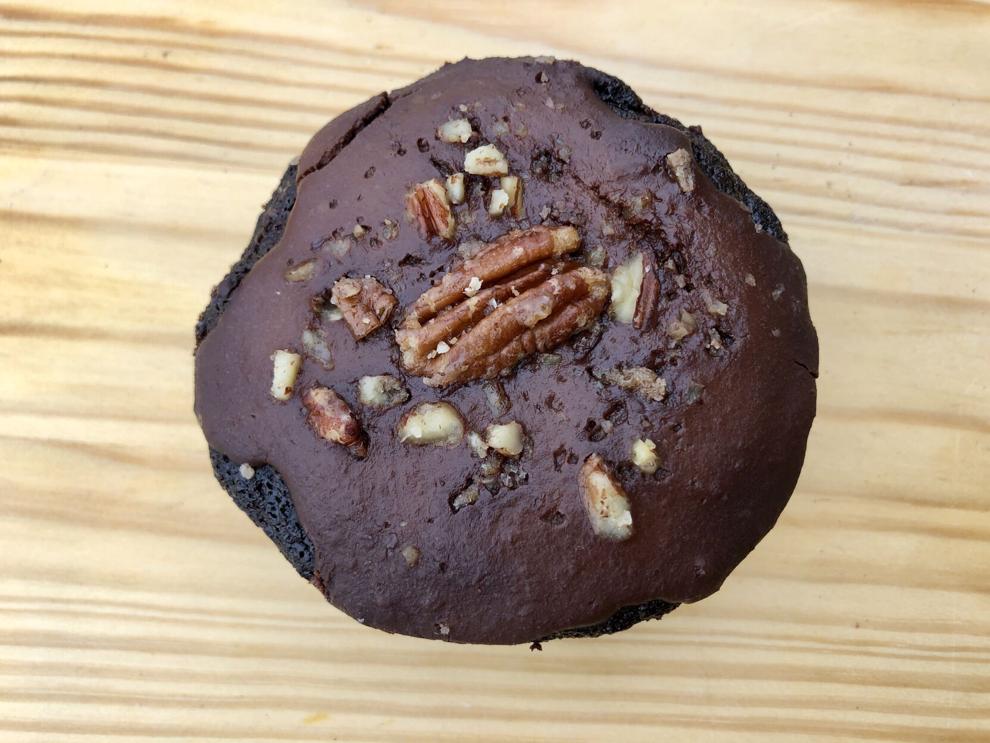 For Mother's Day weekend, Plantita is offering two specials: chocolate-dipped macaroons (four for $12, eight for $22, a dozen for $32) and orange chocolate cayenne cupcakes (six for $23, 12 for $45). I tried the cupcakes, whose moist and rich chocolate cake was topped with a chocolate glaze and maple-cayenne candied pecans. I hope they'll earn a spot on the regular menu.
Kamholz cooks to order to minimize waste, which means his goodies are only available by special order in larger quantities (though baked items freeze well, he said).
"I'm only making what I'm selling, so it's a game-changer," he said. "One thing the pandemic has shown is that maybe there are different ways to think about how businesses operate. Made-to-order makes a lot of sense. It saves money, it saves time, it's almost zero waste."
He is hoping to start a Saturday pop-up soon with a few select offerings available individually to grab and go. He's also testing an order-in-advance Friday vegan pizza pickup.
If you don't want to head to Rufina, Plantita offers $5 delivery within the city limits during the same times as the pickup availability: 9 a.m. to 6 p.m. Tuesday through Saturday. Online ordering (including the Mother's Day specials) is available on Plantita's website.
You don't have to be vegan to enjoy Plantita's offerings. But I can't imagine many more delicious ways to do a little good for the world.