Like so many others, Isabel Mendoza fell in love with Santa Fe on a visit.
"I was enchanted," Mendoza said with a smile.
She was lured from San Francisco by the city's charm, its art, its rarefied air, of course, but also, this: On Palm Sunday some 15 years ago, she watched as multiple Christian denominations intermingled during a celebration on the Plaza. The spirit of inclusiveness sparked something inside.
"It was amazing," she recalled. "In this town, you can get people to empathize, to celebrate what they have in common."
A decade after moving here, Mendoza is now filling her Venezuelan cafe, Santarepa, with that same spirit of warmth and community.
Since opening March 19 — in the building just down from the Georgia O'Keeffe Museum that previously held Sweet Lily Bakery — she has welcomed a blend of native Venezuelans, savvy tourists and Santa Feans who've tried the cuisine elsewhere, and members of the broader Latin community, who say her food reminds them of the dishes they grew up with.
"Having food that reminds you of what you had in another land is amazing," she said. "One lady said to me, 'It feels like home.' It's a wonderful experience."
Santarepa specializes in Venezuelan comfort food, and the centerpiece of the menu is right in the restaurant's name. Arepas ($8.25-$10) are hand-sized cakes fashioned from cornmeal and cooked, and they must be just the right thickness so they can be sliced open, pocket-style, and stuffed. For breakfast, they're filled with combos like eggs, cheese and avocado, or eggs and black beans. At lunchtime, they come packed with shredded beef or chicken and other fillings.
"Every Venezuelan eats arepas," Mendoza explained simply. "That's our daily bread."
The most famous arepa, she said, is the reina pepiada, named for a famed Venezuelan beauty queen and stuffed with a rich, comforting filling of shredded chicken, mayonnaise and avocado ($9). Another arepa, la pelua ($9), balances the heartiness of shredded beef with the creamy, bold tang of gouda.
Mendoza said the most popular arepa here in Santa Fe is the vegana, a vegan option with black beans, sweet plantains and avocado ($9).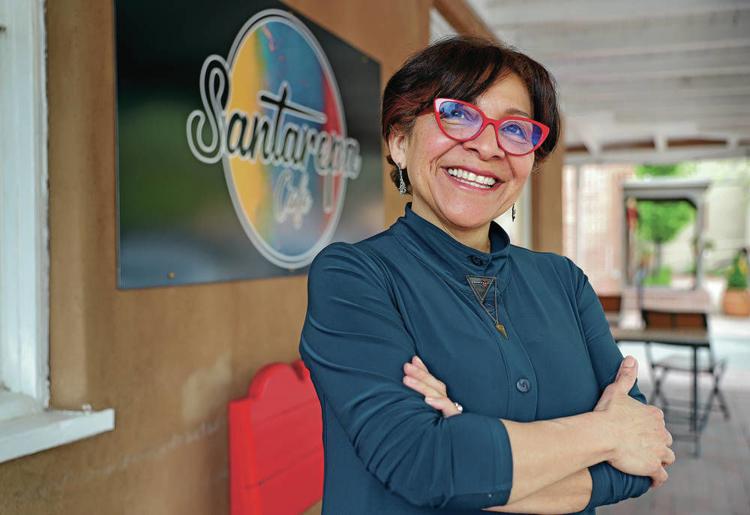 And while the restaurant offers takeout, the arepas in particular are best eaten fresh from the kitchen — and with your hands.
Also on the menu are empanadas (made with masa and wheat flour, so they're not gluten-free like the arepas), filled with various combinations of beans, meat and cheese ($4.50 to $4.95). The cachapas ($8.75 to $10.75), griddled cakes that use sweet corn ground with milk, are great for breakfast and hugely popular among kids, Mendoza said.
The best way to taste your way through the menu's highlights is with one of two sampler plates ($13.50). Both contain smaller versions of arepas and cachapas; one adds small empanadas and sweet plantains, while the other includes pastelitos (fried dumplings with cheese and potato) and yuca fries, which are creamier than their potato counterpoints.
Housemade touches abound across the menu, from the creamy garlic sauce and chimichurri to the desserts including palmeritas, scones, cupcakes and quesillo (Venezuelan flan with tiny cheese-like holes that give them their name). Then there are the tequenos: savory, snack-sized and cheese-stuffed breadsticks that have a place at any party in Venezuela.
As a child growing up in Venezuela, Mendoza's mother used to sell arepas to the neighbors, but "in my home, my grandma always made the coffee and the arepas," she said with a laugh.
She moved to the U.S. in 1981 to study cardiopulmonary technology. She learned English, started college and eventually ended up working at the University of Pennsylvania before moving to California. She became a U.S. citizen in 2003 and worked as a clinical auditor until October.
"I wanted to do something different," she said. "I'd been doing the same thing for 26 years. And it was always a dream of mine to have a little place to serve some food and offer some coffee."
After leasing the building, she worked with the landlord to install a commercial kitchen and other equipment she needed, including a fryer and griddle. Now, bold lemon-colored walls and purple floors contrast the black ceiling, and pendant lighting dangles above a variety of seating, including two large wooden communal tables. A festive, elaborate balloon sculpture took up residency last week along one wall.
She said she's received great support from the O'Keeffe museum, which often directs hungry visitors her way. Many tourists stop in because they've had arepas in their home cities.
That's a byproduct, she said, of years of turmoil in Venezuela, which in recent months has reached a crisis point that has deeply affected Venezuelans there and abroad. As more people have fled the country, they have brought arepas and their broader cuisine with them.
"Now you can find arepas all over the world," she said. "Fifteen years ago, 10 years ago, that was not the case. So right now, it's a global thing, and I'm happy that arepas have finally arrived here."
Mendoza still has siblings, nephews and nieces in Venezuela (though a sister and niece work in Santarepa's kitchen), and she hasn't been able to visit in eight years.
"I hope this nightmare ends," Mendoza said of her homeland's crisis, "and Venezuela will become free. Wherever I am is home to me, but I still miss my family. You want that connection."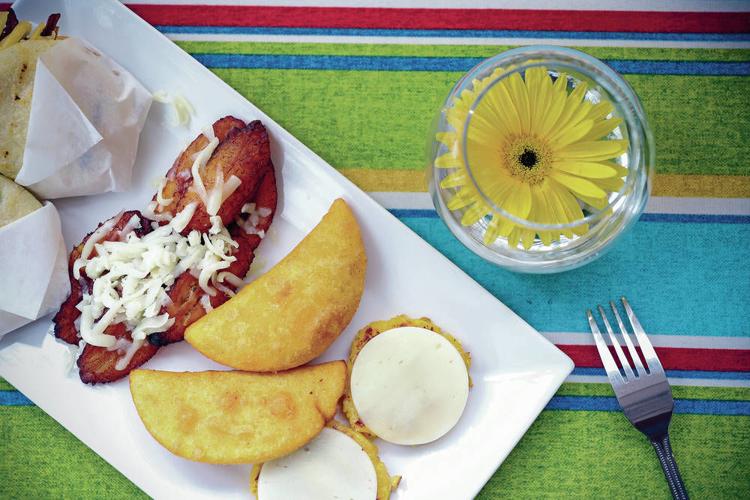 And that connection is forged right in Santarepa's dining room. For Venezuelans, she said, a visit can be emotional, and playing the music of her people has brought more than one diner to tears.
"We Venezuelans are closer because of all the suffering that is happening in Venezuela," she said. "This is not a fancy Venezuelan restaurant. This is a cafe where you can find home-cooked meals; this is what we can find in Venezuelan homes. This is the food we grew up eating, and that's especially important right now."