Whenever a new place opens in a highly visible area, like a major street downtown, passersby will peek in reflexively, wondering what treats may eventually issue forth, whether it will become their new spot, wondering what made the new proprietor pick that place to spend all their time. For Tawn Dix, the spot came to him the way many of us find musical instruments, cars or people we flirted with in line at the grocery store:
Dix took over the spot at 105 E. Marcy St. formerly occupied by Ecco, then occupied by Chez Dre, when he saw an ad for an all-inclusive bakery for sale on the website just when he needed a change.
Dix began his career in baking 18 years ago when he got married and moved to the Bay Area with his wife to open a bagel bakery called Bagel Street Cafe in upscale Alamo, Calif. — his first real food job other than managing an Olive Garden, which, he said, "didn't correspond at all" in terms of skill set.
Dix is a musician and a local boy, born in Albuquerque and raised in Pojoaque, who started playing in a band called Titus when he was a teenager.
"I sang for a little hair metal band, with spandex and makeup, the whole nine yards," Dix says.
Back in the Bay Area, life threw him for a loop when he and his wife divorced, and "all of a sudden I was doing it all by myself, being a full-time dad, and I got to the point where I was done with California," says Dix, who also wearied of paying the Bay Area's obscenely high rent on his shop.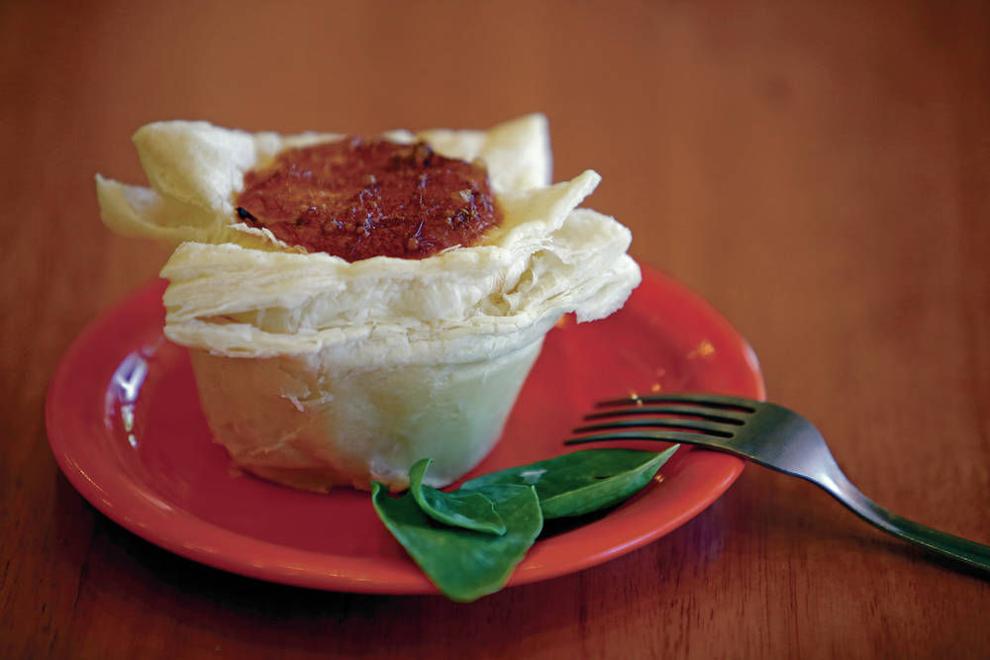 "I liquidated my entire life, my business, everything," he says. And then he moved to Santa Fe and bought another business from someone doing the very same thing, Andrea Clover of the lovely but short-lived Che Dre, who subsequently moved out of state. Dix basically took over the keys to her bakery, décor and equipment, lease and all. But while the interior of Boultawn's Bakery still has hints of Che Dre, like the white floral chandeliers and the yellow VW Bug hood on the back wall, the menu is 100 percent Dix.
"Everything I'm doing is very different; I'm a very inventive mind when it comes to food. When I was young, I was a pothead, I would eat everything. Now that I'm older, I look back and remember what was good."
Dix's menu definitely has a tinge of that hungry teenage rocker aestheic. For example, one of his specialties is the "pizza crepe," a French crepe (he did buy Chez Dre's crepe equipment, after all) filled with pizza sauce, fresh mozzarella with Italian seasoning, garlic powder, pepperoni and sautéed mushrooms. He also makes ranch-flavored bechamel. It's high-end stoner food, prepared by a professional.
Dix bakes everything for the cafe in-house: bread, pastries, cookies, etc., although he hasn't begun cranking out the bagels he had so much success with in the Bay Area for want of the correct kind of oven. But Dix waxes poetic about bagel texture, and intends to stake out that territory soon.
"When I get that oven, I will have them, and they will be the best in the state," Dix says. "I guarantee it."
Meanwhile, Boultawn's Bakery, named after Tawn and his silent partner, cousin Pete Boulton (get it?) cranks out croissants, bread, turnovers with local fruit, cookies, etc. Instead of doughnuts, which don't agree with Dix's digestion, he makes miniature waffles instead, and dresses them up as doughnuts with, for example, cinnamon sugar.
"My body hates fried things," Dix says. "I don't do anything with crappy oils. I use coconut oil for almost everything."
This includes hair, skin, oiling his guitar and making his signature cinnamon roll, for which Dix replaces both the butter and the half-and-half traditionally used in the icing with coconut oil, without any obvious difference. But Dix is being cautious rolling out new baked items, making sure he gets them right before placing them in his pastry case.
"I'm battling with 7,000 feet and baking," he says. "It's a massive difference."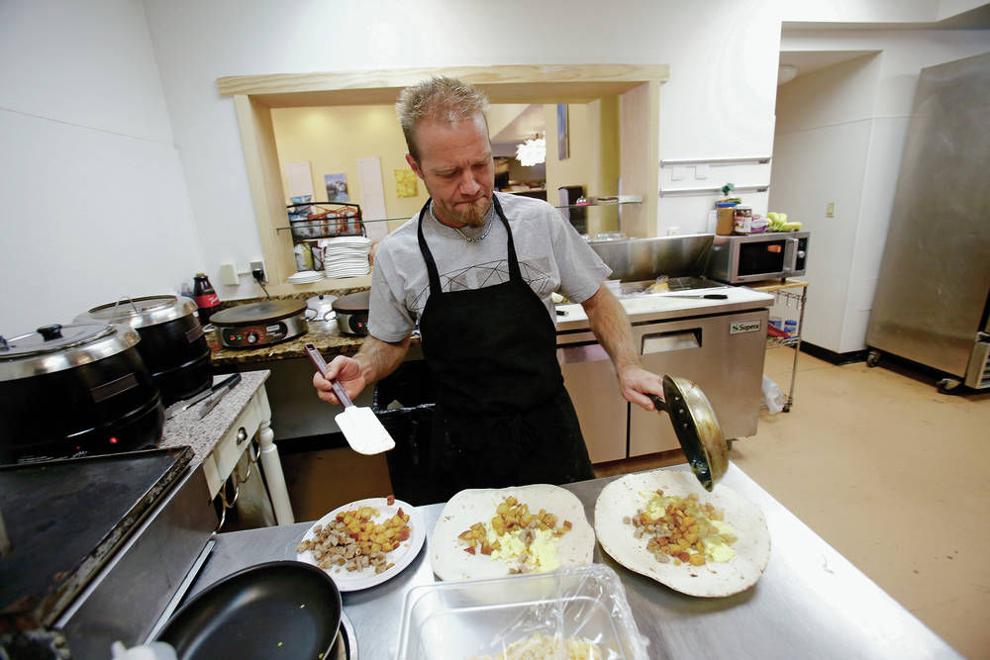 Boultawn's is both a bakery and a cafe, with a full suite of breakfast foods ready at 7 a.m., far earlier than most downtown spots. You can get yourself a breakfast burrito, breakfast sandwich or a Nutella and strawberry crepe before you go to work — sometimes a tall order downtown.
Also, much of Dix's menu is not actually on the menu — specials make up a big part of his daily offerings. Expect soups (cream of chicken and green chile, for example) or salads (he says he's an "everything-in-the-kitchen salad kind of guy"). Expect the unexpected from Dix, who makes up new specials like a musician improvising.
"Every day I come in and come up with something new," he says.