It's a blustery spring afternoon when Ben Crosky stokes a wood-fired oven, as it slowly rises to 1,000 degrees.
Twinkling lights hang over the lawn outside El Rey Court, and soothing music plays over the speakers.
As small groups gather in the grass, Crosky removes a miniature sourdough pizza from the flames and drizzles "hot honey" over the sizzling cheese.
The honey with chile peppers "is kind of what Tender Fire is — this combination of opposites," Crosky says of his new pizza spot. "It's the sweet, the hot, the slow ferment of the dough with the combination of the 1,000-degree oven."
Crosky says he never imagined himself serving weekly pizza specials out of a portable oven hooked to a trailer in the parking lot of a hotel — especially amid a pandemic. But, he says, life sometimes has a funny way of pointing someone to their dreams.
"There've been a lot of clues leading me to this," Crosky says. "I decided to just trust them."
The 35-year-old, who has a lifelong love for cooking and a background in farm-to-table event planning around California, says he didn't start making sourdough until the fall.
He made his first pizza in September — more than 25 of them, actually — when he decided, on a whim, to host a pizza party at his house.
Though he'd never made pizza before, he invited 30 guests over and spent four hours straight at the oven.
Crosky, who worked in the yoga industry for more than 10 years and was looking for a career shift at the time, says that particular night "really sparked the idea."
"The success from [the pizza party] was kind of an affirmation to keep following those hunches and clues," he says.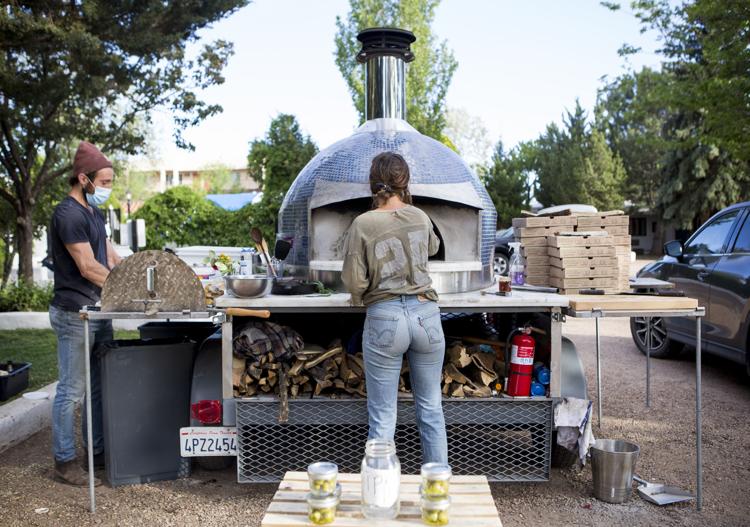 Just a few months after, Crosky, who moved to Santa Fe about a year ago, called up a friend in California to pitch the idea of starting a pizza business. He credits fate that the friend's brother-in-law, who owns a pizza business in Oregon, happened to be selling a wood-fired oven.
In March, Crosky found himself driving more than 20 hours from Santa Fe to Sisters, Ore., in a rental truck to buy the wood-fired oven. He had a soft opening in April and received his restaurant license last week.
The wood-fired oven, its dome covered in blue mosaic tiles, now sits perched atop a trailer parked outside El Rey Court, where Crosky and a couple of assistants serve pizza Thursday through Saturday under the title Tender Fire.
Every two weeks, Crosky alters the menu options to include new pizza flavors, all of which feature locally sourced ingredients. There is always a meat-heavy option, a vegan pick — the handmade dairy-free cheese is made with cashews and coconut oil — and the classic Margherita.
Tender Fire is one of few spots in town that offer vegan pizza, and Crosky says it's the only place that builds its pizzas on sourdough bread.
"Sourdough's the main thing, because it really affects how you feel," Crosky says, noting many pizzas can make folks feel "groggy" after consumption.
Even those with gluten sensitivities "usually fare well" with sourdough, he adds, because lactic acid bacterias neutralize effects of phytic acid, essentially making digestion easier on the stomach.
"We have people coming here saying, 'This is the first pizza I've had in forever that didn't make me feel sick,' " he says of the thin, soft crust with a subtle tang.
"We want to break the myth that pizza is bad for you. We really want people to feel good about pizza," he adds.
Though Tender Fire pizzas only take between 60 and 90 seconds to bake, there is a lot of behind-the-scenes work that goes into each meal. Crosky says he kneads the dough for at least 30 minutes before letting it ferment for two to three days. Then, he spends about an hour massaging the pillowy dough into balls.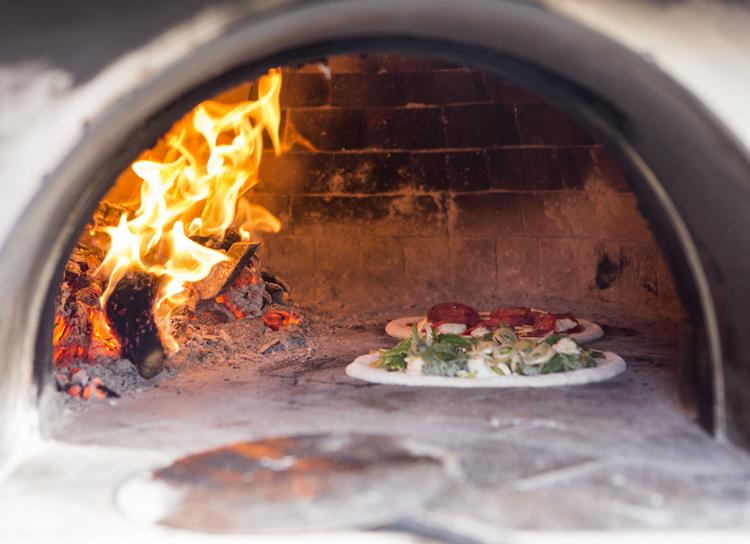 "The dough becomes the meditation," he says. "They really are made with love and time and work."
And this doesn't include the time it takes to visit farms to gather local ingredients for toppings.
Through sourcing ingredients from local farms across Northern New Mexico, the mission is "to show true care to the soil is not only what makes our food better; it's what makes our community stronger," Crosky says. "That's what I'm really interested in — is showing the connection between the land and the final moment of putting something in your mouth."
Crosky says since Tender Fire opened, he and his staff have visited Paradox Farm to gather nettles and Annie's Herb Farm for arugula and herbs.
"The ingredients for sure" are what set the pizza apart, says Crosky's good friend and assistant, Chamisa Going. "The quality of the ingredients are so good, and it stays fresh."
Crosky says his original idea for Tender Fire was to operate as a pop-up market, sometimes selling pizzas at spots like the farmers market and HoneyMoon Brewery as well as hosting weekly or monthly events, such as pizza-and-movie nights at local farms.
He says this is still a possibility once the pandemic passes.
He also envisions possibly starting a Sunday brunch, serving breakfast pizzas or something "totally different" like sourdough waffles and cast iron shakshuka.
In the meantime, he says, he's extremely happy with how things have gone at El Rey Court.
Although there have been challenges linked to opening amid a pandemic, Crosky says, he has had more time to master pizzas and decide the exact direction he wants to take the business.
"It's been a sweet and slow start, where we can really experiment with things," he says.
In its first few weeks, Tender Fire was selling about 20 pizzas each night over the course of four days. Nowadays, that number has more than doubled. While he says his approach is subject to change, right now the mentality is "limiting things and selling out."
This, he says, helps reduce waste and allows him to know exactly how much food he needs to make upfront. If he does have any ingredients left over at the end of the night, he typically delivers pizzas to Christus St. Vincent Regional Medical Center as a way to "pay it forward."
Until last week, Crosky was also accepting donations for pizzas. Suggested rates were $5 per pizza "if you're struggling," $15 "if you're doing all right," and $20 for those who feel financially stable. While there are now fixed prices for pizza — $15 for Margherita, $16 for vegan special and $17 for the soppressata — he says he is still open to accepting donations from folks who are unemployed or dealing with other coronavirus-related struggles.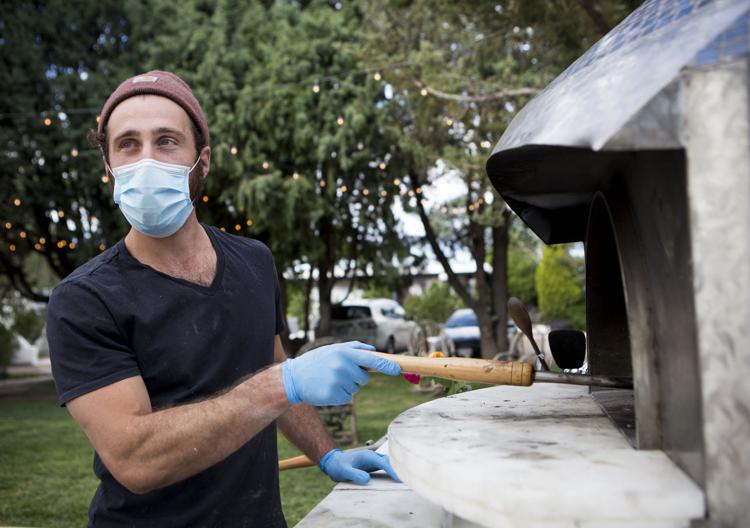 With that, "I do like that we're not turning anyone away," he says.
At a time of great uncertainty, Crosky says, his greatest hope is that Tender Fire offers more than just food. Ultimately, he says, he hopes that sitting in the grass with delicious pizza, surrounded by good people, provides some sense of normalcy and a glimmer of hope.
"The comments have been, 'I forgot the world is falling apart,' " Crosky says. "The lights come on, we put some music on. It just feels good."