This year for my son's ninth birthday, he had a special request: s'mores cupcakes. I am always intrigued by his imagination and the ideas he comes up with, and each year I await his choice with equal parts curiosity and hoping I can pull it off. This year, he abandoned his usual method of choosing some fantastical movie character or theme, and approached the decision more logically. He loves chocolate cake and he loves s'mores, so his mind went straight to s'mores cupcakes, a choice I would have never concocted on my own in probably a million years, yet here we are.
I started with a quick and easy chocolate cake for the base. Then to create a marshmallow-esque topping, we make a Swiss-style meringue, which might sound challenging but is really fun to make once you just get in there and go for it. This recipe calls for a bit of red chile powder because the addition of red chile was too good to pass up and adds an extra layer of Southwest flavor to play off of the chocolate, but you can always leave it out.
I have to admit, while it took me a few rounds of testing (and thinking!), it ended up being tons of fun, and the final recipe came to fruition once I stopped trying so hard and leaned into the s'more experience: chocolaty and sticky with a crunch. The result is moist and decadent cupcakes with all the gooey flavors you would expect from hanging around a campfire making the classic graham cracker, chocolate and marshmallow treat.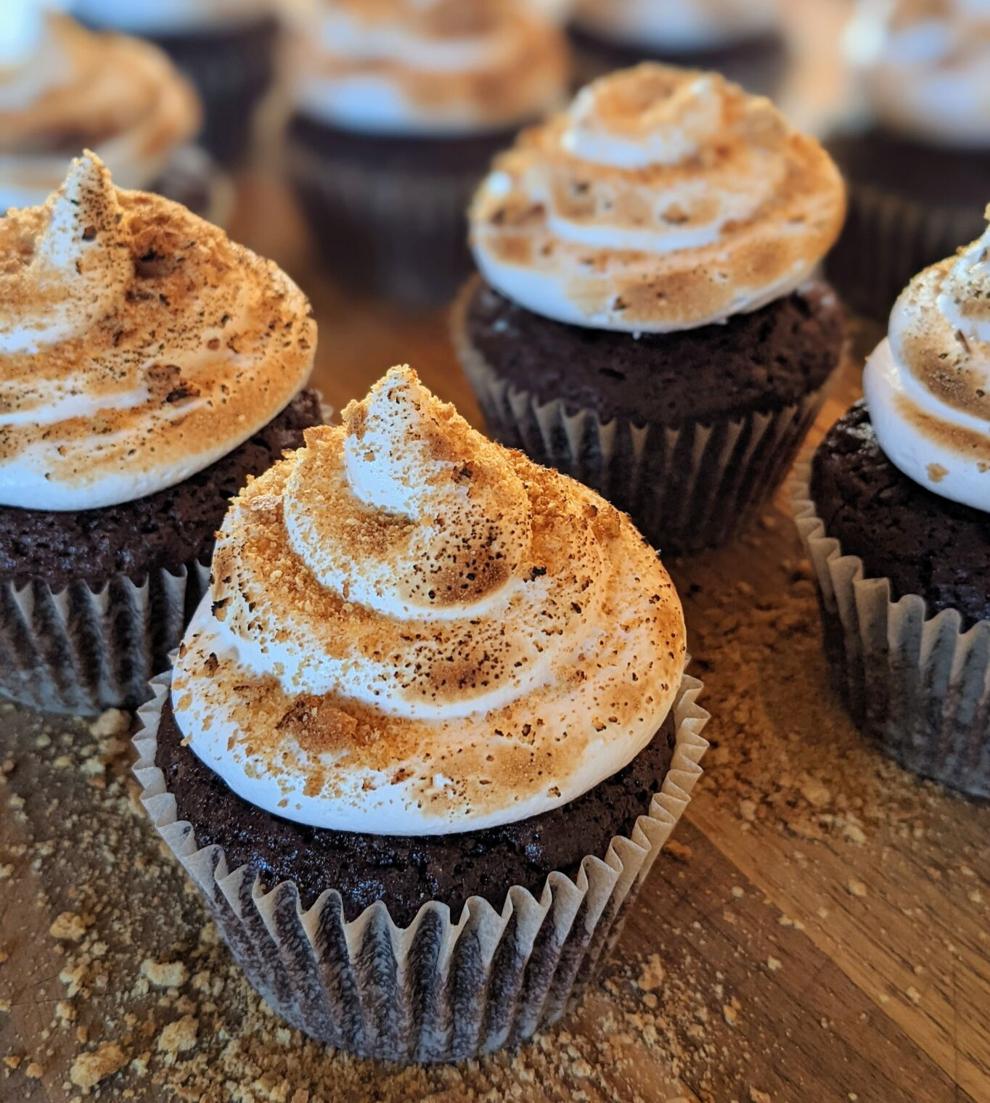 Southwest S'mores Cupcakes
Makes: 12 cupcakes; total time: 1.5 hours
For the marshmallow topping:
3 egg whites (large eggs)
½ teaspoon cream of tartar
2 teaspoons vanilla extract
1 teaspoon ground cinnamon
1 teaspoon red chile powder
½ cup avocado or coconut oil
2 teaspoons vanilla extract
½ cup crushed graham crackers
Preparation: Preheat the oven to 350 degrees. Line one 12-cup muffin tin with cupcake liners.
In a medium bowl, whisk together the flour, cocoa powder, baking powder, cinnamon, red chile powder and salt. In a separate large bowl, whisk together the eggs, sugar, oil, yogurt and vanilla. Add the dry ingredients to the wet ingredients and whisk until the batter is smooth. Sprinkle some crushed graham crackers on the bottom and each cupcake liner. Then fill with batter around halfway up to the top. Bake in the oven for 20 minutes, or until the cakes gently bounces back after touching. Let cool completely.
To make the marshmallow topping, fill a medium saucepan with a couple of inches of water and bring to a slow simmer. Find a heatproof bowl that sits inside the saucepan without touching the bottom or the water. This configuration is a double boiler. Place egg whites, sugar and cream of tartar in the heatproof bowl and place the bowl nested inside the saucepan over low heat. Whisk the egg white mixture until it is light, foamy and all the sugar has dissolved. Transfer this mixture to the bowl of a stand mixer with the whisk attachment or just remove the bowl from the saucepan and continue whisking by hand. Either way, add the vanilla extract and whisk for 5-10 minutes, or until the meringue peaks are stiff and glossy. Transfer this to a piping bag. Use the back of a spoon to poke a deep hole into each cupcake. Pipe the meringue into the middle and on top of each one. If you don't have a piping bag, you can use a spoon to simply top each cupcake. Sprinkle each cupcake with graham cracker crumbs and serve like this, or use a kitchen torch to roast the marshmallow topping for the ultimate s'mores effect. Store cupcakes in the refrigerator for up to 2 days.