The logo for Craft Donuts & Coffee features a doughnut hovering above a coffee cup, suspended like a halo or perhaps a UFO.
Take a bite of one light-as-air cake doughnut, handed to you warm and just-cooked through the food truck's window, and you'll get the concept: Compared to traditional store-bought doughnut, Craft's craft is otherworldly.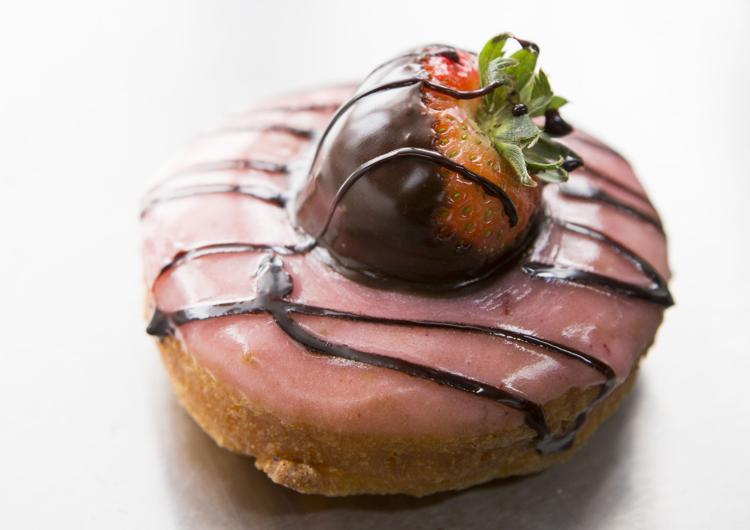 "Whenever I see someone leave with a box of six and head to their car, I want to say, 'Try one now -- or you're really missing the experience,' " said Craig McGregor of Santa Fe, who owns Craft with his wife, Michelle McGregor.
Which is not to say the doughnut aren't delicious after they've had time to cool -- because they're made without preservatives, they should really be eaten within a half-day to a day. "They've got the great crunchy exterior that comes with fried cake, but they're still light and fluffy inside," Michelle McGregor explained.
But when they're freshly made just for the customer, she said, "They're light and warm, and really how a doughnut should be eaten."
The just-cooked treats draw comparisons to funnel cakes and churros -- pillowy, sugary goodies typically fried up to order. Craft's doughnut, when straight from the fryer, share more DNA with these types of sweets than the kind that sit on a bakery shelf.
In fact, there's even a funnel cake flavor among the lineup of feel-good flavors -- it comes doused in powdered sugar and strawberry drizzle. A cinnamon roll variety, the most popular since the truck opened downtown Jan. 15 in the lot across from Kaune's Neighborhood Market, practically melts in the mouth with a coating of cinnamon sugar and a vanilla drizzle.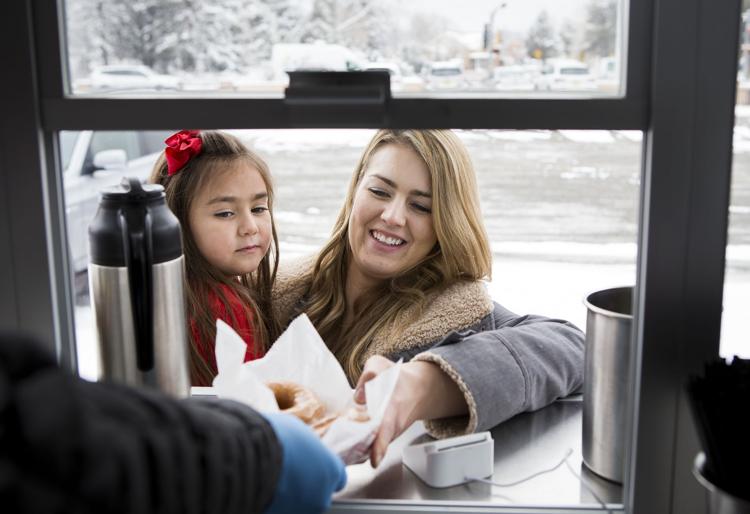 Most popular with the kids: the s'mores doughnut, which has a chocolate glaze, marshmallow drizzle, graham crackers and a fresh-roasted marshmallow on top. Other signature doughnuts include cookies 'n' cream; peanut butter and chocolate; maple bacon; turtle; and the Homer, whose strawberry glaze and rainbow sprinkles are a nod to the classic Simpsons treat.
There's also a build-your-own option, where you can customize your coating, drizzle and toppings. (Those doughnuts, like the signature options, are $1.70 each, $8 for a half-dozen and $14 for a dozen.)
But don't rule out the simplicity of the classic Craft doughnut ($1.50 each, $7 for a half dozen and $12 for a dozen). "We love giving people the option to custom-top their doughnut, but on its own, the doughnut is the real star," Craig McGregor said.
The couple know a thing or two about doughnuts. Both business entrepreneurs -- Craig McGregor owns a tech company that's behind a successful gaming website and Michelle McGregor co-owns Laws of Nature Jewelry -- they spent a decade in Hawaii before moving to Santa Fe after falling in love with the city on a visit to the mainland. They ran a mini-doughnut franchise in Albuquerque in 2018 and early 2019, but loved the idea of their own food truck.
"We had a great concept: To serve them not just a doughnut, but to serve them an experience," Michelle McGregor said. "Watching the doughnuts being made brings out the kid in all of us."
They outfitted a new truck with a Belshaw Adamatic Donut Robot machine, which ensures even cooking while the person running the truck helps customers, pulls espresso drinks or decorates doughnuts, and customized the truck with their dream configuration.
The doughnuts can be made up to 16 at once, a process that takes about five or six minutes, and that's before customization. For large orders, it's best to call or text ahead -- but it's fine to place smaller orders in advance, too, Craig McGregor said. And the truck takes credit cards in addition to cash.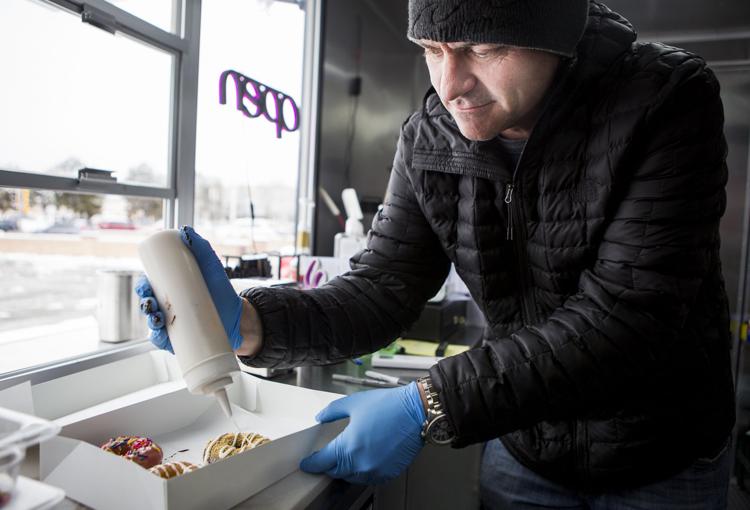 Doughnuts take center stage here, but that coffee cup in the logo is there for a reason. Craig McGregor said he knew from the start he wanted to offer coffee from Red Rock Roasters, a family-owned company based in Albuquerque. Craft offers a full range of hot or iced espresso beverages ($2 to $5) and brewed coffee, as well as chai lattes, hot cocoa, frappes and hot tea.
Already a hit, even in the cold weather, are the Italian cream sodas ($3 for 12 ounces or $4 for 16 ounces), which come in flavors including vanilla, chocolate, caramel, root beer and a variety of fruits. Much like watching the doughnuts being made, the sodas are a nostalgic nod to simple childhood pleasures, Michelle McGregor said.
They'll continue to experiment as the business evolves, including with a weekly specialty doughnut. The first offering: a Samoa doughnut topped with chocolate glaze, shredded coconut and caramel drizzle in the spirit of the classic Girl Scout cookie. This week, they're planning a Valentine's Day-themed treat. (The couple's three children, ages 5, 8 and 10, serve as taste testers.)
The McGregors offer on- and off-site catering, and just did a 500-doughnut function at the Roundhouse. Eventually, they'd like to have a storefront in addition to the food truck, which would allow them to expand the menu with different batters, savory and gluten-free options, and even doughnut-based breakfast sandwiches.
Doughnut, Michelle McGregor says, are the No. 1 sweet in the U.S. And if you get them from Craft, take this one piece of advice: Get 'em while they're hot.