They say you can't teach an old dog new tricks — and sometimes, that's a very good thing.
Though Santa Fe's Loyal Hound recently changed hands, there's no plans to replace the tried-and-true elements that made the restaurant a locals' favorite in the first place. For that, credit a new owner who shares a similar commitment to hospitality and quality, locally sourced ingredients as the pair who founded the restaurant five years ago.
"I don't plan to reinvent the wheel," said Patrick Mockler-Wood, who owns the restaurant with his family, including wife Emily and mother Cathy. "I want to show the loyal customers that the only thing that's changed is the face of the owner."
That means you'll still find the Southern fried chicken with the buttermilk chive waffle, the huge salads, the dirty fries and the spicy chile that have gained a following. Mockler-Wood doesn't plan to make menu tweaks at least until spring, he said, and even then, he'll be drawing on his experience at his other restaurant: Pajarito Brewpub and Grill in Los Alamos, which he opened in 2012.
That eatery, which also serves upscale pub food alongside an array of craft brews and fine wine, shares similarities with Loyal Hound, Mockler-Wood said, right down to a popular fish and chips dish (Pajarito's is Alaskan cod with house-cut fries, coleslaw and tartar sauce; Loyal Hound's is rockfish with house-cut fries, green chile apple slaw and tartar sauce).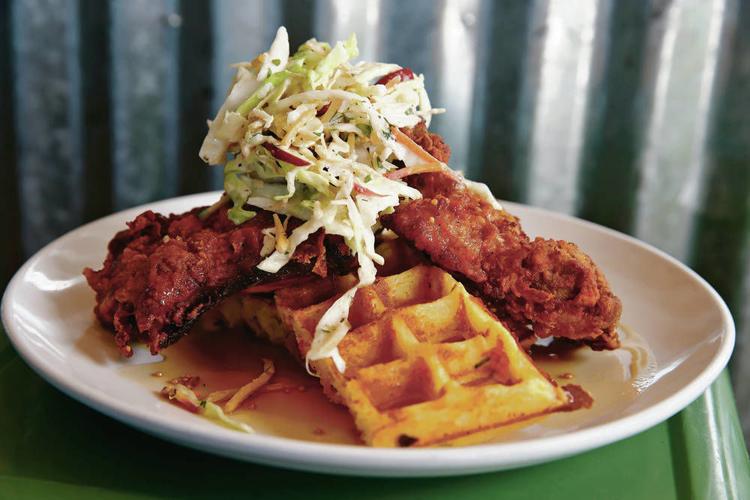 "This was one of my favorite places in Santa Fe," he said of Loyal Hound, which occupies a spot on St. Michael's Drive near Smith's that once housed Hidden Chicken Cafe. "I knew the menu, I knew the atmosphere."
Mockler-Wood, 35, made the offer on Loyal Hound back in March, but spent four months working with staff behind the scenes before officially taking over, a move that shows he cares about establishing relationships with employees and customers alike, said David Readyhough, who opened Loyal Hound with wife Renée Fox in 2014.
"He's staying true to the loyal locals," Readyhough said. "[Pajarito is] a family business with the same philosophy."
Meanwhile, Readyhough and Fox are focusing their attention just south of town at Arable, the farm-to-table restaurant in Eldorado's Agora shopping center that they opened in 2017. They're hoping to launch Arable Prep & Provisions next door by year's end, offering counter-style lunch service, prepared meal kits and meals to go, a small retail selection of New Mexico-made food-related products, and eventually classes, tastings and a small space for private events, Fox said.
"Sometimes downsizing allows you to regain focus on what's most important to you," Fox said. "The decision to sell Loyal Hound was a challenging one, but offset by knowing that all of our energy is now in line with our goals."
Plus, they've put Loyal Hound in the hands of someone who's been versed in hospitality since childhood. A Los Alamos native, Mockler-Wood grew up helping out in his mother's bed and breakfast, the North Road Inn, which the family opened in 1993 when he was 9 years old and still operates. He recalls listening to the stimulating chatter of Nobel Prize winners, scientists and even Olympic swimmers in town to train at the Los Alamos County Aquatic Center.
"The North Road Inn is very different from other bed and breakfasts because of the [Los Alamos National Laboratory]," he said. "Our main business is traveling scientists. We always said the smartest and brightest that our world has to offer will come stay with us at the bed and breakfast and have some amazing conversations."
Mockler-Wood left to pursue a career in aviation, but after growing up in such a social environment, he soon grew tired of the solitary life of a pilot. He took advantage of the many hours spent waiting to fly by pursuing other studies — and planning his "dream bar" — the place he would open after he retired as a pilot.
"My daydreaming," he said, "turned out to be my business plan."
Back in Los Alamos, he found an old Blockbuster Video store still full of DVDs, renovated it and opened the Pajarito Brewpub and Grill. Coincidentally, two other Los Alamos bars closed around the same time, which drove plenty of business his way, he said.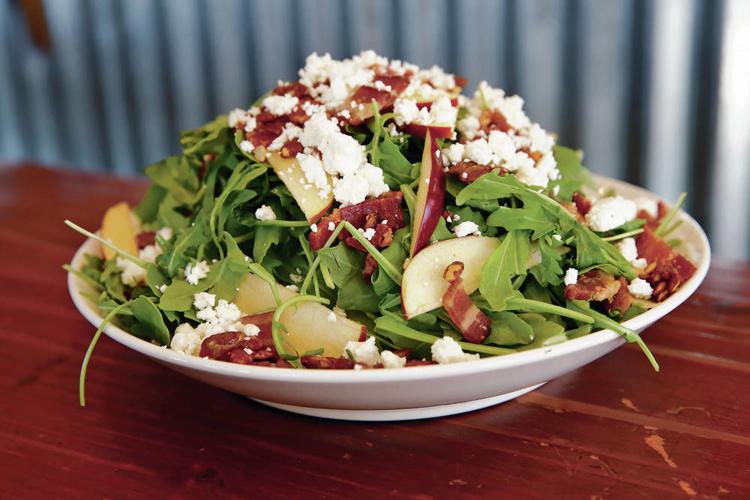 Zoning issues meant he couldn't operate Pajarito as a brewery, "so I decided we would specialize in everyone else's craft beer," he said. Pajarito, named for the nearby mountain, has 54 bottled craft brew varieties and 30 taps — the number that would fit on the custom-made length of metal etched in the shape of the mountain range as seen from the restaurant's rooftop.
In addition to good beer, Mockler-Wood wanted Pajarito to bring good food to Los Alamos, too. Early on, he faced a hurdle to his vision: Because there were so few places in Los Alamos interested in sourcing local ingredients, it was difficult to get deliveries of many organic and local goods. In the last three years, though, that's started to change, Mockler-Wood said, and he's been able to infuse his menu with New Mexico meats, local bread and plenty of high-quality produce.
Take the restaurant's green chile cheeseburger, made by chef Peter Knaus and on the Pajarito menu at $16, which was a finalist in this year's popular New Mexico Green Chile Cheeseburger Smackdown. The 8-ounce New Mexico beef patty is stuffed with green chile and white cheddar pub queso and served with pickles and more green chile on top. Said Mockler-Wood: "It speaks for itself."
There and now at Loyal Hound, he said he wants his restaurants' dishes to be exemplary.
"Any time [chef Knaus and I] sit down to write a menu, we always ask ourselves, 'If I was to walk into a bar anywhere in the world, what would they have on their menu, and how can I do that in the highest quality way?' " he said.
Mockler-Wood still lives in Los Alamos — a block away from the bed and breakfast his mother founded — and trades duties in Santa Fe and at Pajarito with his general manager, Andrea Gordon, and Knaus. Together, they've ensured a seamless transition for Loyal Hound's loyal customers.
"I didn't want to close for even one day," he said. "We could have done it quickly, just walked in and taken over, but it was so important to me that this didn't skip a beat."