It's hard to think of a more prominent spot for a Santa Fe restaurant than sandwiched between the venerable Geronimo and El Farol on the beloved tourist trail of Canyon Road.
But what was previously known as Milad Persian Bistro has found a new home, tucked behind a vinyl record shop at the end of a long hallway in a certain sprawling, funky and bustling shopping center.
And the owner of what is now Milad Betterday Kitchen couldn't be happier.
Neema Sadeghi, 33, closed the Canyon Road incarnation of his casual fine-dining restaurant in August nearly three years after its opening in November 2016. He and his entire staff from the previous location reopened in early October in the New Solana Shopping Center on West Alameda Street, between hard kombucha maker HoneyMoon Brewery and the popular Betterday Coffee Shop.
"For me and my crowd, it's perfect," said Milad chef and owner Sadeghi, who crafts a creative menu of contemporary Persian cuisine. "I feel like there's a strong sense of community here, and I feel much happier — and that comes across in the restaurant and the food."
Milad is at the back of the space that previously housed the Betterday Dine-In, a barbecue-forward concept from the coffee shop owners. A sign, displaying the restaurant's signature tree logo inside a light box, is imminent; the retro "D-I-N-E-I-N" sign from the previous Betterday incarnation will be shifted over and re-lettered with "R-E-C-O-R-D-S" for Lost Padre Records, Sadeghi said, which moved there from Catron Street downtown in September.
On this particular afternoon ahead of Milad's dinnertime opening, the new location, shared quarters and lack of signage makes the restaurant feel like a hidden gem among its eclectic retail cohorts. A door opens to Lost Padre on the right, with Milad at the end of a hallway lit with the warm glow of suspended Edison bulbs.
Inside, large paintings created by Sadeghi's mother, an artist, adorn the walls. He brought over chairs to accompany tables already in place and painted the walls a sultry red that echoes the mood of the previous location, but with a sleeker, more urban feel.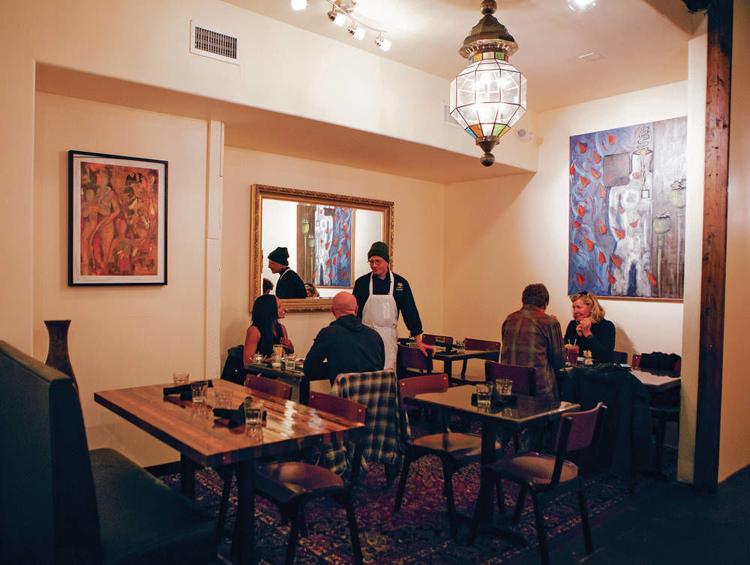 An elegant bar with seating for seven offers a spot for solo diners and social patrons. And a cozy L-shaped booth in the corner provides a nook for a group to relax over small plates, kebabs and bottles of wine.
The space is drawing a mix of loyal clientele and new regulars — including patrons from La Montañita Co-op, which anchors the shopping center, or those stopping by for a haircut, yoga session or load of laundry at one of the varied shops and eateries along the strip.
"There's more than one reason to come here," Sadeghi said. "Canyon Road is a leisurely destination. Here there's the co-op, coffee, laundromat and yoga studio. I believe that restaurants are about people and community, creating a third space. Here it's like the whole center is a third space."
Sadeghi grew up in Washington, D.C., but has lived in Santa Fe for seven years. After years of working in restaurants, Milad was his first endeavor as owner and chef, and he spent more than a year renovating the prominent spot on Canyon Road. But it wasn't long before he began wondering whether it was time for reinvention.
"We had some tourists, but it was predominantly locals," he said of the Canyon Road clientele. "Tourists want green chile and margaritas, not what we provide. I began to ask, 'What's the longevity of the restaurant?' I decided to partner with Betterday and reevaluate what we're doing and what we're about."
The new space — with seating for about 50, a much larger kitchen, local produce available from the nearby co-op and its proximity to Betterday and Lost Padre — seemed custom-made for Sadeghi and his restaurant. Music has always been particularly important to him, he said, pointing to a framed set of Iranian records on the wall that he's had since before the move.
Betterday's owners manage building maintenance and equipment — and even provide the coffee Milad uses for its guests. At some point, Sadeghi said he may open in the morning, allowing coffee shop guests to spill into his restaurant to enjoy a few special Milad dishes in addition to Betterday's lineup of food and drinks.
For now, Sadeghi and his staff are focusing on establishing a new foundation by honing the basics.
Milad's menu has been refreshed, with permanent spots for some of the most popular entrées that previously had been served only as specials. That includes the much-requested pan-seared stuffed trout ($20), a traditional Iranian dish often served for the new year. The menu will change seasonally, he said.
"The food is direct and rustic, but also nuanced and refined," said Milad's manager, Micaela Gardner. "People can have delicious, ecstatic food here. It's special."
Favorites remain, of course, including the popular soups and the falafel, made with fresh carrot and serrano or beets and served with mint yogurt. Everything is made from scratch, Sadeghi said, and the pita is still baked in-house.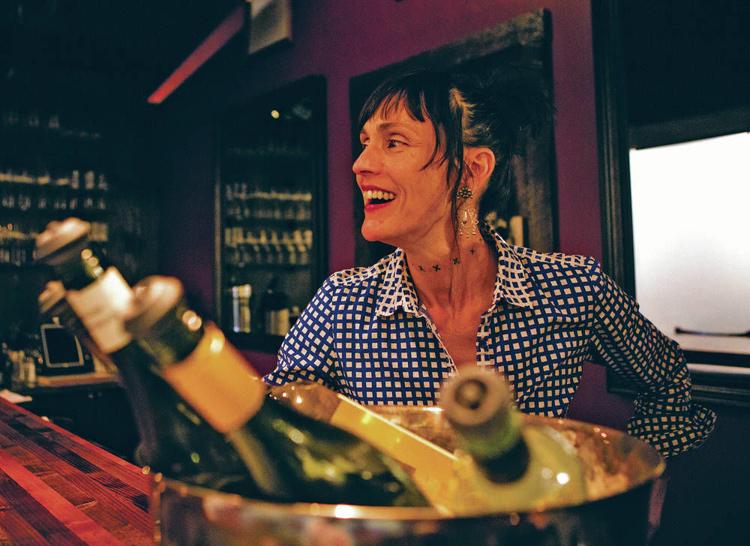 Groups of four to six can opt for The Caravan ($135), a heady assortment of small plates, kebabs, dessert and tea (including a choice of traditional Persian black tea with bergamot).
Sadeghi and Gardner take particular pride in the restaurant's wine program, which offers an eclectic array of bottles ranging from $28 to $145. They choose wines for their ability to pair well with the restaurant's dishes. "We look for a leanness in character in both reds and whites; bracing, unique profiles go well here," Gardner said.
Wines by the bottle are half-price on Wednesdays, and the restaurant also offers an array of draft brews, including local ginger jun (a fermented tea called honeybrew) from Leaf & Hive.
So far, Sadeghi said, he's been buoyed by support from regulars who've sought them out and new guests drawn in by the fresh, colorful location.
"I love being here in this curiously hip strip mall," Gardner said. "We're interacting more with the locals who appreciate what we do."
While he loved his original location, Sadeghi said there's more life here in his spot on West Alameda.
"The culture of this town doesn't only reside there," he said of Canyon Road. "I find that more and more people live here in this part of town, and they don't go up there."
Here, the sense of community bolsters him. "I make baklava, and I get to browse through records while it bakes," he said.