At first glance, Lucky Goat seems like serious business. There's the striking minimalist décor, all rich red and white, the dramatic and elegant Asian artwork and Chinese lettering adorning the walls, the pendant lights in modernist George Nelson's designs.
But spend some time inside this new Pan-Asian restaurant and you'll discover playful details at every turn, from the menu to the motif.
There's a Laughing Buddha statue at the front door, and Jennifer Day, who owns Lucky Goat with husband Jimmy Day, encourages you to rub its belly as you enter. There are cheeky characters to be discovered in the artwork and actual goat hoof imprints in the floor.
Ask for soy sauce and it arrives in an imminently Instagrammable tiny ceramic cat pitcher.
And the food? It's a cross-cultural blend of classic and contemporary Asian cuisine that invites sharing and exploration. Dishes like Kimchi Fries — more on those later — and build-your-own pho invoke a spirit of fun, not fussiness.
"There's a good sense of humor here," Jennifer Day said. "You want to have fun when you're dining. It makes it a more interesting experience."
Lucky Goat opened Nov. 26 in the former Pizza Hut building on Sandoval Street that had most recently been occupied by State Capitol Kitchen. The timing was fortuitous: The Days, who also own Bouche and Trattoria a Mano under their business New Mexico Fine Dining, had closed their comfort-food diner Jimmy D's at Garrett's Desert Inn on Oct. 31, not quite six months after opening, because the roof was condemned, Jennifer Day said. They were able to transplant their staff to Lucky Goat and repurpose some of the furniture and design elements.
The couple are also busy restoring the original Bobcat Bite on Old Las Vegas Highway, which they plan to reopen in early March.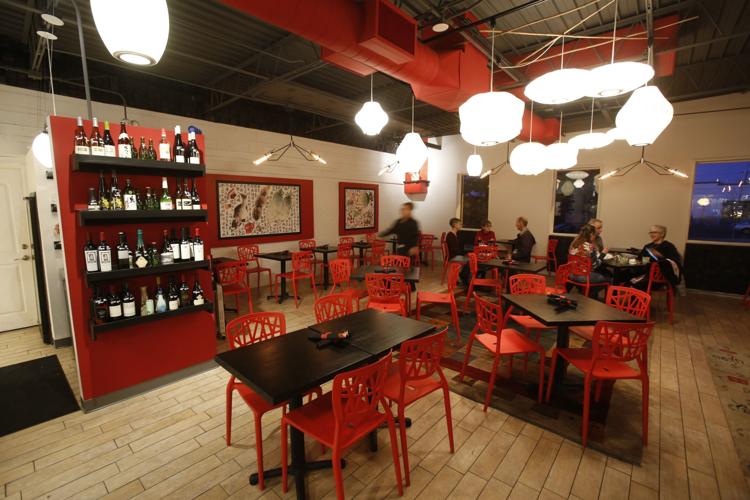 Lucky Goat's name hails from the Days' financial windfall as Texas ranchers when they imported the first frozen embryos of Boer goats, a popular breed for meat production, from South America. They sold those goats and established the breed in the U.S. Longtime Santa Fe visitors and part-time residents, they moved here full time a decade ago.
To open Lucky Goat, the Days rebuilt the property, adding a coat of fiery red to the vintage Pizza Hut cooler and opening the ceilings to show off the ductwork. Décor touches include hand-painted kanji, a system of Japanese writing using Chinese characters, Chinese papers dating to the mid-1800s and vintage Japanese sake bottles. A small viewing room off the main dining area offers a peek into the kitchen through bamboo canes and big glass windows from any of seven counter-style seats.
A bank of shelves showcases the restaurant's wine, bottled beer and sake offerings, including Lucky Buddha Beer from China, which comes in distinctively shaped bottles. After the new year, Lucky Goat will offer weekly painting parties where guests can decorate their own glass Buddha bottles.
Rather than focusing on one particular type of cuisine, Lucky Goat's menu offers a culinary tour of flavors.
"It's more Pacific Rim: People can get Chinese, Korean, Indonesian dishes," said Bob Baker, director of operations for New Mexico Fine Dining. "It's a nod to cuisines all across the region, with our little twist."
So you'll find Ca Ri De ($23), a hearty Vietnamese goat curry stew made with locally sourced meat, alongside the create-your-own pho, which invites you to select your richly infused broth, noodles, protein and choice of vegetables and comes artfully arranged in a slightly tilted white bowl. There are American-Chinese egg rolls ($5), Thai red curry mussels ($16), spicy Korean wings ($12), Indonesian spicy vegetables ($16), pad thai ($15) and a variety of fried rice.
A wok-fried whole fish (market price) is a table showstopper, and the Cracklin Calamari ($16) marries the delicately breaded squid with a bed of greens and an addictive lime miso dressing.
"We're doing a modern take on Asian cuisine," Jimmy Day said. "Our goal is to fill niches in Santa Fe."
Sous chef Lei Zhang makes the restaurant's Chinese dumplings, deftly rolling, filling and pinching elegant folds by the hundreds. The menu was created by New Mexico Fine Dining executive chef Tony Anderson, who also recently reimagined the French menu at Bouche, and will be executed by Lucky Goat chef Kale Blackmon.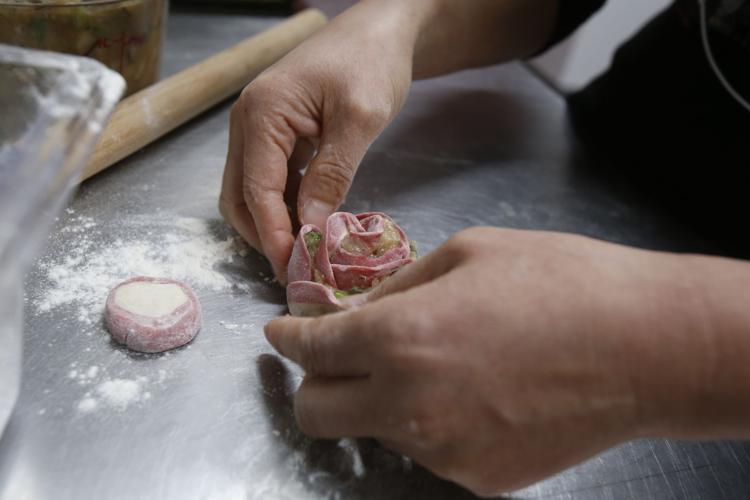 "I'm very excited about what we can do," Anderson said.
Anderson's menu — dinner only for now, but they plan to open for lunch in the spring — includes creative nods to Asian flavors, such as a decadent five-spice cake ($9) with a deep chocolate flavor boosted by a ganache sauce and a custardy Thai creme caramel ($8). Lemongrass gives a mango pie ($8) a refreshing, herbal zest.
And about those kimchi fries ($13): A nod to the decadent New Jersey-style disco fries and "garbage plate" of Rochester, N.Y., they're loaded with tender cubes of pork belly, mozzarella, kimchi, Korean ketchup and a housemade dressing that all meet in the epicenter of savory and soul-satisfying.
"It doesn't get more cross-cultural than that," Baker said with a grin.