If you're navigating the heavily trafficked area of Cordova Road near St. Francis Drive, you might not notice there's something different about that long-standing building next to local institution Maria's New Mexican Kitchen.
Inside, it's a different story.
Santa Fe Dining Inc. CEO Randy Ropek stands inside a gently sloping hallway, all smooth plaster walls and hand-laid herringbone brick. On either side, doors connect Maria's funky, close quarters to a bright, airy expansion inside what was the spot next door.
"It's hard to believe this used to be an alley," he says with a smile.
Since its birth in 1950, when Maria and Gilbert Lopez started a small take-out space serving traditional Northern New Mexican food, Maria's has been a cornerstone for connection: hooking up hungry families with freshly made tortillas and hand-rolled tamales, giving countless tourists their first (and second and so on) taste of local cuisine and the wide, wild world of the margarita, and bringing families together over shared meals and drinks.
Ownership of Maria's has changed hands over the years — most recently, Al and Laurie Lucero owned it for 27 years before handing the reins to Gerald Peters' Santa Fe Dining in 2013 — but the emphasis on family has remained a constant, Ropek said.
"Maria's has truly one of the strongest senses of family within the staff; some of the folks have worked here for over 30 years," Ropek said. "And it's truly a family destination. I've been in here before where I've seen four generations at a table."
The new expansion has a surprising family connection, too. Santa Fe Dining co-owner Katie Peters' grandmother, Maria Bernadette, once owned the building — which housed an art supply business for years — that has become Maria's new wing. They're calling it the Maria Bernadette Room and Bar in her honor.
"Maria's has been such a family operation and institution for all these years, and this was just one more opportunity to fold in history and tradition around that," said Nicole Tipton, Santa Fe Dining's chief commercial officer.
Entering through the original front door brings you through the bustling, labyrinthine layout of the original Maria's, a study in charming midcentury Santa Fe authenticity. (One corner of the dining room features a glass-walled area where the corn and flour tortillas are prepared.)
Once you step into the expanded space, which was completed Aug. 17, the familiar Maria's digs transition into a high-ceilinged, rustic space that's contemporary and complementary at the same time. The open-air bar area features custom-made leather and wood from Mexico — the style an homage to those 1950s and 1960s beginnings — and opens into a secluded brick patio. Adjacent to the bar is a vast new dining space anchored by two massive, show-stopping chandeliers fashioned from elk antlers. Huge prints by New Mexico artists chosen by Gerald Peters adorn the walls.
The expansion increases seating by about 100, which is good news, because Maria's stays hopping year after year, said general manager Tom Vimont. The locals-tourists split is about 60-40, he said, and executive chef Alvaro Ramirez must pull double duty offering out-of-towners the classic cuisine Maria's is known for while maintaining the consistency that longtime patrons expect.
"A lot of people come in who ate here 15 or 20 years ago and say, 'This tastes just the same as I remember it,' " Ramirez said.
In fact, it's often the locals who direct tourists looking for authentic food and drink to Maria's, Vimont said.
"It's just so traditional Santa Fe, and a lot of the locals view it as being the Northern New Mexican traditional restaurant — even though we do have some very great competitors in town," Vimont said. "The décor; the food; the mixing of Native American, Spanish and Mexican cuisine because of the various cultures that were here over hundreds of years, makes Maria's unique for that New Mexican splash — to really let it sink in that 'I'm not in Denver anymore, I'm not in Dallas anymore.' "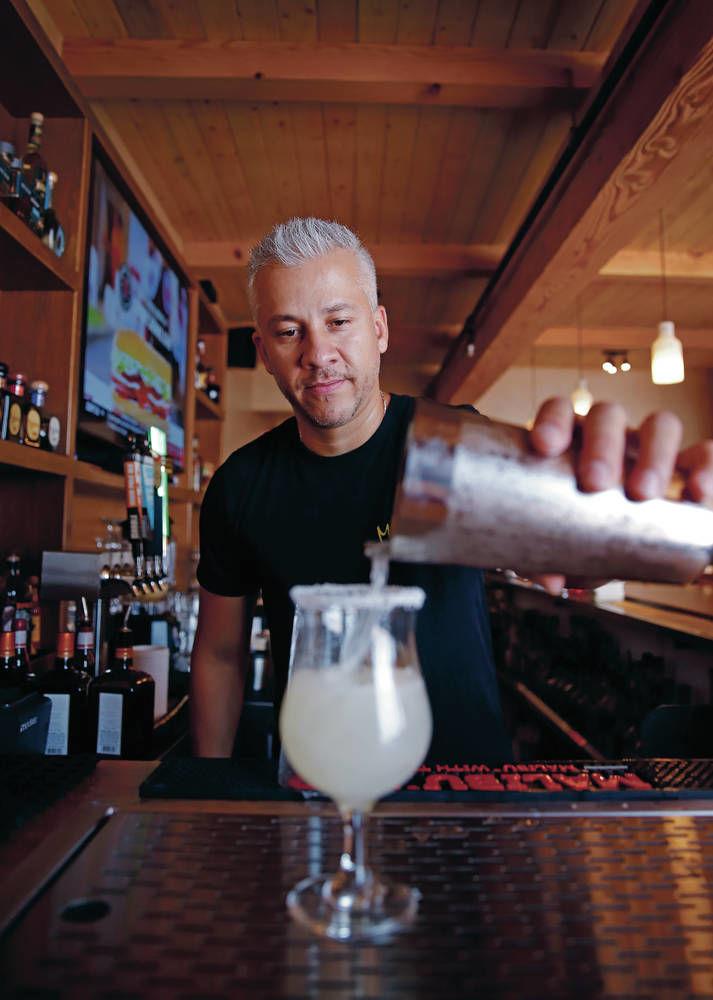 New or recurring, guests clamor for the enchiladas, tacos and fajitas, said Ramirez, whose favorite menu items are the burritos. His chef specials, including slow-roasted baby back ribs in a signature blood orange chile chipotle sauce, a quesadilla with achiote grilled chicken, and shrimp enchiladas, accompany nearly two dozen New Mexican entree dishes as well as appetizers, soups and salads, fajitas and burgers.
Then, of course, there's the margarita list, nearly the size of a Broadway playbill, which offers a lineup of more than 180 margaritas of seemingly every imaginable flavor, composition and price point. Margaritas here are made with 100 percent agave tequila and fresh-squeezed lemon juice; popular picks include Maria's House Special (made with Sauza Blue Reposado and triple sec for $7.50), The House Tradition (Cuervo Traditional reposado, triple-sec and lemon juice for $8) and The Bargain Basement (with Olmeca reposado and Cointreau at $9, "a good margarita at a great price," Vimont said). The imaginative names (Carmella's Fella, The Randall-Scandal, Blazing Guns of Cimmaron) are a tradition dating back to the Luceros' ownership — many of them are named for local figures or celebrities who have stopped in.
"It's a little bit of intrigue" that draws customers in to explore the drinks menu, Vimont said. " 'How could there be 180 margaritas?' In most geographic areas, a margarita is just one drink on the menu, like a gin and tonic."
Guests can also taste a flight of nearly any three tequilas for $14, which come served in flute-like Riedel crystal tequila tasting glasses.
The bar, coupled with the patio and the new dining area, will make Maria's a more accessible spot for parties, rehearsal dinners and other social occasions, Ropek said, something he added is needed in the swath of Santa Fe between downtown and the south side. The restaurant offers a variety of party-ready configurations, including special dining packages, buffets and hors d'oeuvres.
But whether it's serving a wedding party or a table of four generations, a loyal solo diner or a group of tequila-tasting tourists, Maria's retains its focus on family, tradition and connection.
"The food is scratch-made every day, done the way Maria did it," Vimont said. "When I come in in the morning, there are employees making tamales and rellenos and tortillas from scratch. That's hard to find anymore."
Correction, Aug. 28, 2019 
A previous version of this story misspelled the name of Katie Peters' grandmother, for whom the restaurant's new wing is named. Her name is Maria Bernadette.