Cocktail soirees. Private dinners. TV premiere parties. Tables for two, galas for hundreds. Baby showers and memorials and all the milestones that come in between.
A common denominator? For Adobo Catering, it's a calm and choreographed team passing plates of hors d'oeuvres, pouring drinks, serving with a smile — and seamlessly hiding the high-stress hustle that's happening behind the scenes.
"There are an endless amount of unexpected adjustments that we need to deal with, but the magic of it is that none of it translates to the guests' experience," said Adobo Catering owner Peter Dent. "A lot of things could be going on, but the guests are having a magical experience beyond their expectations. That's what we strive for."
In high-end restaurants, servers glide about the dining room with freshly plated dishes and answers to their guests' every question. They give no hint of what's going on past those swinging doors inside the bustling, high-pressure kitchen. Catering events have the same sense of elevated service, but there's a huge difference: "Back of house" and "front of house" vary wildly depending on the location.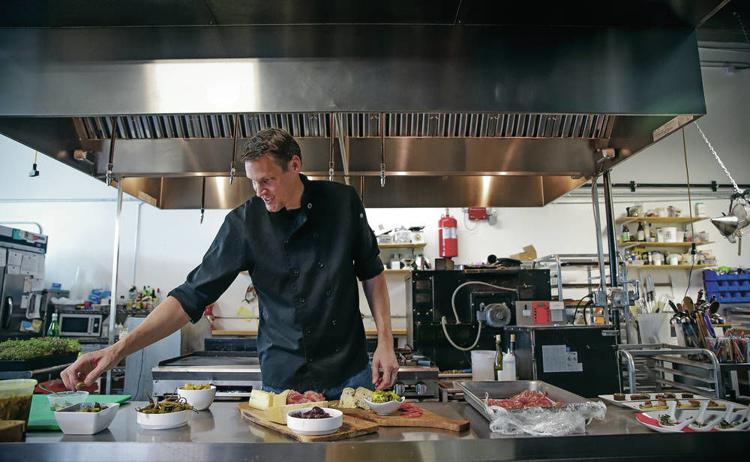 Imagine, for instance, prepping plates in a loading dock and relying on runners to carefully but quickly transport the dishes down corridors and through multiple doorways to a gala set up inside a gallery space. Imagine your "dining room" being a third of the space you'd been expecting. Imagine the power going out at an indoor event or a sudden Santa Fe rainstorm swooping in on your outdoor pre-opera tailgate for four.
For Adobo Catering's core team of employees, half the battle is planning for the unexpected — and the other half is dealing with it.
"It's not an exact science because it's constantly changing," said event manager Theresa DiGiorgio, who specializes in planning larger events and event staffing. "While we have our plan in place, it could change on a dime. A table could get moved, and that floor plan we had so carefully planned gets upended."
Dent took over Adobo Catering in 1992 with two partners five years after it was started by original owners Ron Messick and Paul Rochford. Previously, he'd spent a decade in New York City, including working as an assistant manager for the upscale grocer Dean & DeLuca and running his own takeout food and catering shop in Tribeca.
He said the key to his business's success is a tightly knit group of professionals who bring a diverse set of experiences, including DiGiorgio, executive chef Brian Rood, and general manager Lisa Sanderson, who came up through the kitchens of Santa Fe's restaurants and is in her 11th year in the position at Adobo Catering. She coordinates events, writes proposals, plans menus with Rood and serves as liaison between the kitchen and the clients.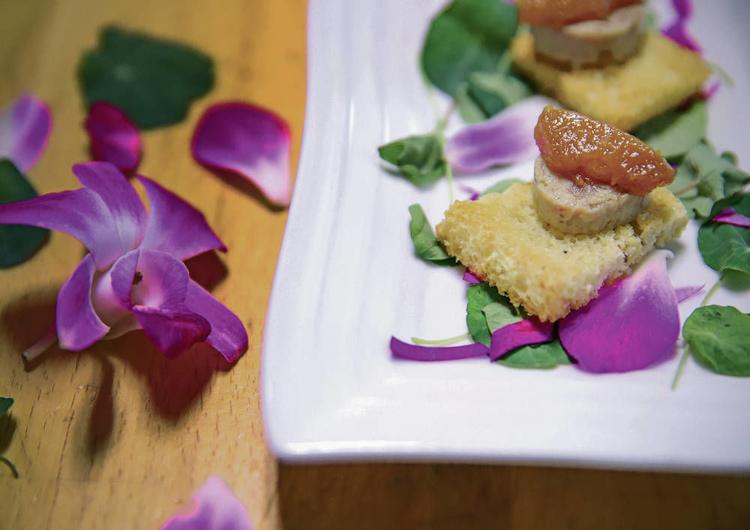 "I get to start with the phone call from the client and find out what they want, use my personal culinary background combined with what Adobo does beautifully, what Brian likes to see and create, and work with him to create a menu for that person, then go back and have a back and forth with that client," Sanderson said. "We create a very custom menu and very specific needs for this one party, which makes it so exciting. It's not cooking the same plate at a restaurant every night. From start to finish, that event is my baby, and I get to take care of this person so individually, in such a custom way — it makes me really proud."
The team, they agreed, takes communication seriously.
Signs of collaboration are everywhere. A kitchen team member walks in mid-interview with a sample of a mango tres leche parfait for tasting before it's added to a menu. The management team works in an open office space, and a huge planning board keeps everyone up to date in the adjacent soaring kitchen space (Rood designed both areas in their Second Street Studios location, where Adobo moved in 2018 from smaller digs about 150 feet away).
"We're a family," DiGiorgio said simply.
There's communal space for the staff to enjoy a daily "family meal." Rood and Sanderson are married. Dent boasts like a beaming relative about Rood's culinary skills and DiGiorgio's other work as an artist.
And the family focus extends to clients as well, some of whom have been working with the catering company since its earliest days. Adobo works with many of the area's biggest groups and organizations, but it also has clients for whom the team has been helping to create house parties, holiday dinners and milestone celebrations for years.
"A great measure of our success is the development of trust with clients that we've had for 30-plus years," Dent said. "We see births, deaths, marriages, christenings and brises and seders, joy and sadness — and based on that trust, we are an intimate part of those people's lives. It's extremely rewarding for us."
Added DiGiorgio: "There are homes we've worked for years and relationships we've had, where we're serving Christmas dinner to a family of six and watching their family grow. So, there's that wonderful intimacy in direct contrast to these larger events where we walk into a space blind. We have people we've served and worked with in some major life celebrations and milestones."
The menus are as unique as the gatherings and the people hosting them. Rood, an Alabama native who attended culinary school in Portland, Ore., and honed his skills in some of Birmingham's top kitchens, loves Korean and Japanese cuisine in particular, but he adapts menus in concert with Sanderson according to clients' preferences and needs. During the peak seasons of May through October and around the holidays, the team might handle seven to eight events a week in addition to providing lunches for Desert Academy.
That's where that big board comes in handy. A recent weekday featured detailed plans, times and menus for events as varied as cocktails and hors d'oeuvres for 50 at a private residence, a corporate reception, a buffet meal and a seated dinner for 12.
And these are not templated or simplistic menus. A recent dinner for 200 at the Lensic Performing Arts Center featured hors d'oeuvres of charred vegetable crostini with Morbier and fresh herbs, shrimp beignet with caramelized shallot-Pernod aioli and country-style duck paté with Armagnac on one-bite brioche toast, topped with pickled apricot; followed by salade nicoise and baguette, an entrée choice of steak au poivre, sea bass en papillote or stuffed artichokes; then ending with a chocolate-espresso layer gateau.
A family picnic for 150 featured smoked brisket and pork loin at a carving station; barbecue chicken and roasted salmon; sides such as house-cured bacon and chive potato salad, Mexican elote corn and cast iron cornbread; a kids station; and an array of mini desserts.
"Every single party is a different restaurant," Rood said. "We're really trying to make something exciting, always trying to reinvent."
And because much of the preparation is done in advance before the food is transported to the event, planning is crucial to present those menus seamlessly when the inevitable changes in plan arise.
"Even though we don't have a fully stocked kitchen at these events, we always have to be fully ready," Dent said. "We always have to add to our menus so that if someone comes in and they haven't announced that they're vegetarian or they're gluten or dairy intolerant, we can accommodate that without showing stress to our system."
"And that's a point of pride," Sanderson chimed in.
"That's something that has to do a lot with all the conversations that go on and the planning and strategizing of an event that happens long before the day of," Dent said. "It's extremely important that everyone knows in a system like that, that tends to be chaotic and complicated, that it's done with elegance."