For the novice tea drinker, walking into ArtfulTea's new Marcy Street location can be a bit overwhelming — in the best possible way.
This is no fussy, cluttered English tea shop. The store, in part of the space previously occupied by Design Warehouse, is bright and airy, all clean lines and blond wood and artfully arrayed teapots, cups and infusers — "all the things to help you make a good pot of tea," owner Karen Gardiner said.
Against the wall, huge metal shelves bear dozens of green tins, copper canisters and crisp paper bags, all neatly announcing which of the store's 90 tea and herbal varieties they contain.
Never fear if you don't know your oolong from your pu-erh, your rooibos from your hibiscus or even your black from your green. Gardiner and her staff of four make it their mission to help guide the way.
But if you prefer a more in-depth education, ArtfulTea has a special spot just for you.
Tucked at the back of the shop is a neat butcher block bar and a half-dozen high rattan chairs facing a diminutive kitchen setup and a small shelved army of various cups and glass teapots. Here, the store offers a series of classes on everything from the ABCs of tea to the intricate, soothing Japanese art of paper crane folding — with green tea tasting, of course.
"Part of what we do every day when people come into the store is educate them about tea," Gardiner said. "All of our staff are very knowledgeable, and we spend a lot of time helping people learn about tea and leave knowing more than they came in knowing, and so it occurred to me that there would be an opportunity for people to come in, sit down and have an hourlong experience learning about tea. And it's a way to bring in those people who want experiences, who might not otherwise walk into a tea store."
Gardiner teaches both an introductory class and a "beyond the basics" course on request. On a recent afternoon, she described the classes as she prepared a pot of delicate Bashan Silver Tip white tea, setting a timer for the perfect amount of leaf-steeping to prevent bitterness.
The basics class lets participants sample freshly prepared white, green, oolong and black teas (including the higher-end Bashan Silver Tip white tea) as they learn about tea types and brewing techniques. You'll see and handle the dried tea leaves and receive handouts, including one for jotting down your own tasting notes.
In the more advanced class, tea lovers can learn about tea-growing regions, cultivation and more. Another class gives participants a lesson in folding Japanese origami cranes, then the meditative space to make as many as they can in an hour while sipping green tea.
A fourth class explores the world of matcha — a high-grade green tea powder — its history, health benefits and the ceremony of a Japanese tea gathering. Participants are served a sweet and a bowl of matcha each and learn how they can get started drinking, said Ali Smith, who leads the class and studied Japanese tea ceremony for 12 years.
"The guests at the classes all seem very interested, but also surprised at how much goes into the actual study of tea," Smith said. "Some have had matcha only in coffee drinks, ice cream and the like. This gives them a much broader look or peek into the origins of matcha and its very rich history."
All these sessions are intimate affairs, with room for just six participants at the corner bar. The classes, which began when the shop opened on Marcy Street in early April and range from $15 to $20, have been a success so far: "Everyone leaves with a big smile, saying they learned a whole lot," Gardiner said.
Classes were part of the goal for ArtfulTea's expansion from its original digs on Galisteo Street. In addition to the storefront, the larger space also offers more room for providing wholesale tea to local businesses and packing and shipping online sales, which make up about a quarter of the business.
ArtfulTea began online in 2007 from the kitchen of a Canyon Road casita Gardiner rented when she first moved to town. After working as a corporate lawyer for a decade, she had moved to the Florida Keys to work with a man who bought and sold restaurants. That experience helped her learn about back-of-house operations, and she decided to fulfill a dream: In 2000, she and a friend opened a tea shop and bookstore in the Keys.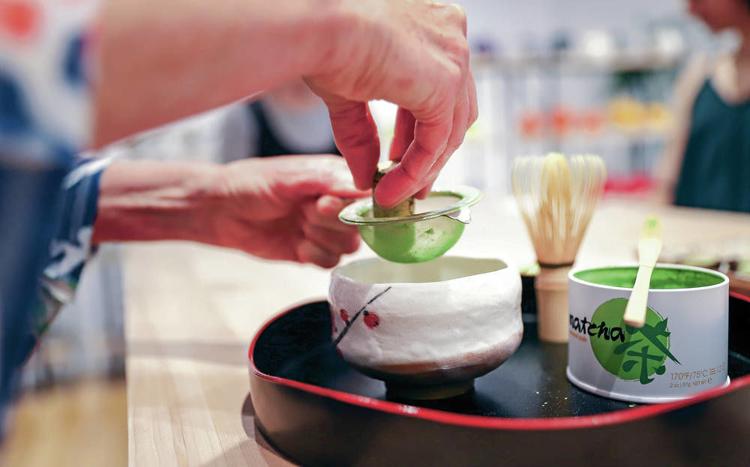 Kindred Spirit, in a 400-square-foot house with a front porch and garden, offered guests a welcome respite from the heat and humidity. But the Keys were struck by four hurricanes in 2005, causing a drop in business the shop couldn't recover from, and it closed in 2006.
Gardiner had been coming to Santa Fe for years, so in 2006 she decided to move here for good and launched ArtfulTea the following year, at first selling to many of her former Keys customers. She began selling at the Tesuque Flea Market, then the Railyard Artisan Market and then the early days of the farmers market's indoor space. She opened her Galisteo Street storefront in 2015.
In the nearly two decades she's been selling tea, she's become an expert in her trade, by dealing with suppliers, taking classes, attending the World Tea Expo and continuing to learn.
"I learn more all the time," she said. "It's one of the reasons I stay interested in tea: Like wine, like other things, I could spend my whole life learning about it. I will not ever know everything there is to know about tea."
In her shop, she sells tea — that's true Camellia sinensis — as well as herbal infusions. Offerings are carefully curated and include rare finds like purple leaf tea, a new category of tea first discovered growing wild in the Assam region of India. The low-caffeine tea, similar in taste to oolong, is high in anthocyanins, which are found in blueberries, eggplant and other blue, purple or dark-red foods.
About 15 teas are blended in-house, many of which originated as the result of a special request. Sing Your Song — with organic peppermint, lemongrass, cardamom pods, dried ginger pieces and licorice root — was crafted for a singer at the Santa Fe Opera who wanted something to help keep her voice in peak condition.
And while Gardiner notes that she's not an herbalist, some of the teas in her shop have properties linked to healthful properties. Take the Atomic Gold, a spicy and sweet herbal blend of turmeric, ginger, licorice, lemongrass and orange that yields a rich golden-yellow brew.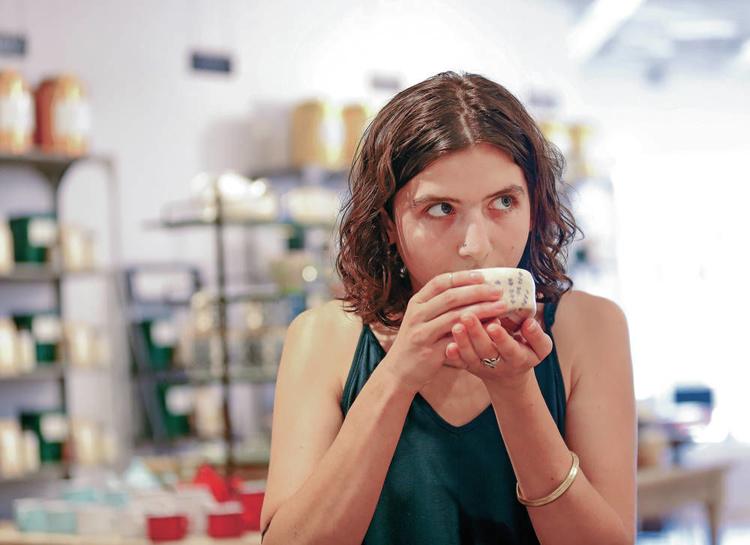 Prices range from $10 to $45 with an average price around $15, and a package will make about 35 to 40 cups of tea. Hand-filled tea bags for $2.25 each allow you to sample a cup before you commit to a larger package.
Gardiner says about a quarter of her in-store sales come from repeat customers — and the clientele is as varied as her shop's offerings. Customers range in age, gender and culture, and she's seen more and more younger visitors expressing a desire to learn about and enjoy tea.
"More and more people want to drink tea — and they want to drink good tea," she said. "There comes a point where you try loose-leaf tea and you realize it's so much better, and you're never going back to grocery store tea."
Gardiner herself became enamored as a teen with afternoon tea and all its trappings — the silver, the china, the ritual. And before that, she recalls drinking Red Rose Tea with her grandfather at age 7 or 8, dunking tea bags and dousing the drink with milk and sugar. She collected the porcelain figurines that came in each box and lined them on her windowsill.
In that way, Gardiner said, tea is more than just a simple beverage. It's a conscious act, one tied into making memories and taking time for yourself.
"I think one of the reasons that tea has become even more popular over the years is that people associate tea with slowing down, with a ceremony, even a small ritual, with sitting down with a good friend and having a laugh or a cry," she said. "They associate tea with healing."