With the holidays around the corner, I wanted to share with you four of my favorite holiday sides. All of these recipes lean toward the skip-the-fuss-and-bring-loads-of-flavor side of the cooking spectrum. And the best part? All of them can be tweaked to work for you.
The stuffing recipe is adapted from a "Hearty Dressing of Beef & Onions" recipe my Aunt Jessie clipped out of a New York newspaper in 1962; it's been our official family stuffing recipe ever since. Over the years, I have tweaked it to incorporate the flavors of Northern New Mexico that have become such an important part of my life — fire-roasted chiles and herbs like sage, marjoram and lavender. This is one of those recipes that transforms into something else once it lands on the dinner table; a vessel that preserves and conjures up memories with rare precision, where within a single bite I am flooded with memories of my great grandmother, my grandpa, my grandma, my mom, my aunts and uncles, melting snow dripping down the car window on road trips to visit the Italian side of my family, and now my New Mexico home.
You could omit the ground beef in the stuffing recipe to make it vegetarian. For the mashed potatoes, just because I love potato texture and skin doesn't mean you have to. If you want them smoother, you can peel them and pass them through a food mill or potato ricer. This recipe also intentionally includes my favorite chile, the mild and smoky poblano. But is there a chile you love more? Whatever it is, use it and make this and all of these recipes yours.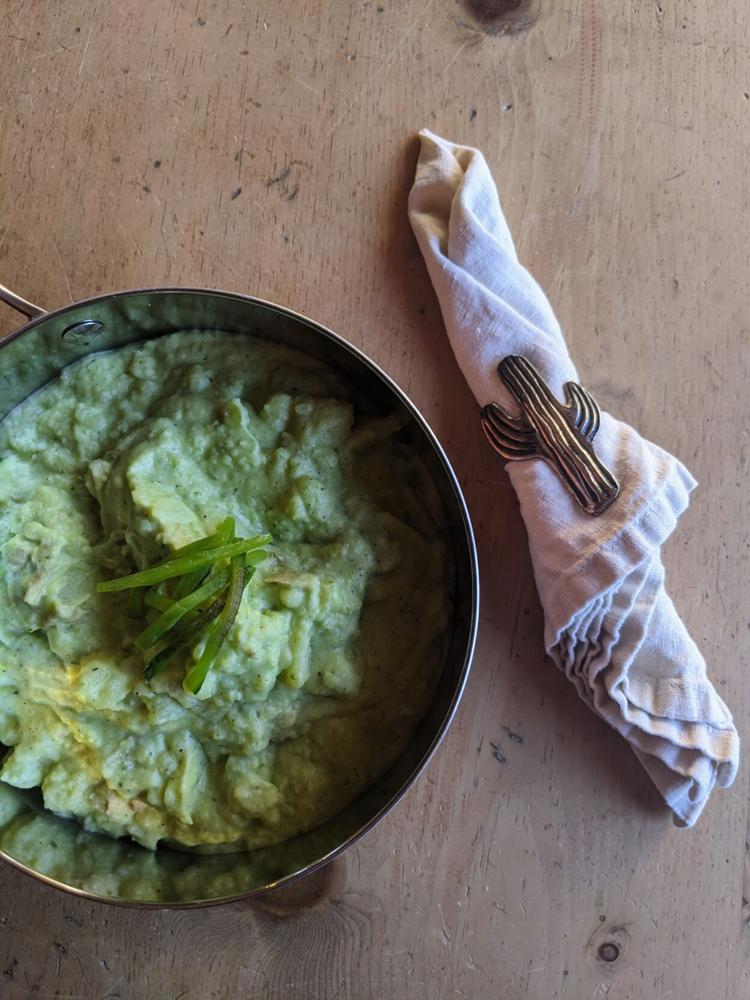 Poblano and brown butter mashed potatoes
3 pounds Yukon Gold potatoes, washed well
a generous pinch of kosher salt
½ cup unsalted butter (1 stick)
2 fire-roasted poblanos, seeded and diced
5 garlic cloves, thinly sliced
Preparation: Cut the larger potatoes into quarters and the smaller potatoes into halves. The idea is to have the pieces be around the same size so they cook evenly. Add the potatoes to a large pot, add a generous pinch of kosher salt, cover the potatoes by at least an inch of water and bring to a boil. Simmer until the potatoes are tender, around 20-30 minutes when pierced with a fork. Drain the potatoes in a colander and let them hang out for a minute. In a humid climate, I would suggest throwing the potatoes back in the pot over low heat and cooking them a few minutes to dry them out. But with our dry New Mexico air, I have never found it necessary.
While the potatoes are cooking, prepare the poblano sauce: In a medium saucepan, add the butter over medium heat. Keep a close eye on the butter as it melts and starts to bubble. You will notice that the butter will boil and the bubbles will be large. This is the water evaporating. The time this takes will depend on the quality of butter you use and how much water content there is. Once this stage ends, the bubbles will get small and frothy. This lets you know you are close. Gently swirl the butter in the pan until you can see through the bubbles and the solids of the butter turn a medium golden brown. As soon as the butter turns that first shade of gold you might be inclined to pull it from the heat. But take a deep breath and let it go 5-15 seconds more. You don't want to burn it, but a medium brown brings the most rich and nutty flavor. Turn off the heat and add the fire roasted poblanos and garlic. Stir for a few minutes and add the half and half. Blend this mixture until completely smooth. Pour back into the saucepan and keep warm on the stove.
How you mash the potatoes once they are cooked is up to you. While they are still hot, you can mash them in a bowl with a potato masher or large whisk. You could also put them through a food mill, or you could transfer them to the bowl of a stand mixer with a paddle attachment and slowly let the paddle break them up for a minute. The main thing to keep in mind is that you don't want to overwork the potatoes, which will cause them to get gummy from too much starch being released. Once the potatoes have been mashed (or milled) to your desired consistency, slowly pour in the poblano sauce while stirring and season with salt and pepper until it tastes great to you.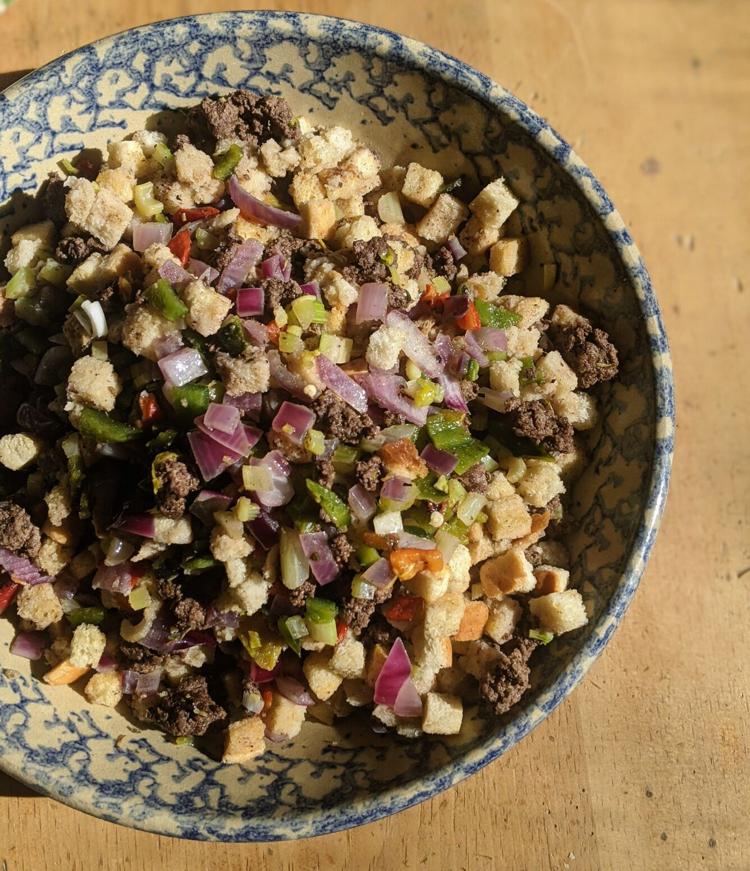 Cornbread Stuffing
Makes: 8 servings; total time: 1 hour
1 12-ounce bag (around 5 cups) of cornbread breadcrumbs (or homemade bread crumbs)
1 pound ground beef (optional)
2 teaspoons dried marjoram
1 teaspoon dried lavender
2 teaspoons ground allspice
½ cup (1 stick) of butter
4 stalks of celery, diced
½ cup celery leaves, minced
2-4 fire-roasted chiles depending on size and heat, seeded and diced
Preparation: Pour dry breadcrumbs into a large bowl. In a large pot over medium-high heat, add the olive oil and after a couple of minutes add the beef, a pinch of salt and pepper, marjoram, sage, lavender, allspice and nutmeg. Cook until the beef is cooked through and caramelized. With a slotted spoon, transfer the meat to the large bowl of breadcrumbs. Now add the butter to the pot and once it's melted, add the onion, celery, celery leaves, chiles and water. Bring to a simmer for around five minutes. Pour this mixture over the breadcrumbs and meat and stir until everything is mixed together. Voila!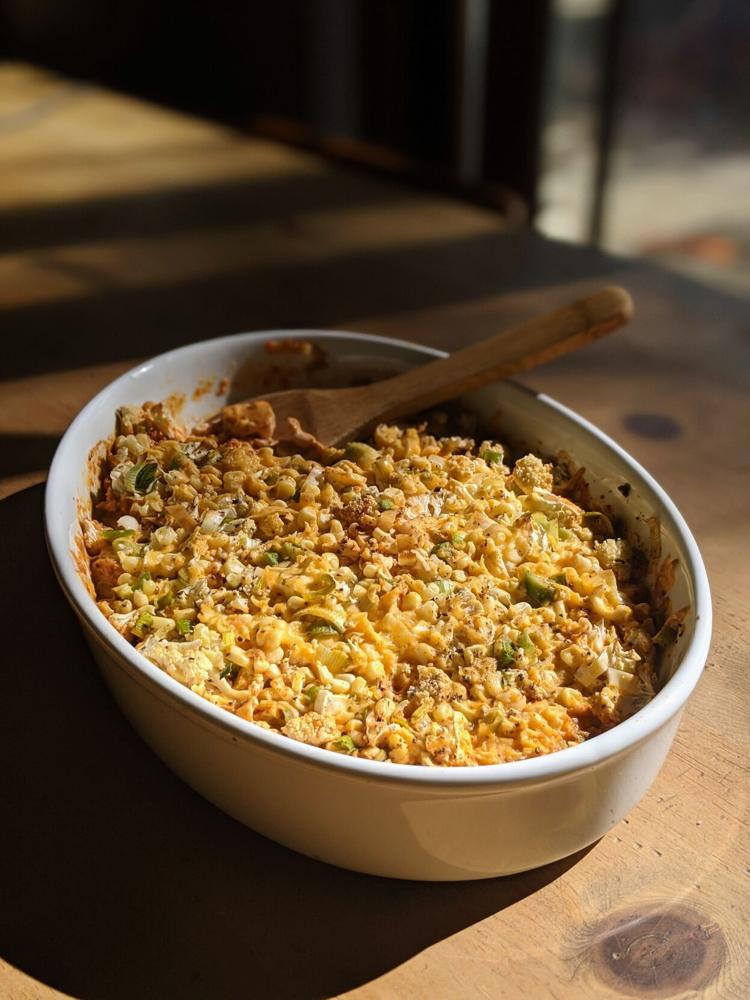 Cauliflower and corn gratin
Makes: 8 servings; total time: 1 hour
1 medium cauliflower, cut into bite-sized florets
2-4 leeks depending on size, trimmed, sliced in half lengthwise, washed well and sliced
3 cups sweet corn kernels, fresh or frozen
2-4 teaspoons red chile powder, depending on heat
1 teaspoon ground cinnamon
1 cup heavy cream or unsweetened coconut milk
Salt and pepper, to taste
3 cups shredded sharp cheddar cheese
Preparation: Preheat oven to 375 degrees. Spread butter all over the inside surface area of a large baking dish. In a separate large bowl, toss together the cauliflower, leeks, corn, red chile powder, cinnamon, cream, salt and pepper. Spoon a third of the mixture into the baking dish, sprinkle with cheese and repeat two more times, alternating cauliflower mixture and cheese. Cover with foil and bake for 45 minutes. Carefully remove the foil and bake for another 15 minutes. Let cool 10 minutes before serving. This can easily be prepared the day before, refrigerated and baked the next day.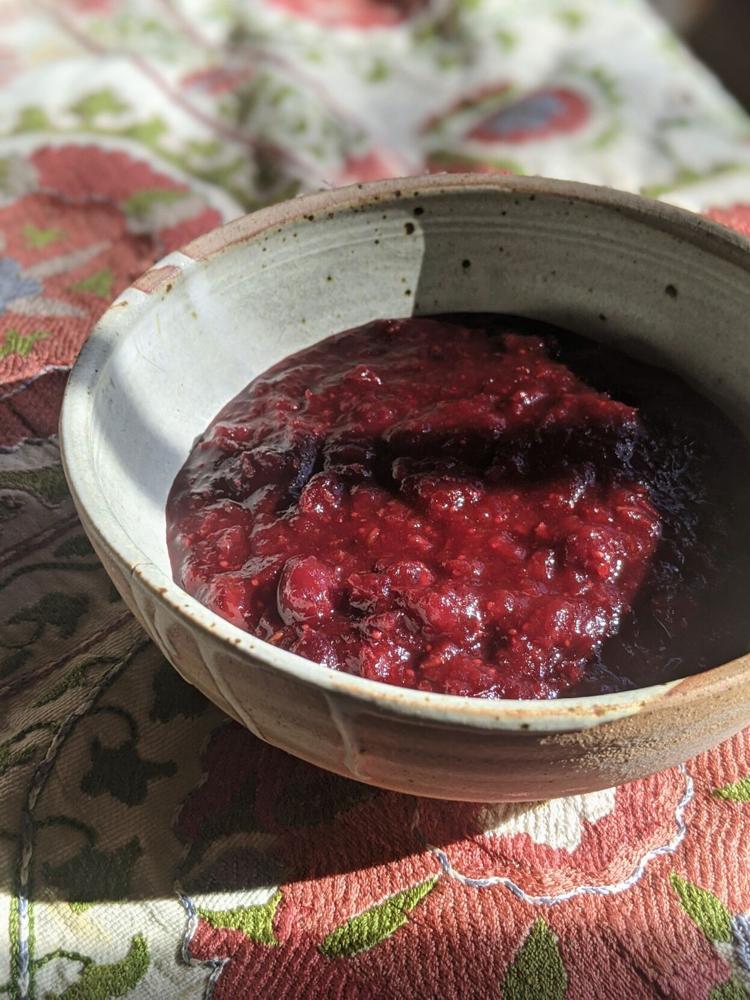 Cranberry Sauce
Makes: 8 servings; total time: 30 minutes
3 cups (12-ounce bag) of fresh or frozen cranberries
½ cup packed brown sugar or maple syrup
2 teaspoons medium-heat red chile powder
1 teaspoon ground cinnamon
1 orange, zested and juiced
1 teaspoon ground organic lavender
pinch of salt and black pepper, to taste
Preparation: In a medium saucepan, combine cranberries, water, wine, brown sugar or maple syrup, red chile powder, cinnamon, orange zest and juice, lavender, salt and pepper. Let simmer for 30 minutes over low heat. Carefully blend around half of the mixture and add this back to the pot. Let cool to room temperature, then store in the refrigerator until ready to serve.