This spring gazpacho is inspired by Spanish (garlic, bell peppers, tomatoes) and Italian (basil, balsamic vinegar, tomatoes) cold tomato and vegetable soups. But it's spring. Great tomatoes aren't here yet, and other vegetables are starting to pop up. So can a person have their gazpacho cake and eat it, too? I think so.
This is a celebration of early spring — cool and refreshing. By adding half the liquid, it also transitions easily to creamy dip that is wonderful paired with pitas, crackers, toasted bread or even other veggies like carrots and bell peppers.
When you come to the part of the recipe about cooking the onions and jalapeños, don't be afraid of getting them nice and charred in the hot pot. The blistered and blackened skin brings loads of flavor.
If there is an ingredient that doesn't excite you, skip it. Also, jalapeño heat varies greatly from one pepper to another, so I would highly suggest giving your jalapeño a little taste to see how hot it is and adjust accordingly for the soup.
The last time I made this, I garnished it simply with a drizzle of extra virgin olive oil and a dash of lavender-chile sea salt. it would pair beautifully with a grilled piece of chicken or fish. Also, a piece of buttered whole wheat bread on the side to clean the bowl is never a bad idea.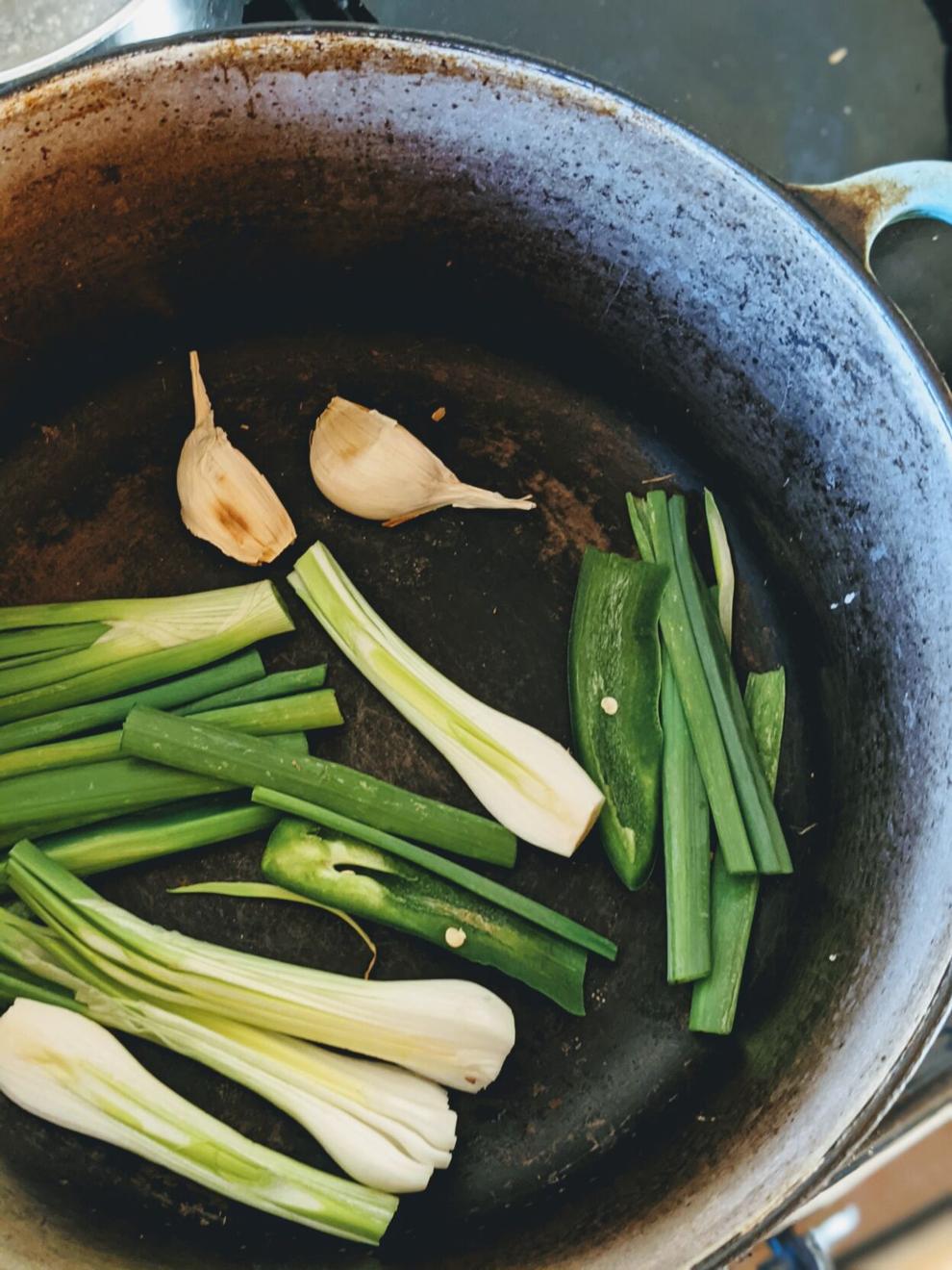 Spring Gazpacho
Makes: 6 servings; total time: 20 minutes
2 cloves garlic, skin left on
½ to 1 fresh jalapeño, seeded and quartered
1 cup 1-inch slices of spring onions or scallions
½ bunch of asparagus, tough ends trimmed off and sliced on the bias into 1-inch pieces
2 cups fresh or frozen dark leafy greens
1 cup diced seedless cucumber
Preparation: Place a large, heavy-bottomed pot over medium-high heat. Once the pot is hot, add the (peel left on) garlic cloves, jalapeño quarters and spring onion slices. Turn them every few minutes until the vegetables are charred and garlic has a nice caramelized spot on each side of the skin. With tongs, remove the garlic cloves, and when they are cool enough to handle, peel them and throw them back in the pot.
Reduce the heat to low and, after a minute, add olive oil. Add asparagus and cook for a few minutes until they are tender but retain a bite.
Stir in the greens until they just wilt. Turn off the heat. Add the frozen peas, which will cool everything down. Add the cucumber, avocado, water, lime juice and a dash of sea salt to taste. Blend in a blender until smooth. Garnish with a drizzle of extra virgin olive oil and a crack of salt and pepper.