It's the Willy Wonka factory of frozen yogurt.
At least, it's hard not to feel that way when you walk inside the vibrant, imaginative space in Rodeo Plaza that's been home to Frogurt, a self-serve yogurt shop, since 2010. Your eyes go immediately to the colorful mural adorning one wall … or maybe to the bright green couch made of stuffed animals … or perhaps to the tabletops with games of checkers, chess and tic-tac-toe.
Or maybe you're drawn to the bold blue tile and bank of gleaming metal squares on the far side of the shop, with those white handles begging to be pulled and the large letters above them proclaiming, "Oh the Possibilities!"
Possibilities, indeed: With a lineup of eight frozen yogurt varieties, more than 60 help-yourself toppings and a smorgasbord of other inventive, surprising offerings, Frogurt practically demands that you set down your phone, let down your guard and have a little fun.
"We wanted this to be a place where people could park outside, where families could come and enjoy spending time together," said Pattie Christianson, who owns Frogurt with husband David Christianson.
The shop offers eight frozen yogurt flavors at any time, including two with no sugar added and one or two nondairy options. Always on tap: the popular original tart flavor, pomegranate raspberry and cake batter. On a recent visit, the machines also offered watermelon sorbet, mango sunrise sorbet, strawberry colada and no-sugar-added chocolate and vanilla.
Employees are quick to help newcomers on froyo protocol (though there's a handy sign if you get lost). Grab a 12- or 16-ounce cup and pick your flavor or flavors — each machine holds two flavors, with the middle handle outputting a swirl of the two. Indecisive? Ask for a sample.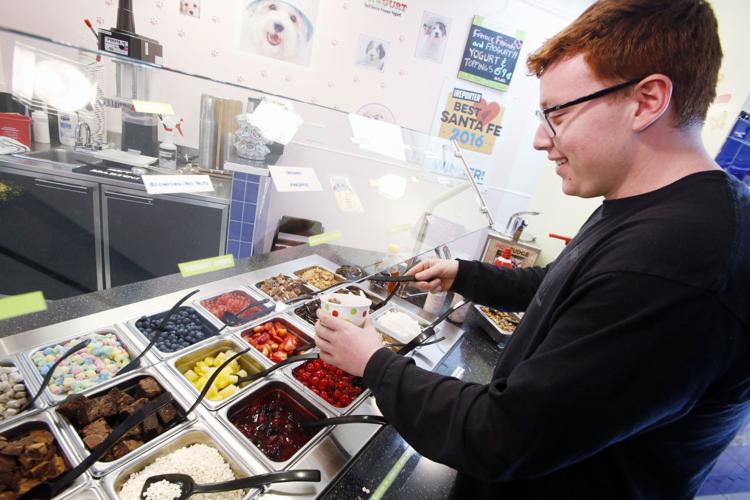 Then load up on toppings. David Christianson, inspired by the cereal dispensers he saw in hotels while working for the Army, installed a custom-built row of cylinders that hold a range of toppings (including, yes, cereal). There's also a traditional buffet-style assortment of fruit, nuts, candy pieces and other toppings.
Grab a canned or bottled drink if you wish, head to the register and get your creation weighed. At Frogurt, frozen yogurt masterpieces come 69 cents to the ounce.
Santa Fe has no shortage of ice cream and gelato offerings, but these days it's harder to find frozen yogurt, much less with the self-serve concept. The frozen yogurt at Frogurt — the only dedicated frozen yogurt shop in Santa Fe, its owners said — has a third of the sugar and calories of ice cream, and nearly all Frogurt's varieties are fat free, David Christianson said. And it's good for your gut, Pattie Christianson said, with 400 million probiotics per 4-ounce serving.
Their frozen yogurt comes from Dannon in a liquid state (buying it in powdered form, as some yogurt shops do, is half the cost but not nearly as tasty, Pattie Christianson said).
"If you don't have good yogurt, all the toppings in the world won't make it better," she said.
The self-serve frozen yogurt lineup might be at the heart of Frogurt's concept, but the full range of offerings unfolds itself like a tour through the froyo wing of Wonka's factory.
There's the Crush, an artisan snow cream David Christianson invented for Frogurt's concession trailer, but which you can also buy in the store. To make Crush, a flavored frozen yogurt block is shaved like Italian ice. The result — in both dairy and nondairy varieties — is like a lighter, fluffier version of ice cream. Frogurt offers it in signature bowls named in line with the trailer's boxing theme, including The Johnny Tapia, The Holly Holm and The Rocky Balboa.
Then there's a hidden secret for Santa Fe's health-conscious: Frogurt offers two varieties of eye-popping 30-ounce acai bowls at $8.95 each, with a thick fruit smoothie-like pureed base topped with hemp granola, fresh fruit and other toppings.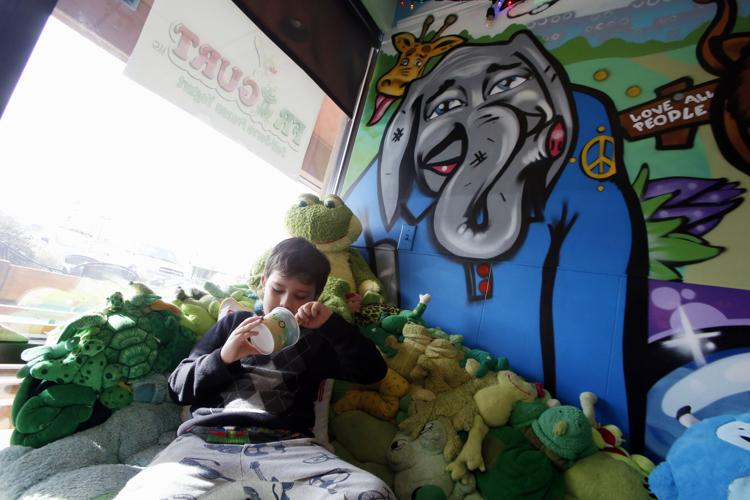 There are smoothies, too, and fruit-topped waffles and soft pretzels and cookie pies and frozen bananas made with Ghirardelli chocolate. There's a brand new concoction (only on the weekends for now) called a shaka boom, a sort of cake-waffle fashioned in the shape of a "hang loose" hand that you can place in your cup and fill with frozen yogurt. If that weren't enough, David Christianson serves up fresh-made beignets to order.
Pattie Christianson says she and David are the perfect yin and yang for the business: Highly organized, he handles the machines and opens and closes the shop daily; her creativity shines in the décor and toppings. The couple, who knew each other while growing up in Las Cruces, reconnected years later; Pattie, 56, had settled in Santa Fe and was working in the beauty industry, and David, 57, worked for the Army with Lockheed Martin.
They married in 2007 eight months after their reconnection, and in 2010, on a trip to the Rose Bowl Parade, Pattie Christianson stopped in at a Yogurtland, where she saw the self-serve frozen yogurt concept for the first time. "I thought, 'Wouldn't it be great to have this healthy alternative to ice cream in Santa Fe?' " she said. "There was nothing like it, where you could make your own masterpiece."
The shop opened Sept. 24, 2010, in Rodeo Plaza on the south side, in the former spot of Over Easy Cafe. When Frogurt first opened, just after peak summer season, sales were slow.
"Some days, we'd make $35 all day, and we started to think, 'What were we thinking?' " Pattie Christianson said. David Christianson began canvassing a two-mile radius on foot, doling out coupons for free yogurt. Word of mouth began to grow — and remains a cornerstone of their success, the couple said. Sales have continued to increase each month, year over year, he said.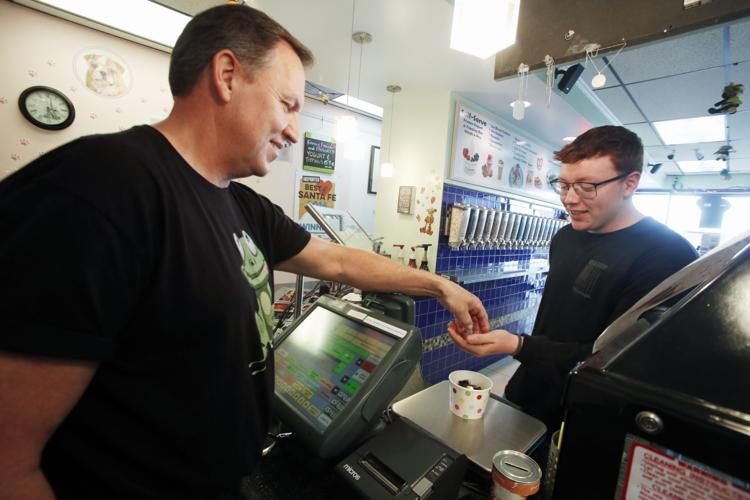 The secret? Three things, David Christianson said. It's the experience itself — the feeling of happiness and contentment that comes from the upbeat and sparkling little shop. Then there are the touches like the mural, the "stuffie" couch and the games — and the lack of Wi-Fi, which, they said with a laugh, forces teens and adults alike to put down the phones and socialize. Last is a little Wonka-esque wizardry: David fine-tunes the machines to produce a slightly thicker-than-average frozen yogurt that comes out almost like soft-serve ice cream.
A customer, they said, once called Frogurt the "holy grail of frozen yogurt shops." They like that.
The shop draws a wide range of customers, from families to couples on dates to grandparents stopping in with the grandkids for a special treat. Loyal customers are a key part of their business: In fact, that bright green couch just inside the doorway was custom-made in 2012 by local artist Don Kennell using stuffed animals donated by Frogurt's kid customers.
"Even now, we'll have kids come in and say, 'Oh, look! There's my frog!' " Pattie Christianson said.
They've seen lots of children grow up in the past decade, even giving some of them their first jobs. Brightening the days of people who live in their community is important to them.
"When people walk in, we want them to see something in the décor or the menu and be happy," Pattie Christianson said. "Every direction you look, there's something to make you smile."
No Fizzy Lifting Drink or Everlasting Gobstopper required.