Growing up in a family where simmering pots of gravy were pretty much the pulsing heart of any gathering, Italian food is a place where my history and nostalgia easily meet. That being said, food styles in Italy are diverse, dishes growing from deep roots cultivated over time amid a changing landscape. In Tuscany, there is a coastal strip bordering the Tyrrhenian Sea called Maremma, a region where green hills gradually give way to salt water and pine forests. Here is where acquacotta, meaning "cooked water," was born. A simple bread and vegetable soup, it is often served with an egg on top.
I have seen variations as far-reaching as adding shellfish, skipping the tomatoes or even adding beans. By all means, make this work for you. Aside from the salmon, the only thing I needed to go to the store for was fennel, but I could have easily made do without it. This isn't an anomaly. Acquacotta is meant to be a simple dish that utilizes what you have on hand, going so far as to call for stale bread. In this recipe, we make our own "version" of stale bread, but if you have actual stale bread and this saves it from the trash, even better.
I add salmon during the final minutes of cooking, but you could easily make this without fish and keep it vegetarian. This recipe will easily serve six people, but if you want to make it for two and have enough for leftovers, just cook as many eggs as you want to serve at a time. The next day, while reheating the portion you want to eat, cook as many eggs nestled in the soup as you want once it comes to a simmer.
Because bread is placed in the bottom of the bowl, if you have one with a flat bottom this is the perfect time to use it. And just a quick note about celery: If you just have the two stalks of celery to work with that's totally fine. However, if you are working with a celery heart and have access to the inner leaves, run your knife through them and add them to the soup in addition to your sliced stalks. They add incredible amounts of flavor.
Thank you for your kind emails over the past couple of weeks, and a special thank you to Gregory, who requested a fish recipe for Lent and helped me find a new favorite way to make this beautiful Italian soup.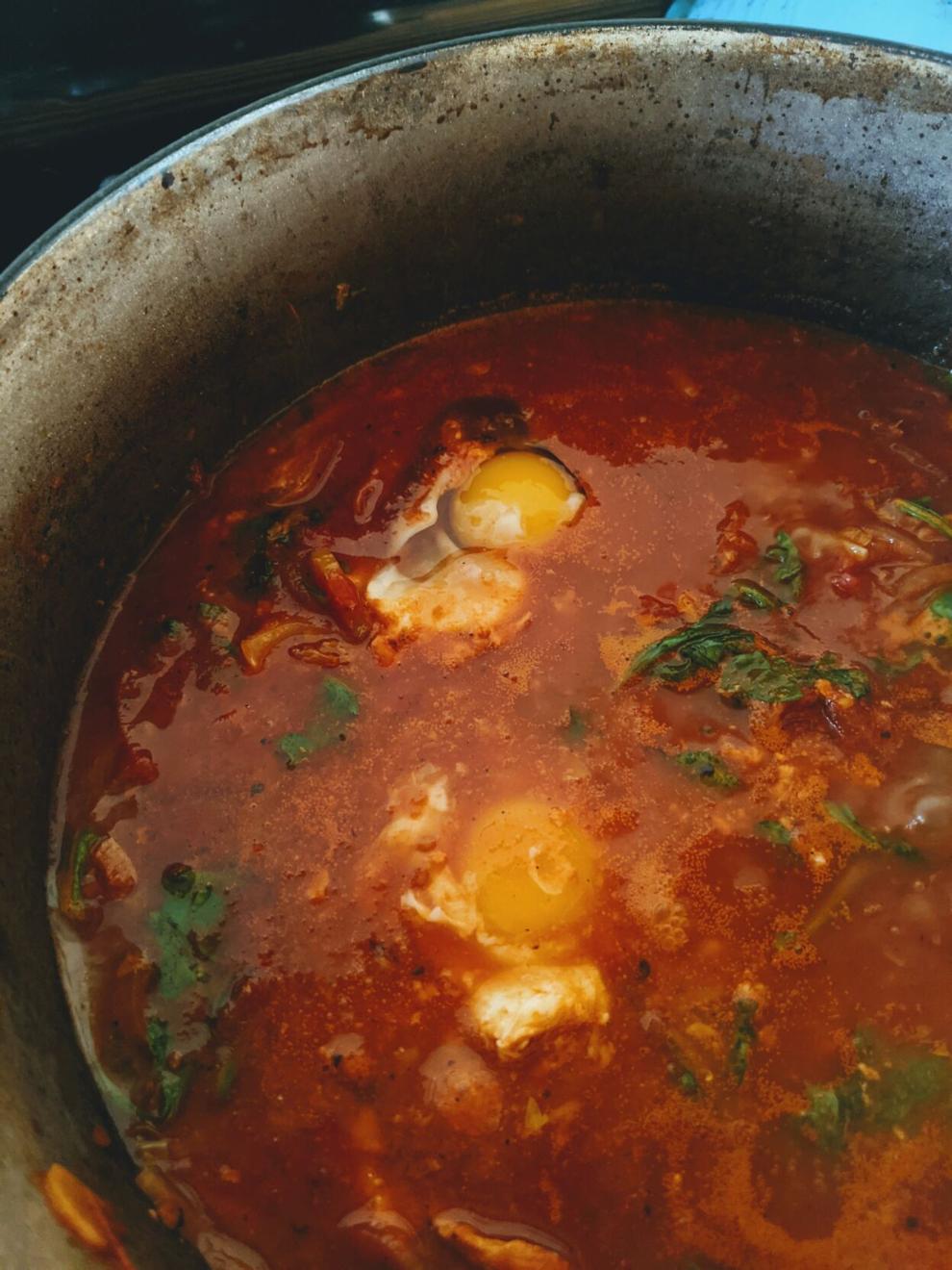 Poached salmon acquacotta
total time: around 1.5 hours
1 red or yellow onion, thinly sliced
2 celery stalks, trimmed and sliced
1 fennel bulb, thinly sliced
3 cloves of garlic, thinly sliced
3 tablespoons tomato paste
1/3 cup dry white or red wine (optional)
1 (14.5 ounce) can whole tomatoes
2 cups vegetable stock or hot water
3 cups kale, spinach or arugula leaves
Red chile flakes to taste
6 slices of thick crusty bread, small enough to fit in the bottom of the bowl
8 ounces skinned salmon fillet, roughly cut into 1 inch pieces
Preparation: Heat oil in a large, heavy-bottomed pot over medium-low heat. Add onion, celery, fennel and garlic. Cook for around 15 minutes, stirring occasionally. With a wooden spoon, push the vegetables over to one side of the pot, turn up the heat a bit and add the tomato paste to the other side. Cook for around 5 minutes until the paste starts to caramelize. Stir everything together, and if you choose to use wine, add it now while scraping the bottom of the pot to make sure everything is coming up from the bottom. Add the tomatoes, vegetable stock or water. As you add the tomatoes to the pot, crush them with your hand or a wooden spoon. Bring to a boil, then reduce the heat to low for a gentle simmer. Add salt, pepper and red chile flakes to taste. Cover and let cook for around 30 minutes.
While the soup is cooking is the perfect time to prepare the bread: Preheat the oven to 400 degrees, or if you have a broiler setting on your oven, turn it on high. Lay out the slices on the baking sheet and spread butter on each slice. Cook them under the broiler or in the oven until they are brown and crispy but not burned. Remove them from the oven and rub the garlic clove on top of the bread and on the crust. Did you know a piece of crusty bread is a natural garlic grater? This is my favorite way to make garlic bread.
After the soup has simmered for a half-hour, have a taste — this is the perfect time to add a pinch more salt, pepper or chile flakes. Add the salmon, cover and cook for 5 minutes. Now crack the eggs directly into the soup, giving them as much room as possible between them. Cover and cook for about 5-10 minutes, until they are set to your liking.
To serve, place a piece of bread in the bottom of the bowl and carefully spoon the soup on top, including an egg in each bowl.