Among the questions and topics Food Tour New Mexico founder Nick Peña fielded on a recent Friday night wine and dinner walking tour of downtown Santa Fe: the history of corn, altitude, agricultural climate, the arrival of the Spanish, the state's grape-growing season, chef lore, chile terroir, trade routes, the Pueblo revolt, the housing market, the Manhattan Project, city ordinances, cost of living, celebrity sightings, Mexican vs. New Mexican food, hominy vs. posole, Territorial vs. Pueblo-Revival style, and farolitos vs. luminarias.
At Food Tour New Mexico, each progressive meal comes with a hefty side of information, insight and lore. Between stops at three restaurants, four courses and three carefully selected glasses of wine, guests on this Savor Santa Fe Wine Pairing Dinner Tour got the kind of insider intel that most tourists never access.
Take the scene inside the tour's first stop: Julia, A Spirited Restaurant & Bar at La Posada de Santa Fe, where a private party inside the historic Staab House meant the group was seated in a quiet, heated outdoor tent. It was a happy accident: By 5 p.m., a classic Santa Fe sunset painted the sky pink and lilac above a transparent canopy strung with delicate twinkling lights.
The group dined on elegantly plated and moderately spicy bowls of red chile posole with tender chunks of pork and a scatter of onions, paired with a light cabernet sauvignon.
"A lot of restaurants don't give posole the respect it deserves," Peña told the group — whose members hailed from Oregon, Alaska, Texas, Delaware and Colorado — as he talked corn, posole, Chimayó and Hatch chiles, and the evolution of New Mexico cuisine.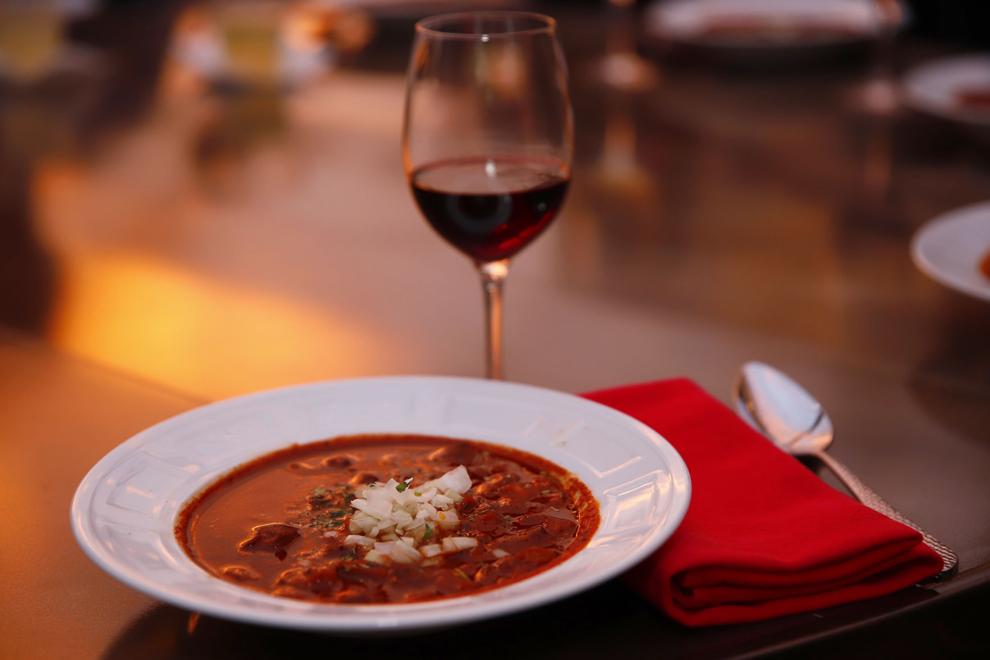 Peña, 37, has built his business at the intersection of food, history and cultural appreciation. A sixth-generation Santa Fean, he considers his path to forming Food Tour New Mexico in 2010 as a series of foundational building blocks.
He grew up in an artistic family (sister Chainé recently opened a macaron shop of the same name on Water Street, and Peña is adding it as a tour stop), riding horses and getting the space to have fun and be creative. He attended St. Michael's High School, then the University of New Mexico to study art with the idea of becoming an art teacher.
In his senior year, he was accepted into Land Arts of the American Southwest, a graduate program that allowed him to travel throughout Northern New Mexico with the goal of bringing back something gallery worthy. He began studying the culture of the land, learning about the history of corn and collecting pigments.
That led to an internship with noted fresco painter Frederico Vigil, in which he helped with the beginning stages of the monumental 4,000-square-foot mural in the Torreón at the National Hispanic Cultural Center in Albuquerque, which depicts thousands of years of Hispanic history and is the largest concave fresco in North America, Peña said.
"That mural is the history of our culture, period. And through that I learned even more," he said. "I didn't know at the time I was gathering all these tools to create something unique."
His tours don't focus exclusively on New Mexican cuisine and history: "There are two types of foodies coming to Santa Fe: One is the person who thinks everything is New Mexican food, and the other type comes here knowing it's a culinary destination and there's so much more than New Mexican food." But the tours are infused with a sense of place nonetheless.
By the time Friday night's group left Julia to make the short stroll to Eloisa, the sun had set, and guests stopped to take photos of gently glowing farolitos . At Eloisa's long communal table, a basket of muffins made from Santo Domingo Pueblo blue corn was accompanied by a chipotle compound butter. A tapas duo — an intricate Southwest-meets-Northeast pastrami taco and a complex piquillo pepper with Gruyere cheese — followed, paired with a tempranillo blanco.
The group got a fresh dose of history from Peña at the Cathedral Basilica of St. Francis of Assisi and a stop for selfies at the Plaza, dressed in its eye-popping holiday best.
"Nick is extremely well versed in the culture of Santa Fe and New Mexico," said Lisa Connors of Bend, Ore., who was visiting Santa Fe for the first time with husband William. "The tour definitely helped us understand the culture, the history and the food. It's been really very fascinating."
For Peña, the path veered from artist to entrepreneur in 2008. He was working as an assistant gallery director on Canyon Road when his father died unexpectedly at age 45. His father's death made Peña contemplate the kind of legacy he wanted to leave behind.
"It was a crash course education in the realities of life — finances and how our culture is educated, its strengths and its weaknesses," he said. "It spiraled me into this place where I thought there's a better way to make a living. I knew I wanted to start something of my own."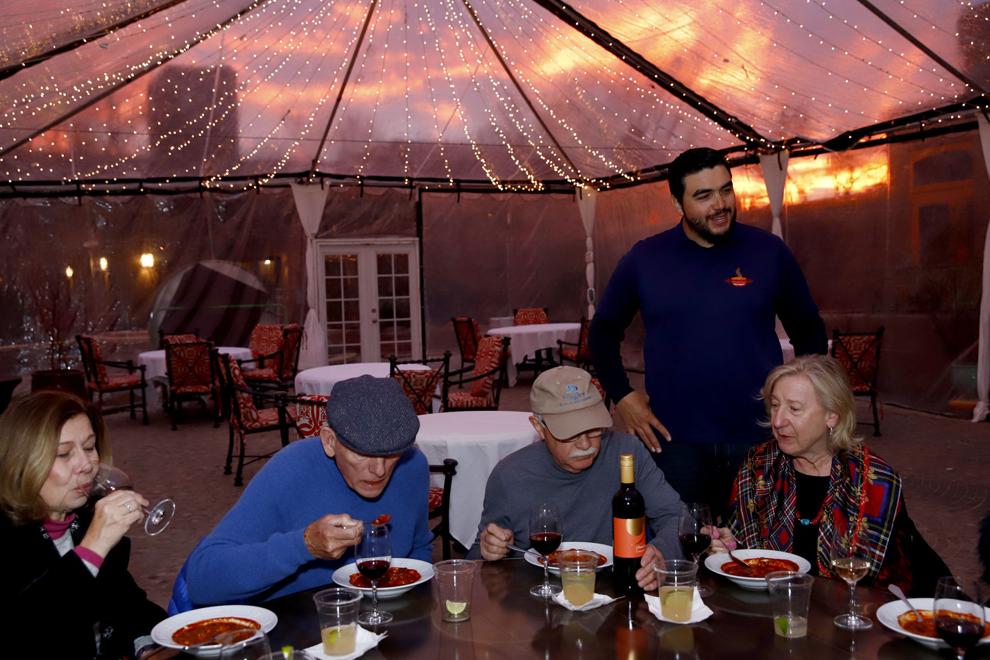 In 2010, he attended a friend's wedding in Phoenix and spoke with a fellow St. Michael's graduate who had started a food tour business in Scottsdale, Ariz. The idea inspired him, and he began building his business from the ground up — getting his first credit card and Googling "how to start a business," he said with a laugh.
He officially began offering his first tour in 2011. Two years later, he hired his first guide and by 2015, he had launched tours in Albuquerque as well. (Peña now lives in Albuquerque and makes the drive north when he's leading a tour.)
He now has four guides besides himself on staff, three tours in Santa Fe and a lunch and dinner tour in Albuquerque — and he's working to add Canyon Road and Railyard tours in the spring. Tours, held rain or shine, have a minimum of four guests and a maximum of 16. Interested parties can sign up online at foodtournewmexico.com. Private and corporate tours also are available.
While the overwhelming majority of participants are tourists, locals who join the tours are inevitably surprised.
"I've never had a local who didn't eat somewhere they hadn't before or learn something they didn't already know," he said.
At the final stop of Friday night's tour, Osteria d'Assisi, tour members filled another long group table amid the energetic hum of chatter and live music. The atmosphere matched the mood of the tour participants, who chatted and laughed together as waiters served housemade capellini pasta with scallop and a Hungarian mushroom sauce followed by a bite-sized Italian strawberry cheesecake.
Nancy Warren and husband Joe of Lafayette, Colo., have visited Santa Fe numerous times but had never taken a food tour. She'd never been to any of the restaurants on the tour and said she appreciated the diversity of Santa Fe's culinary scene.
"I think people think that all the food is the same in New Mexico, and it's not true," she said. "Especially here — you can get anything you want."
Educating guests on the richness and complexity of New Mexico and Santa Fe is a particular passion for Peña. He estimates his business has given tens of thousands of guests a fresh perspective on the state he calls home.
"Even if we have to do it one person at a time, I hope that eventually it will be an impact to pass that along," he said. "I hope they're able to learn something, be enlightened a little, eat some great food and have a great time all in one package. I hope people walk away with a very unique experience that has created understanding for them of our culture, especially in a positive light."