There's perpetual chatter in this town about our best-kept local dining secrets — those off-the-beaten-path culinary spots tourists will never find.
But there's one path even the locals too often forget: For food lovers, the path to Eldorado is paved with gold.
There are several stalwarts just south of town (though you take Interstate 25 north to get there) that have been serving great food for a while now, of course. Among them are farm-to-table standout Arable, locals' favorite Cafe Fina and the venerable Upper Crust. There's also a popular outpost of the Santa Fe Brewing Co. located in La Tienda shopping center just inside the entrance to the Eldorado community.
In recent years, a few dining and drinks places have come and gone from La Tienda and The Agora (the grocery store-anchored complex on the opposite side of Avenida Vista Grande). But the latest lineup — which ranges from Greek, French and Thai food to coffee, cheese and food truck comfort food — is varied enough to give Eldorado residents plenty of options while making the neighborhood a destination for city-dwelling food lovers, too.
Make your first stop The Brunch Box Blue, a beguiling, bright-blue stationary food truck that formerly housed Mami & Papi's. Opened in mid-March, the truck is serving a svelte menu of elevated comfort foods, including loaded biscuits, burritos, sandwiches and bowls. (Another comfort food-focused truck, Mas Chile, maschilesantafe.com, parks on the other side of the complex.)
When I called to order from The Brunch Box Blue for the first time, the friendly voice on the other line steered me toward one of the two buttermilk biscuit creations: the Bougie ($12.50), with a butter-and-cream-poached egg, prosciutto, wilted spinach and tomato; or the Country ($8.50), a heartier version with ham or bacon, scrambled egg and mushroom gravy. Which to pick? Order one today, he advised, and get the other tomorrow.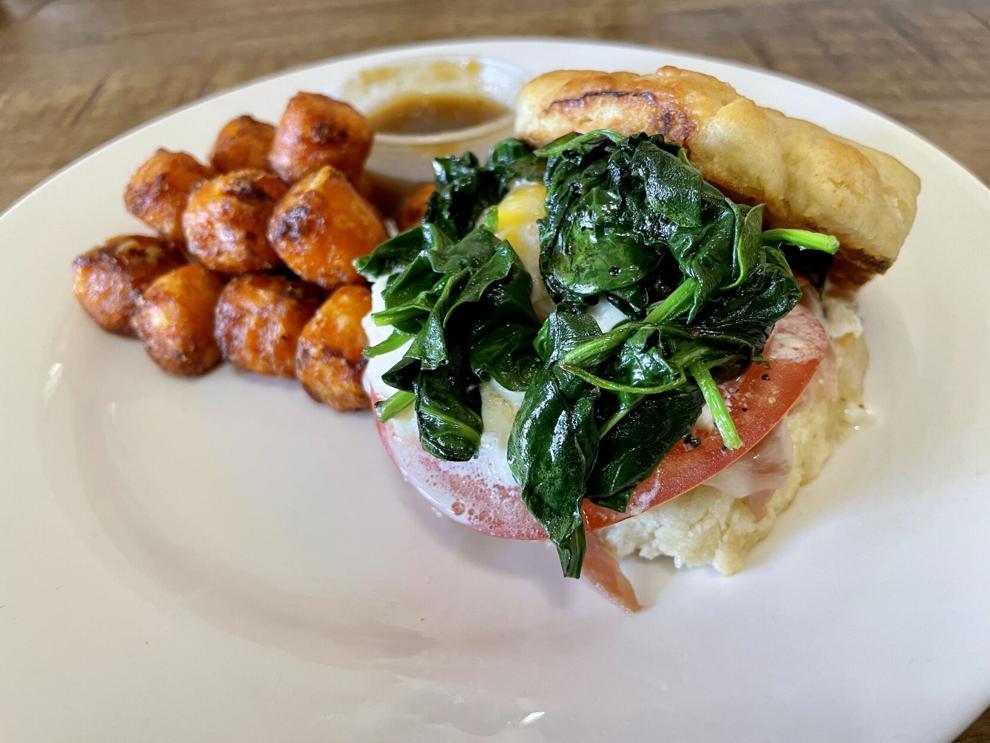 I opted for the Bougie — and I'm already primed to follow that advice. It's the kind of dish where every discrete component holds up on its own, but merges into one gloriously messy, flavorful, comforting mouthful after the next. I imagine the same can be said for the sandwiches, which include one with red chile-braised chicken, mango habanero salsa and avocado cilantro crema, and another with brown sugar-glazed pork belly, pickled slaw and spicy mayo. There are bowls, too, that come in both vegan and meat lover's varieties and incorporate hash browns and spiced black beans.
Alongside my biscuit, I ordered a side of tiny, perfectly round sweet potato tots with a tangy peach ketchup ($3.50) and a chewy, delicately salted slice of almond butter tart that managed to be both simple and complex, exactly the way I'd hoped.
I paired this brunch of kings with an Americano from the Eldorado Coffee Corral (eldoradocoffeecorral.com) just inside the main building, a coffee shop that serves made-in-house pastries and sells real-deal bagels shipped fresh from New York. Then I stopped in next door at El Sabor Gourmet Cheese, Sweets and Meats (505-780-8394), a charming shop that sells a careful curation of cheese, charcuterie, accompaniments, sandwiches and even ice cream by the scoop. I bought a slim wedge of the award-winning Humboldt Fog, a goat's milk cheese from California, and left with a promise to come back on a slower day to sample more of the shop's enticing offerings.
Also in La Tienda, it's worth noting the former Thai Bistro has just launched a soft opening as Thai on Canyon at Eldorado, a counterpart to its downtown restaurant (call 505-466-3535 for hours).
A day later, I stopped by the beautifully transformed space occupied by Le Pommier Bistro, the neighborhood's new French restaurant. Le Pommier serves a rich tapestry of classic French cuisine, ranging from crepes and quiche to steak tartare, pâté, escargot and hearty entrees.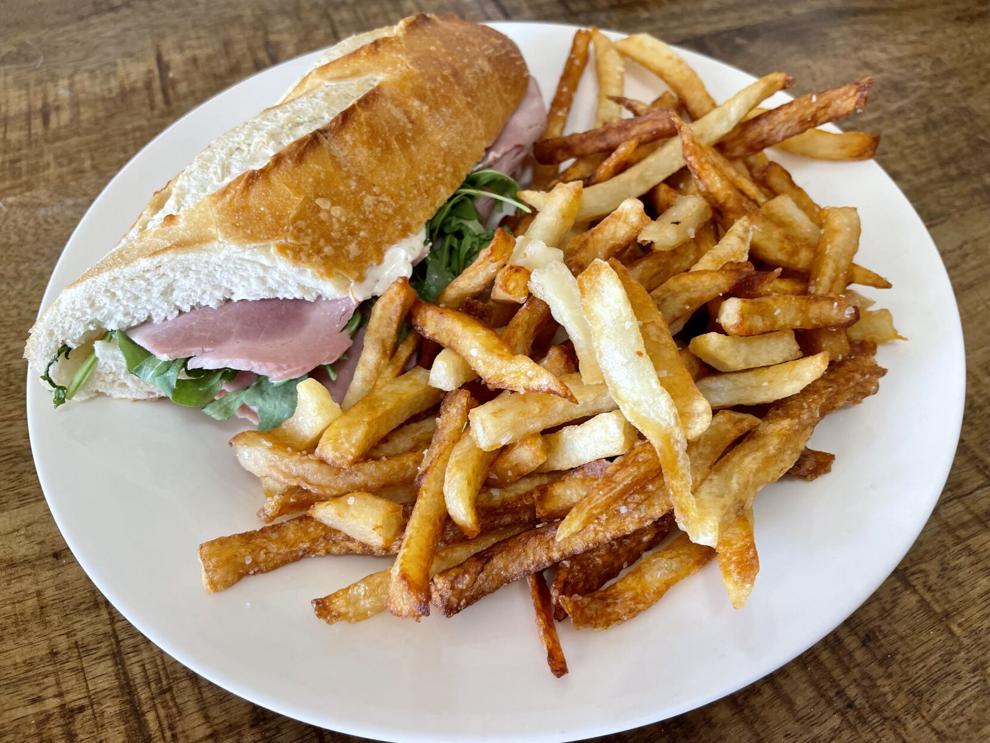 But I kept it simple for my to-go order: a jambon beurre with pommes frites ($14) and a perfectly flaky croissant plucked from the display case out front. Country ham, arugula, cornichons and a generous slick of butter on a soft, well-structured baguette — what more could you want in a satisfying dinner? (The answer is a heaping pile of crisp, salty fries.)
Across the road at The Agora, another new takeout place, Carmelita's, is serving some of the best burgers around, along with gyros, Greek salads and a few other sandwiches. Get your 6-ounce burger ($8, $2.50 more to make it a double, toppings extra) with a choice of cheeses and optional additions like thick-cut bacon, grilled onion or mushroom and green chile.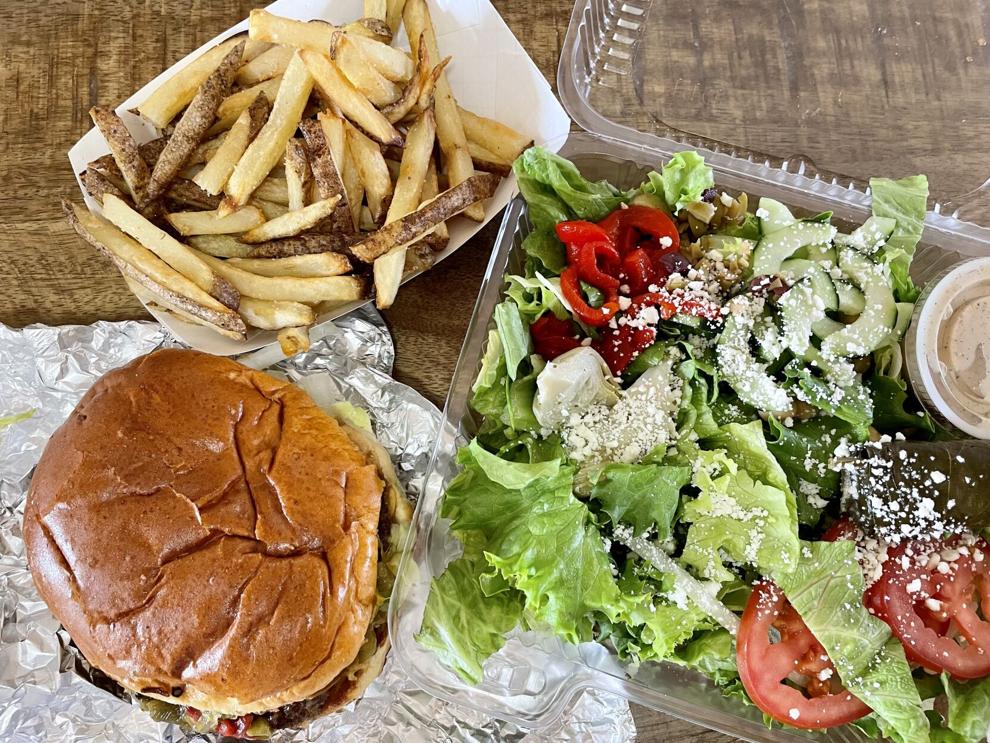 My partner loves the Greek Feast ($13), a hefty salad topped with falafel (or lamb and beef shawarma, vegan shawarma or chicken souvlaki), housemade hummus, pita, tzatziki and served with red wine vinaigrette. One of the best things about Carmelita's: Many of the items can be made vegan for no additional charge.
Near Carmelita's, you can grab gourmet foodie gifts from the Enchanted Leaf Gift Shop, pantry provisions and craft ice cream by the pint from Arable, and everything else from the thoughtfully stocked Eldorado Supermarket. Starting April 5 (according to nativewingscoffee.com), stop by the Native Wings Coffee Shop to raise a mug to the newest piece of the Eldorado culinary scene.
On Friday afternoons in the summer, you might catch Eldorado's own farmers market in the La Tienda lot; here in the spring one recent afternoon, I bought a dozen local eggs from the back of a truck before heading home. A carton of farm-fresh eggs in one hand, a simple French dinner in the other — now that's my idea of treasure.