I am fairly sure you will never need another crisp recipe and here's why: A crisp is made of a fruit layer and a layer of oatmeal topping. The fruit you use is entirely up to you, and the topping can venture to new flavor territories you want to explore. This crisp, for instance, celebrates early summer in New Mexico with the addition of cinnamon, red chile and lavender. It can easily be made with pretty much any fruit or combination of fruits. In the fall, I swap out the rhubarb and strawberries for apple and introduce more pumpkin pie-type spices. Although now that I've tasted it, I'm not sure I'll ever be able to skip the addition of red chile in a crisp topping again.
The other thing to keep in mind is that while there is no refined sugar in this recipe, the amount of honey needed in the fruit filling depends entirely upon the sweetness of the fruit. Rhubarb needs more help in the sweetness department than, say, peaches or blueberries. I will often reduce the amount of honey when using other fruits. It's also easy to make this dessert gluten free. My favorite flours to use for a crisp are almond or coconut.
I'm not sure I can think of a more delightful celebration of summer than this simple crisp, topped with vanilla ice cream or fresh whipped cream. But to be honest, my favorite time to have this is the next morning when it's cold from being in the fridge overnight and the oat topping is hard and crunchy. I spoon some in a bowl with a dollop of plain greek yogurt, and the rest is history.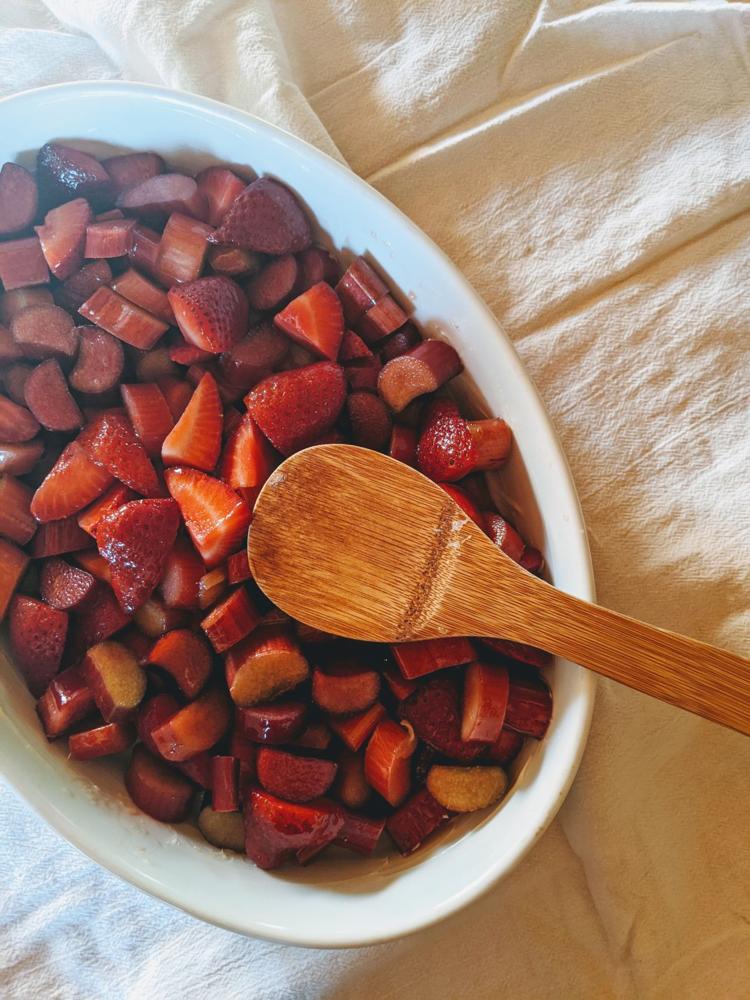 Rhubarb and Strawberry Crisp
Makes 6-8 servings; total time: 1½ hours
2 pounds rhubarb, trimmed and sliced into 1-inch pieces
1 pound strawberries, trimmed and quartered
1 orange, zested and juiced
6 tablespoon butter, cold, cut into small cubes
½ cup flour of your choice
2 teaspoon ground cinnamon
1-2 teaspoon red chile powder
2 teaspoon ground dried lavender, organic food grade
½ cup pecans, roughly chopped
Preparation: Preheat oven to 375 degrees and butter a 9 to 10-inch baking dish.
In a large bowl, stir together rhubarb, strawberries, orange juice, zest and honey.
In another large bowl, add the cold butter, flour, cinnamon, red chile powder, lavender and salt. Crumble together with your hands until the mixture resembles small peas. Stir in the maple syrup, oats and pecans.
Pour the fruit mixture evenly into the buttered baking dish. Now spread the crumble topping on top of the fruit. Bake for 45-50 minutes. Let cool for around 10 minutes before eating. Enjoy!