Ah, the quest for "the best."
Food lovers in particular fall victim to the mindset that there's a certain breakfast burrito or dumpling shop or fish and chips that rises above the rest. Problem is, everyone you ask will have their own favorite, based on a highly personal assessment of things like taste, price, location, even nostalgia.
But when you're planning how to spend your money, the hunt for "the best" can feel essential — and overwhelming. I recently decided to try three craveable classics — a hot dog, a pizza and a burger — at three places I'd never visited before.
Rather than bogging the process down with research, I picked the three destinations based on some classic criteria: one new restaurant, one popular recommendation I'd never had and one off-the-beaten-path selection.
My first stop was Roque's Chicano Dog, a popular food cart parked in the Big Jo True Value Hardware parking lot, for a new spin on the venerable hot dog. The gregarious Armando Pacheco will tell you this is the only place in the world to get a Chicano dog, a New Mexican spin on a Chicago dog. For $6 (which includes chips and a drink), you get a fresh-grilled Hebrew National beef dog topped with mild green chile, relish, onions, mustard and a generous sprinkling of red chile salt, served on a bun or tortilla. There are about a half-dozen playfully named variations available (the Orale has chile, onions, sauerkraut and mustard; the Ahooooo is a naked dog), but the Chicano is absolutely the way to begin. I worried the onions, relish and chile might be overpowering; instead, they worked together to amplify the perfectly juicy, smoky dog.
Word is that an expanded food cart is eminent, one that will allow Pacheco to expand his menu offerings. But if he sold just the Chicano variety, it'd be worth the trip off the beaten path for that delicious, singular dog.
Next up on the cravings list: a green chile cheeseburger. I decided to finally try the storied Santa Fe Bite burger, first served up in the 1950s at Bobcat Bite on Old Las Vegas Highway, then at Santa Fe Bite in Garrett's Desert Inn facing Old Santa Fe Trail since 2013. (Bobcat Bite on Old Las Vegas Highway reopened last week with new owners and the original grill still in the kitchen.)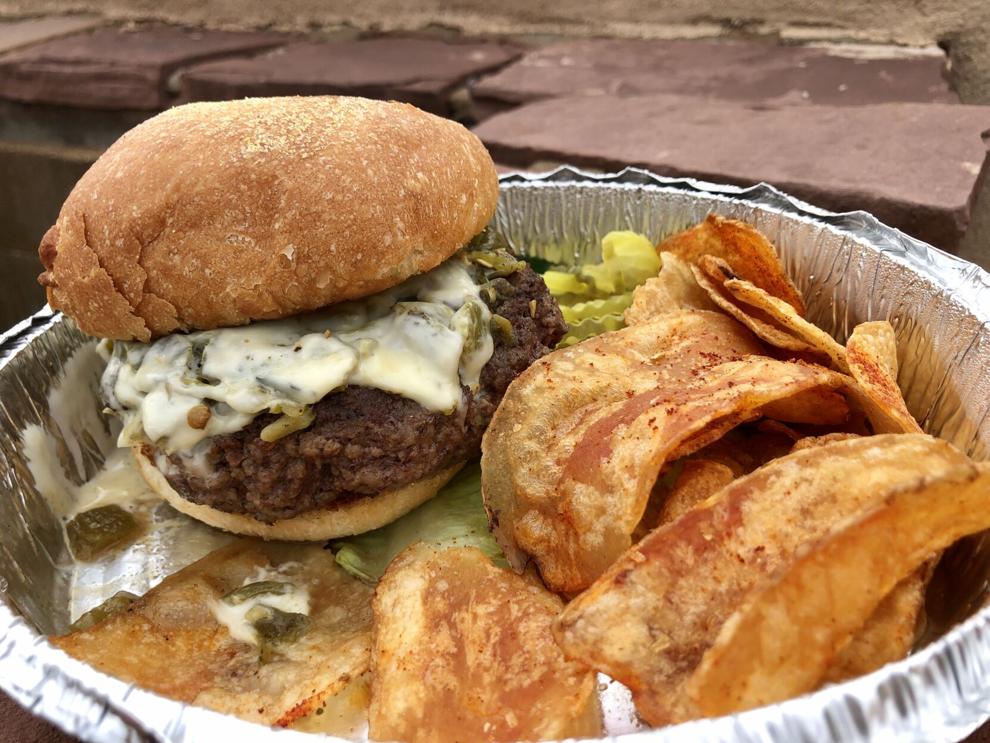 Now Santa Fe Bite is located in the Village West Shopping Center on St. Michael's, and the signature burger is available inside, on the patio or curbside. The green chile cheeseburger from Market Steer Steakhouse (a secret menu takeout option) is my go-to in this town, but this time I decided to see what made the Bite's burger so iconic.
The 10-ounce option ($13.75) comes with lettuce, tomato, onion, cheese and condiments and is served with crisp, salty housemade chips, though you can upgrade to any one of a wide range of side alternatives, including fries or sweet potato fries.
My burger was cooked perfectly medium rare, as requested, with pleasantly spicy green chile layered with melted cheese. I ordered curbside pickup, and the griddled brioche bun came packaged separately to keep it from getting soggy. The result: a good meal, a craving satisfied and a new plot point in "the quest" for best burger in town.
For my final stop, I headed downtown, where a rainy chill helped me find a parking space just down from Hotel Chimayó on Washington Avenue, home to the popular Low 'n' Slow bar and, more recently, Hawt Pizza Co. With one outpost already in Albuquerque's Sawmill Market, Hawt is an acronym ("Have A Wonderful Time") as well as a nod to both the pizzas' attractiveness and the 850-degree wood-fired oven they're cooked in.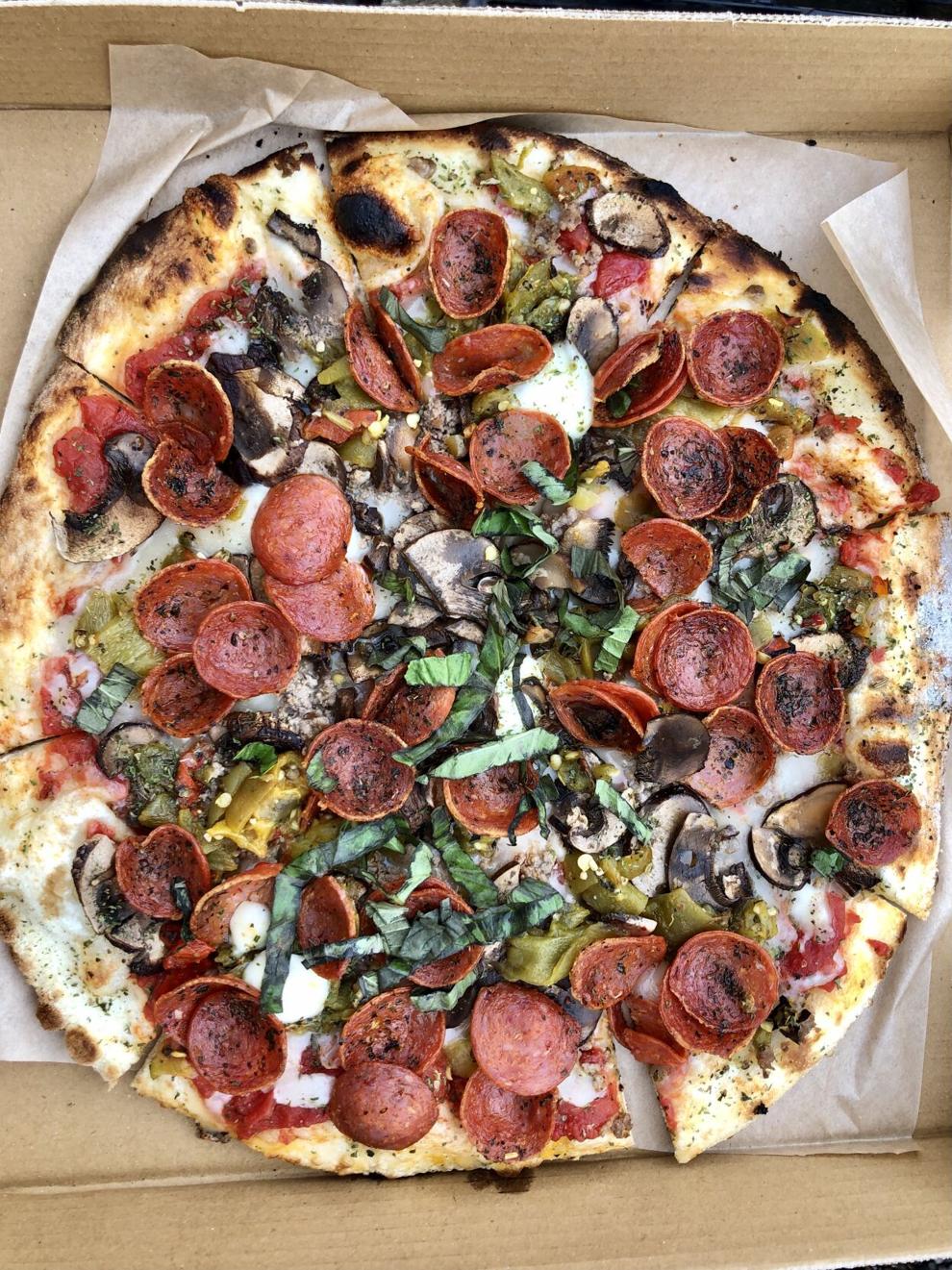 Hawt describes its lineup of 12-inch pizzas as "not quite Neapolitan, not quite NY style, but somewhere perfectly in between." When I called to order, I was disappointed the Santa Fe location had stopped offering the option to top a pizza with a burrata ball and didn't have either of the housemade dipping sauces featured on its online menu, but by the time I got my pies home and dug in, I quickly realized it didn't matter.
The pizzas — thin but with a light, charred crust — came laden with high-quality ingredients. Our kids devoured the pepperoni pie ($16), with pomodoro sauce, fresh and shredded mozzarella, a mountain of Ezzo pepperoni, Italian extra-virgin olive oil and basil. We sampled a piece with the recommended side order of Mike's Hot Honey sauce ($2), and the subtle, sweet heat made the flavors pop even more.
My partner and I had The Norteño ($19), which came with the same sauce, cheeses and pepperoni, also with hot Italian sausage, mushrooms, green chile and basil. Again, the thin, light crust allowed the toppings to shine, and the chile tied the pie together without overpowering it.
I find I crave different styles of pizza for different moods and occasions (Pizza Centro, Piccolino and Dion's are among our favorites). But I'm glad I gambled on something new — because Hawt Pizza (and its easy, pay-at-the-bar pickup) is guaranteed to be a new family favorite.
The lesson? When it comes to our dizzying array of culinary options, don't overthink it. Open yourself to the possibility of finding a new favorite. And even if you don't, it'll give you something to share next time somebody else is on that eternal quest for "the best."