The premise was simple: Open a no-frills coffee shop that focused on doing the basics well.
But even the clarity of 101 Coffee's origins was rooted in the owner's mission to honor her customers — many of whom just happen to be her neighbors.
"My original idea was to take away all the crazy options that can overwhelm people," Catherine Meng said of her coffee shop, which opened in November 2018. "Like wine, there can be a discomfort around knowing what to order. My goal was making people feel comfortable."
As this cozy gem of a south-side coffee shop, located in the Plaza Contenta development on Jaguar Drive near Paseo del Sol, has become an established part of the Tierra Contenta neighborhood's fabric over a year and change, tweaks to the menu reflect that community connection.
That hemp milk on the menu, alongside the organic whole milk and soy, oat and almond alternatives? Added by customer request — part of a broader expansion into vegan and gluten-free offerings. The matcha? Another request from a regular — it comes from Santa Fe's own Artful Tea, which also supplies the shop's complex chai blend. The lavender honey? A guest brought by a taste from a nearby business.
And then there's the fresh-baked sweets. Meng, along with general manager Elliot Fredericksen, had been serving outsourced goodies alongside bagels, breakfast burritos, oatmeal and a few other carefully chosen items. But one day Meng began experimenting with cookies in the tiny convection oven in the back, cooking them up just a half-dozen at a time.
They were a hit — and the small batches come with the added perk of frequently filling the shop with the heady aroma of fresh-baked treats.
"People just light up when they know it's baked in house," Meng said. So now the glass display dishes showcase a regular lineup of the shop's own sea salt and chocolate chip cookies — a decadent yin and yang of rich chocolate and bright salt, buttery crisp and toothsome chew; vegan and gluten-free cowgirl cookies with peanut butter, oats, chocolate chips and cranberries; and gluten-free banana pecan muffins. You might also find brownies, coffee cake, seven-layer bars or a dessert built on the bounty of whatever's in season (like apricots from nearby Reunity Farm last year).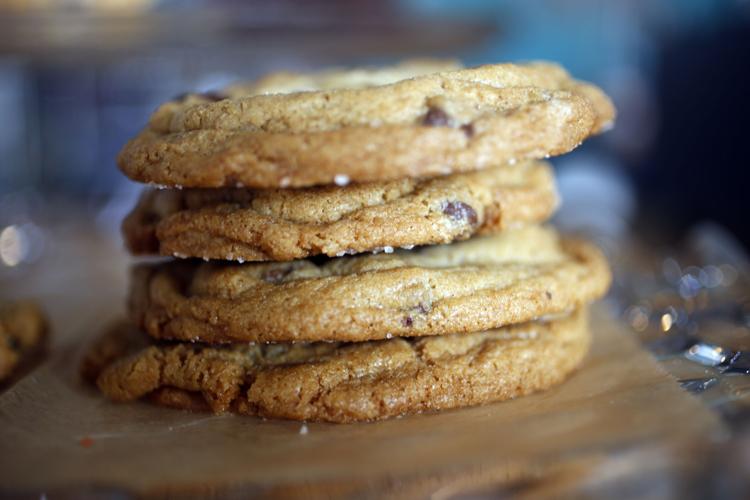 In addition to all-day breakfast burritos ($5-$6), more substantial items include properly chewy bagels from Ruthie's in Albuquerque ($2.70) with various toppings and a French-style ham, butter and sweet pickle sandwich on baguette. Customers can add a small cup of coffee to that bagel or burrito for just 50 cents.
A letter board on the wall lays out the full menu, including an array of hot and cold espresso-based drinks featuring Ohori's Coffee beans, hot and cold teas and seasonal specialty drinks. Coffee prices range from $2.75 for a medium drip coffee to $4.65 for large espresso-based offerings. Organic whole milk — a rare offering among local coffee shops and something of great importance to Meng — is included in the price, and there's no upcharge for alternative milks. Meg and Fredericksen keep the coffee menu simple — including a bare-bones lineup of flavored syrups — but they've been known to help a puzzled customer reverse-engineer their favorite complex chain coffee drink when the need arises.
Meng and partner Fredericksen, who have a 6-year-old daughter, came to Santa Fe in 2015, but it wasn't her first time in town. Meng grew up outside Boston and attended school at the College of Santa Fe.
"It was a transformative experience," she said. "The Southwest is amazing. I always knew I wanted to move back here."
Meng attended culinary school in Boston and earned an MFA in creative writing in Montana for poetry. She lived in the Bay Area, working for acclaimed Northern Italian restaurant Oliveto as everything from food runner to marketing director, before making the move here with their young daughter. And though she has held a variety of administrative positions, both in town and through remote work, the lure of entrepreneurship called.
"I remember sitting on my front porch in California and thinking about moving, and I knew I wanted to be my own boss," Meng said. She made a list of possibilities, keeping in mind that both she and Santa Fe had changed since they were last together. Among them: Meng considered an ice cream shop — she makes a mean green chile ice cream — but then they bought their south-side home and she discovered the little coffee shop just a block away in the Tierra Contenta neighborhood.
Excited, she headed over to Plaza Contenta and what was then the Coffee and Snack Shop (previously the popular Miklo's Coffee House), only to discover it had closed.
At first, the couple joked: "We should open a coffee shop."
But the idea grew. Meng soon found herself writing up a business plan. "I live in this neighborhood," she recalls thinking. "And I want a coffee shop." Surely others did, too.
She moved forward with help from the Small Business Development Center, a shoestring loan from her brother and a chance meeting with the owners of Ohori's Coffee.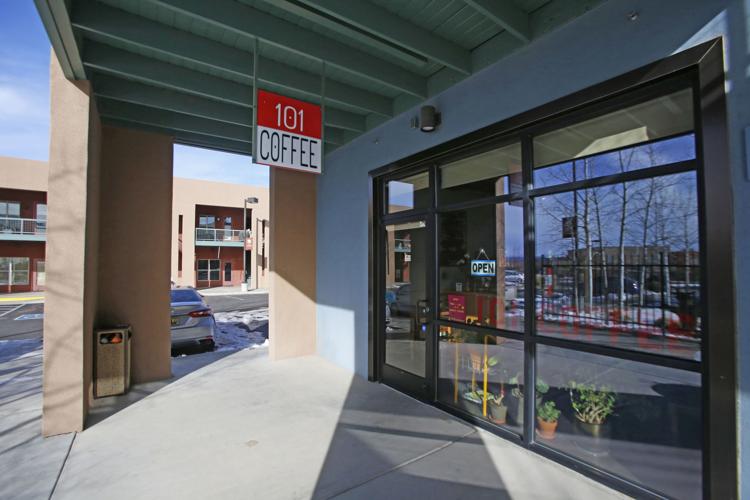 It took time to learn who her customers would be: These days, it's mostly an eclectic mix of neighborhood residents, employees at the nearby Meow Wolf offices, and workers from the nearby Presbyterian Santa Fe Medical Center, library and cluster of schools. And like any true locals' place, the regulars come all year long, impervious to the ups and downs of tourist travel. As a result, Meng has found success with old-school marketing, like distributing paper flyers around the neighborhood.
"It's a different animal than it is downtown," she said.
As a coffee shop owner, Meng draws inspiration from the principles of fourth-wave coffee — ideas of social responsibility and inclusivity that extend from the bean to the shop itself — and the concept of a third space, a place unique from work and home environments that helps support community engagement. Whether it's at the handful of indoor tables or the warm-weather outside patio seating, she's seen those concepts play out at 101 Coffee.
"Those third spaces are really important," Meng said. "There are days when all four tables are full and everyone is talking to each other. Coffee shops are unique in that way. It's about community building, giving people a way to interact."