In this house, the churro connoisseur is a 6-year-old.
So when I decided to try out two of Santa Fe's newest twists on those much-loved cinnamon and sugar confections, I brought the expert along.
Up first: Churro Bar, a food truck parked alongside the Meineke building in the Santa Fe Place mall lot, which opened March 7. The concept is gourmet churros at affordable prices, says owner Gerardo Garcia, who's also a private chef.
Garcia is self-taught, with no formal training or on-the-line experience, but he has spent years working alongside Santa Fe chefs in his career in the hospitality business.
"I've worked with all these amazing chefs who have traveled the world to get experience," he said. "Because of that, I like to say I got all that experience without traveling the world."
His churros, which are vegan and made fresh, are the stars of the Churro Bar menu. The base cinnamon and sugar churro starts at $2.50 ($12 for six or $24 for a dozen). For $3, you can add one of his housemade fillings: dulce de leche, chocolate or strawberry. And for $3.50, choose your filling and a nut or coconut topping. (Note: It can take 10 to 15 minutes to prepare an order, so call ahead if you don't want to wait there — and bring cash.)
My son's favorite churro combination was one filled with dulce de leche and topped with mixed berries and pecans ($4.50). Somehow, these airy and lightly sweet churros don't taste heavy or cloying — they're elegant bases that allow the complexity of the sauce and the slight bite of the berries to shine.
Garcia recommends new customers start with a mini trio ($4-$5), which lets you try three smaller-sized flavor combinations. But don't miss out on the seasonal specials ($4.50) — the current one pairs a zesty lemon frosting with coconut and tiny slices of bruleed lemon.
"The seasonal churros are something people need to try," he said. "It's something I make that I really enjoy, so I'm hoping that guests will enjoy it, too."
Also on special when we visited: churros filled with hazelnut chocolate and topped with bruleed banana and almond shavings. (Yes, really.)
We shared bites of a chocolate-and-pistachio churro between sips of his Mexican hot chocolate and my dulce de leche latte (both $4), a customer favorite already that's made with the same sauce Garcia uses for the churros. The truck serves other espresso drinks as well.
I didn't dare tell my son what Garcia told me: that with at least a day's notice he can whip you up a churro cake — a two-story tower of about 20 medium-sized filled churros for $42, garnished with shaved coconut, berries, nuts and drizzle of that dulce de leche.
Next up for Churro Bar: breakfast hours and an expansion into savory churro offerings. Instead of sweetening them with cinnamon and sugar, Garcia says he'll keep the base plain and complement them with sauces like marinara and mole.
Either way, this little spot near the mall is one of the sweetest in town.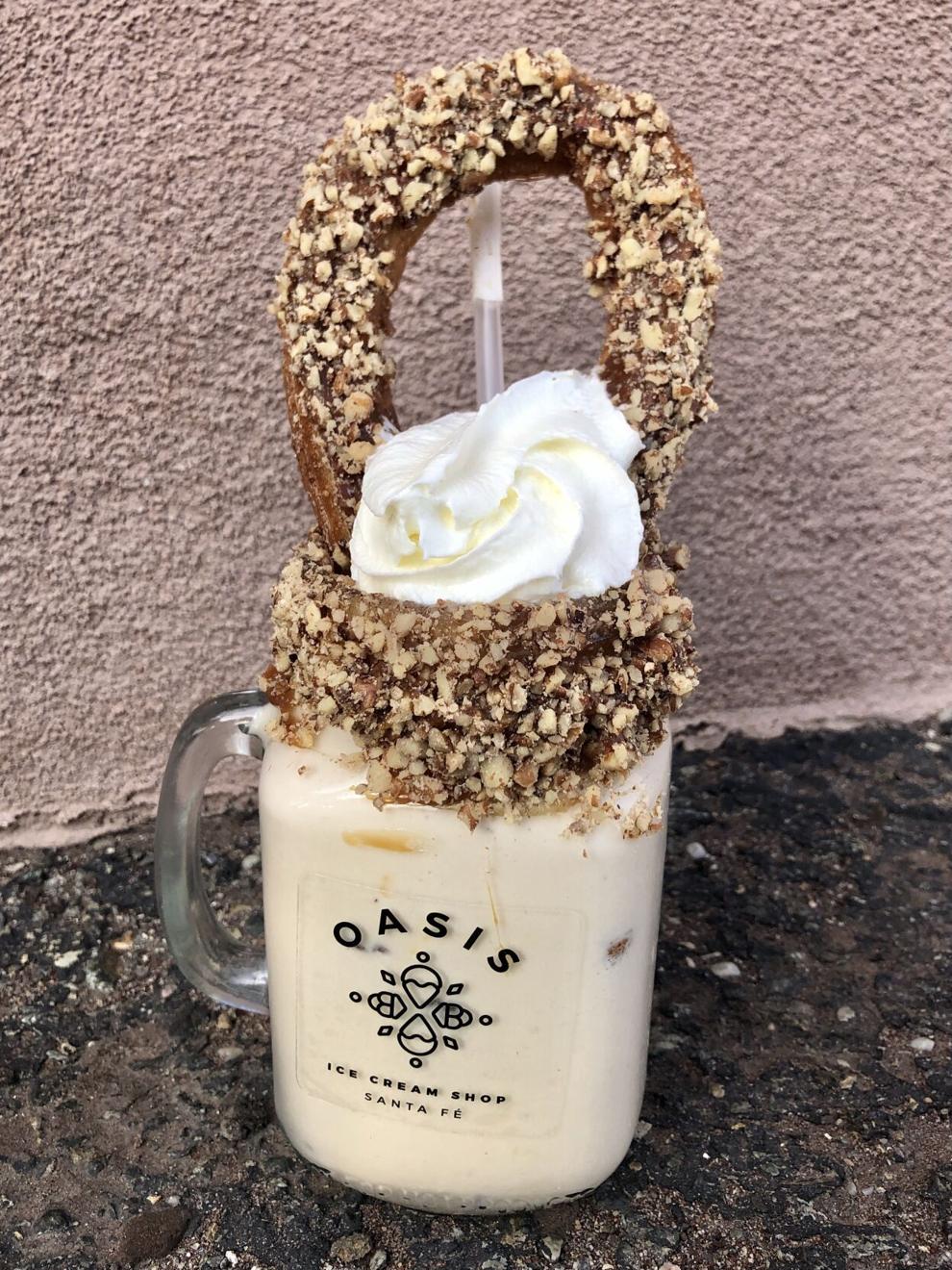 We left the south side and headed toward downtown to the venerable Design Center. Here, Oasis Ice Cream Shop sells artisan ice cream and paletas, which have long been one of my family's favorite summer pick-me-ups, as well as dorinachos, elotes, aguas frescas and other treats.
But we came for the churros — or more specifically, the churro sundae, an eye-popping creation served in a sturdy glass take-home mug for $8.25. Your choice of ice cream is blended and poured in, then topped with whipped cream and a churro that's been fashioned into a sort of loop arcing from the top of the mug. We tried the pecan, and the glass rim came coated in caramel and chopped pecans.
My son the churro connoisseur said, and I quote: "I'm speechless."
We quickly figured out a plan of attack: a bite of the crispy, sugary churro, a bit of the cream and a sip of the shake. It was over-the-top in all the best possible ways. (And as a bonus, you can head inside to see the rainbow-like array of paletas in person, or you can order from the drive-thru.)
Can churros change the world? Maybe not. But as my son and I learned, they sure can make you smile. And sharing the sweet treats gave us a little something we've been needing way more of this year: a dose of good, giddy, delicious fun.