At the grocery store around Christmas one year, I saw a pack of cooked and peeled chestnuts. I didn't have a plan for what to do with them but … chestnuts! Into the cart they went.
Around a week later, I needed to make dinner fast and was scrounging around for what I could whip up. I put some spicy Italian sausages in the oven. I found a bunch of kale. I remembered I still had those chestnuts. I always try to keep a can of coconut milk in the pantry. There were some dates all but forgotten in the back of the fridge. The usual mealtime-without-a-plan-tinkering ensued, but instead of it being one of those OK makeshift dinners, we found ourselves saying things like "wow" and, "Are we going to remember how to make this again?" In celebration of this accidental delight, I lovingly gave it the name Christmas kale, and the rest is history.
This is a perfect holiday side, but it's also incredible on its own with rice, topped with spicy Italian sausage (still our favorite way to enjoy it) or a decadent treat over roasted sweet potatoes. You can skip the bacon to make it vegetarian. You could add turmeric or even ginger if you have the hankering.
Around the holidays, one of my favorite things to do is to turn up the music, light all the candles I can find and make recipes (usually sweets) that take a long time but are worth every minute of time and effort. Because I usually make them once a year, in addition to tasting delicious, they also have the added bonus of having that holiday je ne sais quoi, which makes them delight and sparkle on the table. Christmas kale has all the sparkle without any of the fuss. In other words, it's a holiday keeper.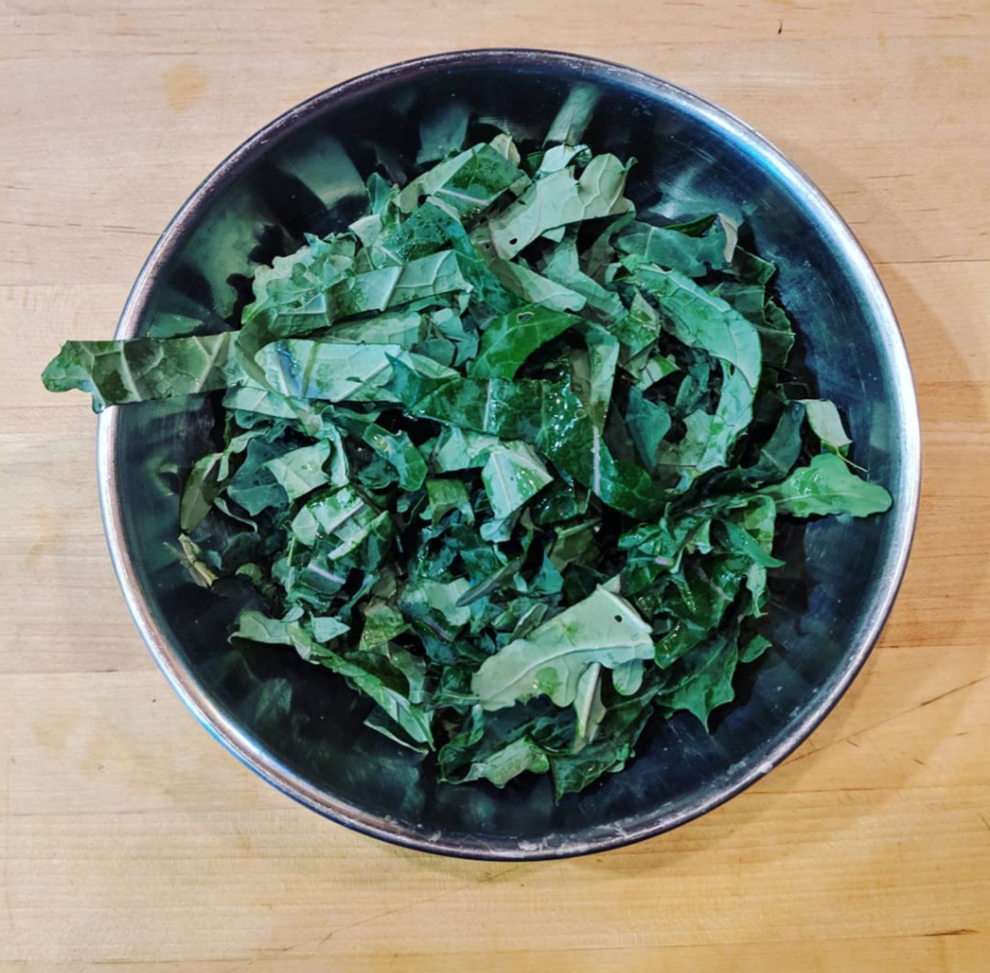 Christmas Kale
4 slices, thick cut bacon (diced)
1 medium red onion, sliced
3 garlic cloves, thinly sliced
1 cup cooked chestnuts, roughly chopped
1 cup dates, seeded and roughly chopped
1 can unsweetened coconut milk or cream
8 cups kale, washed and sliced
Red pepper flakes, to taste
Preparation: In a heavy-bottomed pot or Dutch oven, cook bacon over low heat until caramelized and the fat has rendered. Increase heat to medium. Add red onion and cook until onions wilt and start to caramelize. Add garlic and cook for another minute or so, stirring constantly and making sure the garlic doesn't burn. Add the chestnuts and dates. Cook for a few minutes, stirring occasionally.
Deglaze the pan by pouring in the coconut milk (or cream) and scraping all the caramelized bits of bacon, onion and garlic goodness off the bottom of the pot with a wooden spoon. Bring coconut milk to a simmer. This is a great time to taste the sauce and season with salt and red pepper flakes.
Add the kale. Stir. Cover pot and cook until kale wilts and is tender, about five minutes.
Give it a taste and add salt and red pepper flakes, as needed.