At first, Andres Paglayan and Solange Serquis' plan was simple: Take the community-minded space they'd already designed, offer some good coffee and put a few pastries on the menu.
But when you're already successful business owners and real estate entrepreneurs helping to breathe life into a quickly blossoming part of Santa Fe — and you happen to have a high-profile chef in the family — a simple plan can quickly grow into something special.
Cafecito, which had its soft opening in October in the Trailhead Compound of the Railyard's Baca District, means "little coffee place." Paglayan and wife Serquis are from Buenos Aires, where "cafecito" is a generic term for a shop where you grab a cup of coffee.
"In Buenos Aires, you would never name your coffee shop Cafecito," he said. "But here, it works."
And here, Cafecito is much more than a coffee shop. It serves a full menu of Argentinian, Armenian and globally inspired dishes, made in-house and incorporating locally sourced ingredients and products. It also embraces the burgeoning work-life creative culture of the trendy Baca District — which makes sense given that Paglayan and Serquis are key members of its development.
The couple came here in 2001; Serquis, a landscape architect, owns Serquis + Associates. Paglayan had been working on his medical degree in Argentina but moved into IT in the States, eventually co-founding a software business: EMR-Bear, a web-based electronic health record service for behavioral health organizations.
They wanted a sustainable business location for their offices, and so they imagined a community-forward, multiuse property in the Baca Railyard District, incorporating part of the original Monte Vista Fuel & Feed warehouse into the Trailhead Building in 2017. It now houses offices, short-term rentals and the dramatic, sunny space that was originally occupied by coffee-tea-restaurant-botanical enterprise Opuntia, which temporarily moved to El Rey Court in August and is slated to reopen at the Railyard next year.
The property also features a publicly accessible garden space, and nearby, the couple is building Trailhead Terraces, a group of five long-term rental units, and plan to add a fine pasta facility for his brother-in-law, Donato De Santis.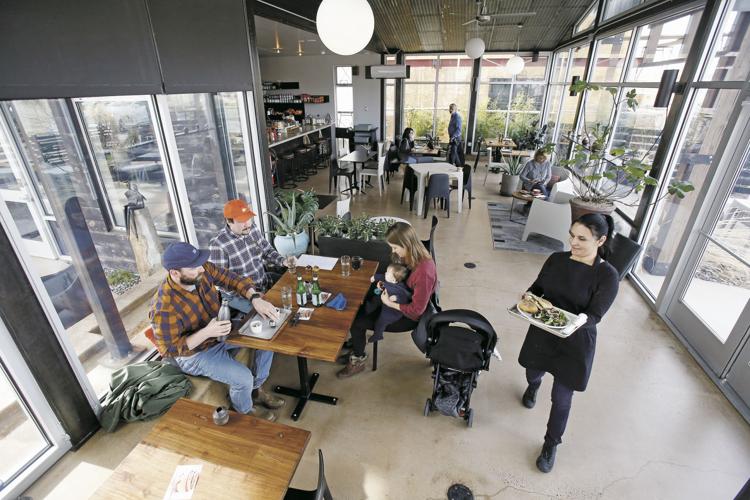 It was De Santis, a well-known Italian chef, and his wife, Paglayan's sister, who live in Argentina, who convinced Paglayan to transform his idea for a "little coffee place" into something more ambitious.
"They came in and helped us create the first draft of the menu," Paglayan said. "I would never have done it without them."
The result is a lunch and dinner menu with a decidedly international flair. The menu features both Argentinian and Armenian dishes, celebrations of the couple's heritage; they use Italian-based Lavazza coffee, there's tiramisu and affogato in the dessert lineup, and a recent special featured a tender, cheesy bed of polenta topped with a hearty, rich bolognese.
"Owning a restaurant is a way to find part of your identity," Paglayan said. "It's been a really nice adventure."
He contributed a number of the recipes himself, including a split pea soup and an Armenian Medze plate with baba ganoush, hummus, tabouleh and a tart, refreshing laban (strained yogurt with mint) served with pita bread. He makes the muesli (served with yogurt and fruit) himself.
"It's all true to their heritage," general manager Stephanie Wilson said.
The empanadas are light and delicate, filled with veggies, ham and cheese, a ground beef mixture or ricotta cheese. They're $3.50 each, but a $10 sampler features all four varieties alongside a green salad with radishes from Reunity Resources, a nonprofit focused on zero-waste farming.
Alongside the empanadas, ask for the spicy housemade chile sauce, created when a customer requested something hotter than the more traditional chimichurri Cafecito also serves. That fiery red sauce has become a popular house staple.
Wilson said the most popular menu items are the beef empanada and the lomito ($11.50), a steak sandwich on ciabatta with ham, tomato, lettuce, onion and a fried egg on top — "the Argentinian answer to the cheeseburger," Paglayan said. Two breakfast plates are also particularly popular: a traditional Argentinian platter ($9.75) with a butter croissant, toast, scrambled eggs, ham, sliced provolone, jam or dulce de leche and butter; and the Gaucho-style spread ($9.50) with grilled beef strips, sliced tomato, scrambled eggs and toast.
Cafecito offers mate — a traditional South American caffeine-rich infused drink — and pots of tea alongside its coffee drinks as well as beverages including Verde Juice, Patrick's sodas and fresh-squeezed juices and a bracingly tart lemonade crafted with a touch of housemade sugar syrup. They incorporate breads and dough from Sage Bakery and Chocolate Maven and gluten-free bread from Revolution Bakery. The latter's croissant dough is used in the budin de pan (sweet bread slice, $3.25), on the dessert menu alongside a light, sweet lemon loaf slice and delicate, crumbly alfajor biscuits with a dense center of dulce de leche imported from Argentina.
Cafecito is community oriented, particularly in terms of the tightknit Baca neighborhood to which it belongs. The cafe has hosted an art tour holiday pop-up and has other events in the works at the intersection of music, art, food and social gatherings.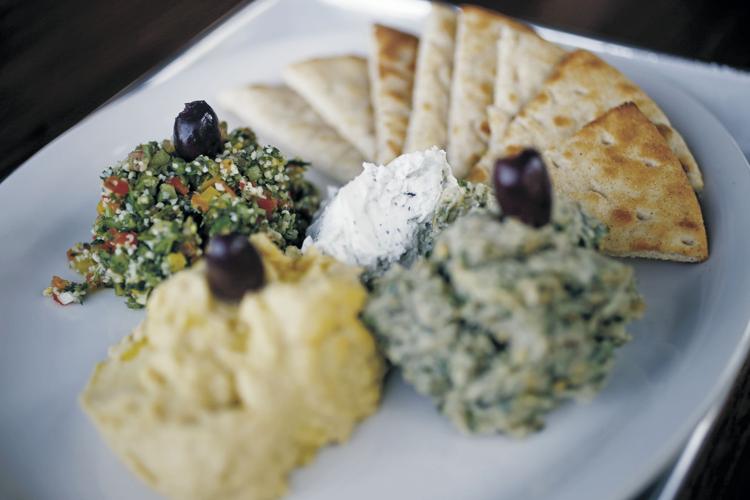 "It's an opportunity to do more than just be a coffee shop," Paglayan said. "It's about providing space, building relationships."
Next up: The restaurant is working to obtain its beer and wine license, and could begin offering an afternoon tapas menu and a Sunday brunch. But in true Baca District fashion, there's space to innovate.
"This is a space for people to meet, to exchange ideas and be creative," Wilson said. "There's room to play and see what direction Cafecito takes."