It's a weekday afternoon just before the new year, and the 1:54 train headed west is running late.
But here in the bustling Lamy train depot, nobody minds much. There's too much going on.
Passengers fill the waiting area of the Mission Revival-style building, sitting on carved wooden benches beside bundles of hard-side luggage and shopping bags, as a performer seated in one corner sings and plays ukulele. Vintage-style travel posters for Amtrak's Southwest Chief passenger route adorn the walls; postcards, local foods and trinkets, and coffee and tea are on offer near the timetable displaying the station's twice-daily departures and arrivals.
About a dozen patrons sit in the adjacent bar, sipping beers, eating chips and sandwiches, and fidgeting with a collection of toys and games atop a low table. And in a nook next to the doorway connecting taproom and waiting room, a suspended wooden signboard reads "Harvey's" in friendly, cursive script.
You're forgiven for assuming Harvey's Cafe is named for famed hospitality entrepreneur Fred Harvey, whose El Ortiz hotel in Lamy near the depot was demolished in the '40s but whose legacy of railway restaurants and hotels is still deeply felt in New Mexico and across the Southwest. No, Harvey's Cafe is named for a cat.
The cat, however, was named for Fred Harvey.
Harvey the station cat showed up in September 2018, said the cafe's proprietor, who goes by Cindy Lu, and though he lives at her home now, he's something of an unofficial depot mascot. He has a glamour shot in a prominent spot at the cafe's order counter, and a large-type YouTube link to a station video starring him is on display, too.
"We had a Harvey Happy Hour the other day," Lu said. "Everybody loves him — except for the two people who are allergic to cats."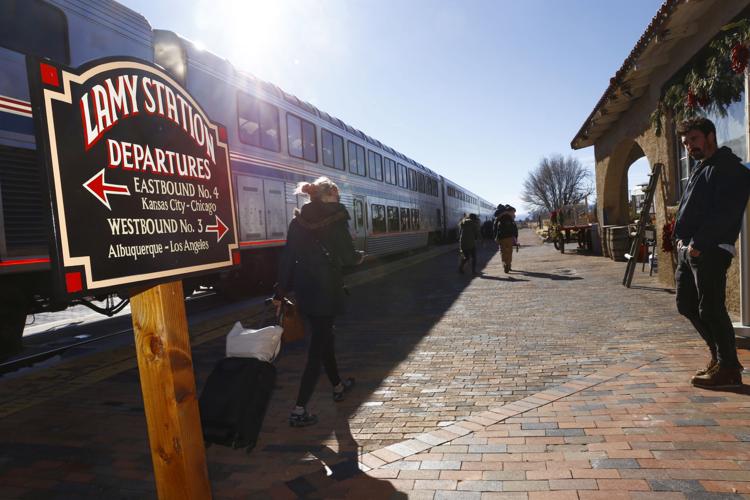 At the Lamy depot, "everybody" is a collective term that is at once hard to define and at the heart of operations. Harvey's Cafe, which sells sandwiches and weekend specials, and the Chili Line Brewing Taproom, which serves a lineup of six local craft brews and hosts popular local music performances, are built on a community spirit that evokes words like "incredible" and "magical" from the people involved.
"Our primary focus is to service Amtrak, to keep the depot open for Amtrak travelers, and in doing so, also provide for the community and travelers the taproom and food," Lu said. "We all help each other. Every day there's different people: there's caretakers, there's bartenders, there's Harvey workers, and it's all together."
The loose group of family and friends seems to have invoked Fred Harvey's entrepreneurial spirit; in the past decade or so, Lu and cohorts have been involved in everything from hosting all-volunteer community fests in the park next door to dining and drinking operations in rail cars to taking a turn running Legal Tender, a historic saloon and restaurant across the street that recently reopened to widespread fanfare.
Since opening in May through a subcontract with Santa Fe Southern Railroad, which owns the depot, Harvey's and the Chili Line taproom have become a lesser-known locals' destination. After the second and final train of the day whisks away the bulk of the building's occupants on this weekday afternoon, only a few patrons remain, but it's clear they have a rapport with their hosts.
"I want to tell you to go away because I'm afraid this place will be discovered, and I won't be able to get in the door — that's my great fear," Rachel Arvio — who lives in nearby Eldorado, as does Lu — confessed with a laugh. She discovered the cafe and taproom on a "wandering drive" about six months back and found her home away from home, she said.
"I stumbled across it and never looked back," she said. "It's like this place is magical. It draws people who are really unique and individual."
"It's a gem," Arvio agreed.
The food and drink lineup here is no-frills but served with intention. Five dollars gets you a sandwich with tuna salad ("the best ever," according to the simply typed and displayed menu), egg salad ("really good"), turkey with provolone or cheddar and apple slices on a choice of bread. There's also a Parisian-style ham and cheese on a baguette and an assortment of avocado toasts. During happy hours Friday through Sunday, there are specials such as lobster rolls ($12), salmon tacos ($4 each) and, for $10, "the best mussels in town," Lu said.
Some of the recipes, cooked up fresh in a 76-square-foot space, come from the small restaurant Lu ran in California's Manhattan Beach in the late '80s. A former critical care nurse originally from Cleveland, Ohio, she eschews a formal title at the depot, calling herself "the person who gets it done" with a grin. Before sitting down to talk about the cafe, she bustles around the station, doling out whistles to the youngest riders, ringing up a patron with a fistful of greeting cards, helping a customer who'd realized she'd left a coat aboard the train.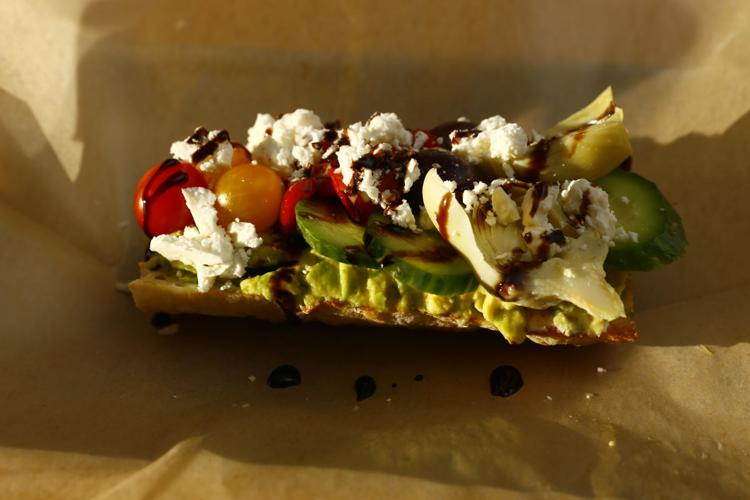 The depot's collaborative spirit was a boon for Chili Line Brewing brewmaster Alexander Pertusini, whose business was at first a one-man operation. He was helping to run his restaurateur father's Pizzeria Da Lino in Santa Fe and decided to get his one-barrel brewing operation licensed and put his beer on tap there. The business continued to grow, taking over the space next to the restaurant. That's where he met Lu and her husband, and the idea to expand to Lamy began.
After the labor-intensive process of building his Santa Fe taproom, Pertusini was elated to discover the Lamy location came complete with a community of craftsmen and artists who pitched in to bring the taproom they envisioned to life, allowing him to focus on the brewing.
"It was incredible. They made that taproom what I always dreamed it would be," he said. "It's a true New Mexico story of community coming together and building something."
Harvey's Cafe functions as something of a permanent food truck for the aptly named Chili Line (whose mascot, incidentally, is the owner's dog). While half of the 16 brews at the original location rotate, the Lamy outpost has just one seasonal offering. The rest — a pale ale, pilsner, milk stout, IPA and a smoked brew, which is the brewery's specialty — have stayed the same.
"It's a slower, old-time vibe," Pertusini said.
But much like the vintage allure of railroad travels, that's part of the charm.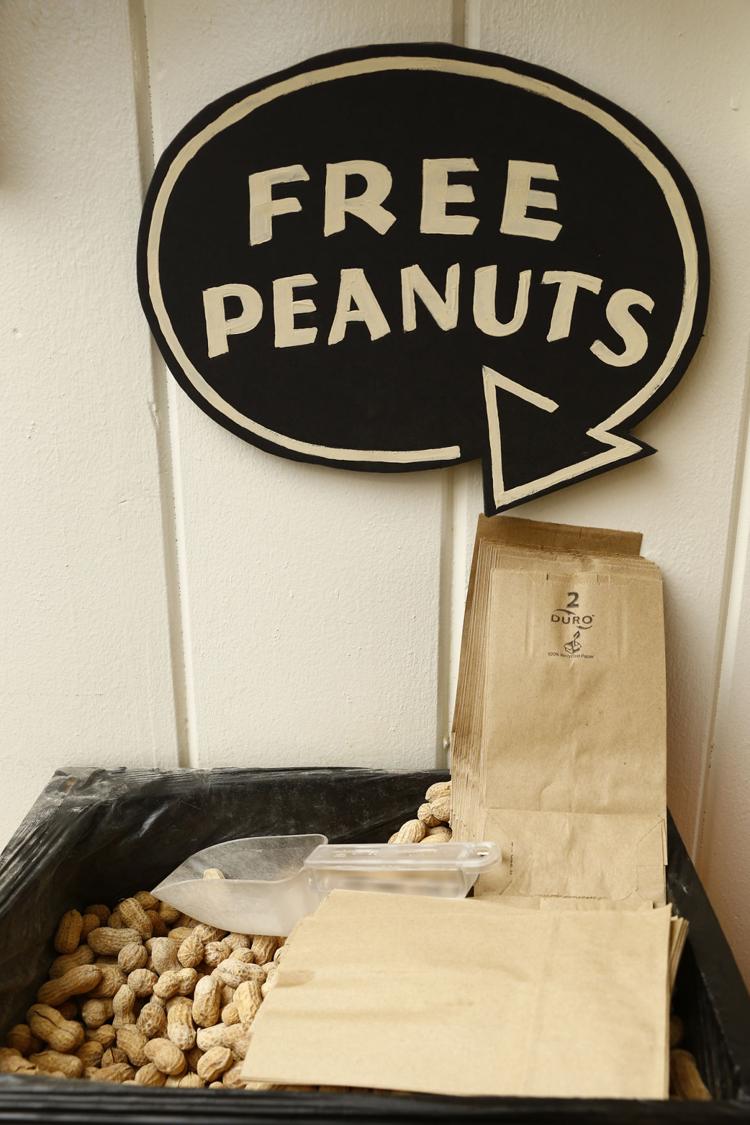 "It's one of the coolest secrets Lamy has right now," he said. "Everybody just falls in love with it."
The depot was built in 1909, but it replaced a two-story structure from the 1880s. Though flagging passenger sales had at one point prompted Amtrak to propose replacing train service with bus service along a significant portion of the 2,265-mile Southwest Chief route that stretches between Chicago and Los Angeles, early last year the federal government announced it will pump $50 million into the Southwest Chief passenger train route.
Lu said the transformation of the depot to include a cafe and taproom, in space that previously was warehouse storage, is part of the broader mission to preserve Lamy's railroad legacy and keep the trains rolling through. The businesses, she said, draw patrons from local ranches, Eldorado, Santa Fe and even Albuquerque — people looking for a locals' spot, people passing through and people simply drawn to the enduring American charm of the railways.
"It's authentic out here; it's real people," Lu said. "And people still take Sunday afternoon drives, and they'll just happen in. They come in and they see this magical depot, and they're hooked."