At first glance, the exuberant pineapple mascot adorning La Piña Loka's sign suggests the old Baja Tacos building is now serving paletas or fruit cups.
But the illustration is a nod to a longtime nickname of owner Luis Ortiz, a Guatemala native who has transformed his space — inside and out — with the colors and images of home.
"I want to get people's attention," he said. "I want people to remember something about our culture, to remember where we come from."
So you'll spot Día de los Muertos iconography on the restaurant's signage — handmade by a local artist friend — but you'll also find the image of a ristra, that New Mexico staple of both utility and décor.
That's fitting for La Piña Loka, which serves both New Mexican classics, such as handheld burritos with red or green chile and Frito pies, and Mexican specialties, including a wide range of tacos and tortas.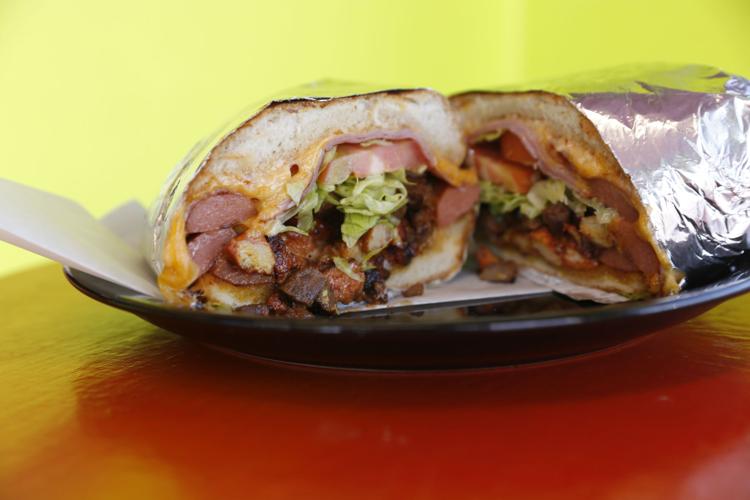 Out front, a large, bold red awning covers most of the lime green patio seating — important infrastructure considering the small scale of the building itself. Most of the restaurant's ground floor is taken up by the open kitchen and serving area, but a small, light-filled front space holds three high tables with stools. The walls are a bright lime green with purple accenting the windows and ceiling.
Ortiz, 40, did the design work himself, and it's clear he is a jack-of-all-trades, with cooking chief among his passions. A trained Spanish teacher and dad to a 4-year-old daughter, he also runs a landscaping business and has been working in kitchens and restaurants for 25 years, he said.
He first began running La Piña Loka as a food truck on Airport Road at the end of 2016.
"That's what I wanted to do — I love to cook," he said. He fondly recalls his mother teaching him culinary skills in the kitchen at home.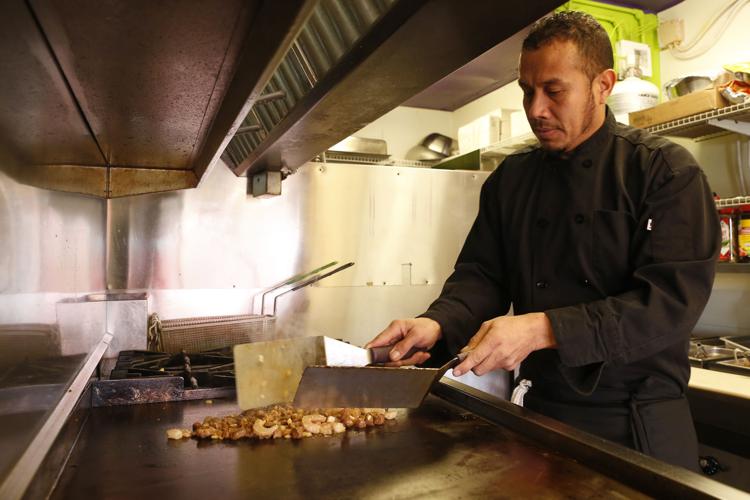 The food truck proved popular, but Ortiz is always looking to grow, he said. So he sold the food truck in 2017 and started cooking at other places around town, scoping out potential permanent properties and thinking about his own menu.
Then in January 2019, Baja Tacos moved from its longtime location down the road to the former Wendy's building in College Plaza. Ortiz knew the property at 2621 Cerrillos Road was the right place for his concept: In addition to the seating out front and inside, the drive-thru caters to busy workers needing to grab a quick bite before their shifts or on their breaks.
He opened the Friday before Christmas, and already he's seen regulars from his Airport Road food truck days stopping in — and spreading the word.
So far, customers' favorite dishes are the torta cubana ($9.50, featuring marinated pork, sliced ham, sausage, cheese, breaded beef, lettuce, tomato, avocado and red salsa inside a split telera roll) and the tacos mar y tierra ($9), which pairs tender steak and delicate shrimp with onion, cilantro and fresh avocado wedges — served four to an order atop corn tortillas from nearby Alicia's Tortilleria — with lime wedges, a grilled jalapeño and cups of slow-burning red salsa and a milder, herbaceous tomatillo sauce.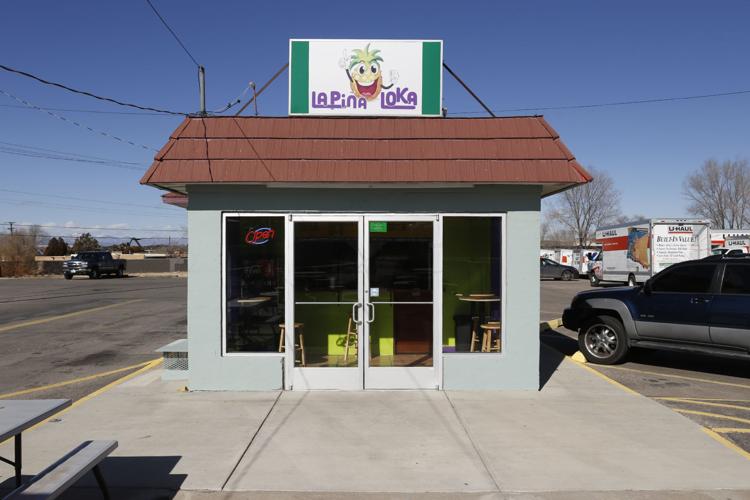 The more than half-dozen taco varieties ($8 to $9), Ortiz said, are a specialty, particularly the crispy fish tacos. The breakfast menu includes omelets, huevos rancheros and burritos served traditionally (with bacon, sausage, ham or chorizo for $7.95), handheld ($4.99) or California style with carne asada or al pastor ($6.25).
There are New Mexican-style enchiladas, a bean and cheese burrito, and quesadillas with a choice of fillings, all ranging from $4.99 to $8.50, and more than half a dozen tortas options. Ortiz said the burgers, including the green chile cheeseburger ($8.99), and fries, onion rings and sweet potato fries have proven popular.
In the summer, the restaurant will extend its hours to 10 p.m. and add fresh-made lemonade, aguas frescas, horchatas and smoothies to the menu. There are more plans in the works for the ambitious Ortiz, but he's coy about details for now.
"This place," he said, "is something to let me grow."