The food and drink scene in New Mexico — and Santa Fe in particular — has a reputation that's very much alive. But to understand the roots of contemporary cuisine, head to the place that excels at bringing tradition to life.
El Rancho de las Golondrinas, that much-loved living history museum on 200 acres just south of Santa Fe, will present its third New Mexico Beer & Food Festival: Panza Llena this weekend. Panza Llena, Corazón Contento, a Spanish dicho, or saying, means "full stomach, happy heart."
The two-day celebration merges historical immersion — talk with costumed interpreters, cook your own tortilla on a comal, see sorghum candy being made — with a chance to try food and drink from present-day vendors and breweries.
"It's not just talking about what happened in the past. We're always trying to find that narrative or that line between the present and the past," said Daniel Goodman, museum director at El Rancho de Las Golondrinas. "And of course food is such a personal and emotional connection for people, so it makes sense that you get people immersed into a culture through the cuisine."
Part of that immersion is exploring how foodways — a social-science term for the cultural, social and economic practices as they relate to producing and consuming food — have evolved over time. In other words: how present-day New Mexican food is informed by the state's Native, Spanish, Mexican and other cultures' heritage.
"What was it like historically; what is it like today?" Goodman said. "How are people carrying on the tradition, bending the tradition, breaking out of the tradition, doing something new and exciting?"
Take, for instance, the beer component of the festival. It's more than just beer for beer's sake: A longstanding history of beer brewing in New Mexico goes back to the late 1800s in the Territorial Period, Goodman said, including a number of breweries in downtown Santa Fe.
Breweries providing samples at the event include Boxing Bear Brewing Co., Tumbleroot Brewery and Distillery, Second Street Brewery, Steel Bender Brewyard, New Mexico Hard Cider, Beer Creek Brewing Co. and Desert Valley Brewing Co.
Food will be served by Bruno's "The Biz," Mafe Café, Tres Colores, Casa Chimayo Restaurant, YouthWorks and Platero Fry Bread & Navajo Tacos. And there are plenty of other vendors offering edible and nonedible products, including A&J Family Farms, Bev's Biscochitos, Le Paris French Bakery, Mountain Man Gourmet and the Santa Fe Honey Salon.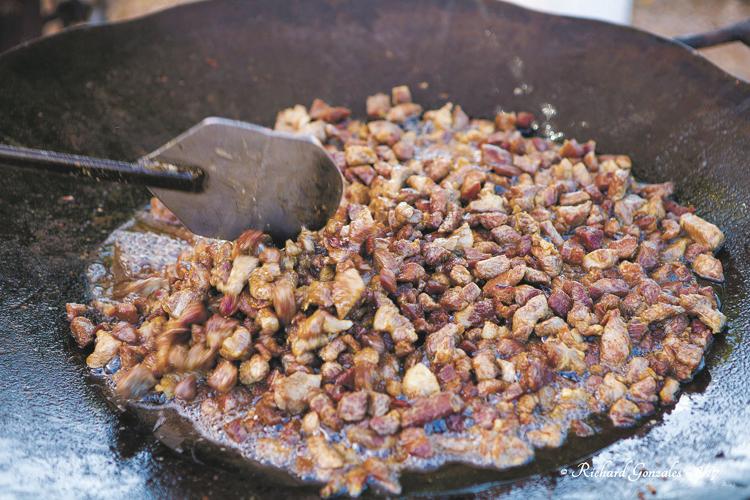 Platero Fry Bread & Navajo Tacos will be serving up fry bread with sweet and savory toppings as well as its signature Navajo tacos, said founder Dora Platero. The tacos — with a frybread base and topped with seasoned meat and beans (or black, white and pinto beans on the veggie version), cheese, lettuce, tomatoes, onions and red or green chile — demonstrate a fusion of Native American with New Mexican and Southwestern cuisine, Platero said.
"The Navajo people have done the fry bread for a lot of years; the taco part is more recent," said Platero, who recalls eating frybread served with stew or topped with roast lamb or mutton. "It's not something I can say we had at our family dinner table when I was young."
A series of "tent talks" will give event-goers a deeper understanding of local cuisine and its history. Isaura Andaluz will discuss chile nativo and the difference between native chile varieties and newer hybrid varieties, and how many "different" chiles across the state are really just an expression of the chile's terroir — flavor that varies according to the location where it was grown.
Rocky Durham of Blue Heron Restaurant at Sunrise Springs Spa Resort will discuss "how indigenous farmers along the Rio Grande are perhaps the most influential culinary contributor globally," he said — and offer listeners an authentic snack to sample.
"Taking pride in our history and current agricultural production connects us with this amazing place we live in," said Durham, who is participating for the third time in the event.
Guests, of course, also can roam the vast expanse of Las Golondrinas and take in the 34 historic buildings.
"People come to living history museums to not only see the real thing but to experience the real thing," Goodman said. "We specialize in immersive environments and getting our guests hands on with history. And in the case of Panza Llena, 'taste on' with history."
The interplay of New Mexico's cultural influences, Goodman said, can be seen in things like the horno, the beehive-shaped oven used by Native people, which was brought here with the Spanish by way of the Moors. Archaeologists have also found evidence that the Spanish relied upon Native potters to fashion Spanish-style eating and drinking vessels for them.
"It's more than just the food itself — we're talking about a cultural exchange, a cultural interaction," Goodman said. "We do see some very hard lines being drawn about what you do eat depending on your culture, but we also see some of that blending of foodways history and culture."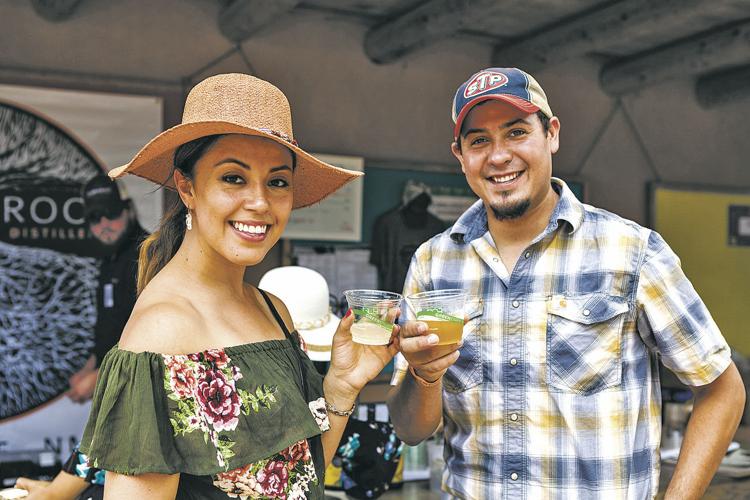 Events like this dovetail with the goals of Las Golondrinas, which include protecting and telling the story of New Mexico, its people and its rich heritage.
"It's a great way for New Mexicans to share their culture with other people but also to gain a greater understanding and pride in their culture as well," he said.