Take one step inside the lush yet whimsical world of the new French macaron shop on Water Street, and you'll feel instantly transported off the dusty streets of Santa Fe.
But thanks to the owner, who shares the shop's name, Chainé is firmly rooted in New Mexican soil.
The dreamy colors of her store and the macarons themselves — wispy pink, pale cream, delicate green — were inspired by the desert landscape.
Flavors and ingredients for the diminutive, meringue-based filled cookies are locally sourced and rich with nods to home: Chimayó chile, lavender, natillas.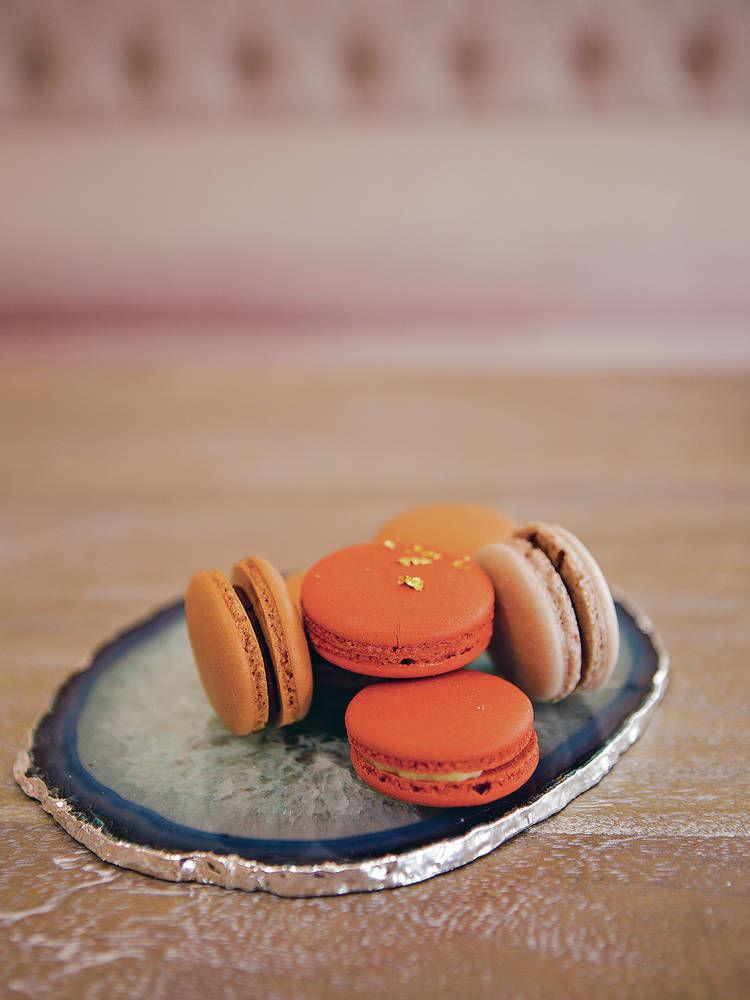 And tucked by a window up front, a small inviting bench beckons patrons to sit and watch the world go by — just as 33-year-old Chainé Peña did as a child visiting the Plaza's Häagen-Dazs outpost.
"Every element tells a story of some part of my life," said Peña, whose family has been in Santa Fe for six generations. "It reminds me of my home and my family, and the nostalgia of growing up and being a young Santa Fean here."
Peña's first name (pronounced "shah-NAY") is a ballet term meaning a series of short, quick turns that move a ballet dancer across the stage, and it's a fitting description for the artistic career path that's led her to this shop, which began its soft opening Oct. 15. A young dancer who graduated from Capital High School, Peña worked in Los Angeles in makeup and special effects for film and TV before returning to Santa Fe in 2010. She traded the Hollywood whirlwind for a more peaceful mindset, spending the next years teaching yoga at local studios.
But thanks to a cooking class during a trip abroad, a love of a certain finicky French cookie was beginning to blossom.
"Macarons are not an easy cookie," she said. "They take time and love and care, and I think that's why I'm so in love with them."
Peña took the macaron-making course in France about a decade ago, she said, and immediately set out to begin making them at home. Santa Fe's elevation, however required a completely different approach.
Now a self-professed "macaron nerd," she began retooling and perfecting her recipe, with tweaks to the flour weight, setting time and even the type of oven (she uses a charming free-standing Blodgett in her open kitchen at the back of the shop).
Macarons (not to be confused with macaroons, those mounded cookies made with shredded coconut) are made with almond meal and egg whites. When baked perfectly, the light and crispy shell-like exterior of the two halves gives way to a chewier interior and a layer of flavorful filling.
Every macaron at Chainé is an artisanal undertaking, individually hand-piped and made in small batches from real ingredients. She points out the tidy "feet," or ruffled edges, of the cookies — a sign of an expertly crafted macaron.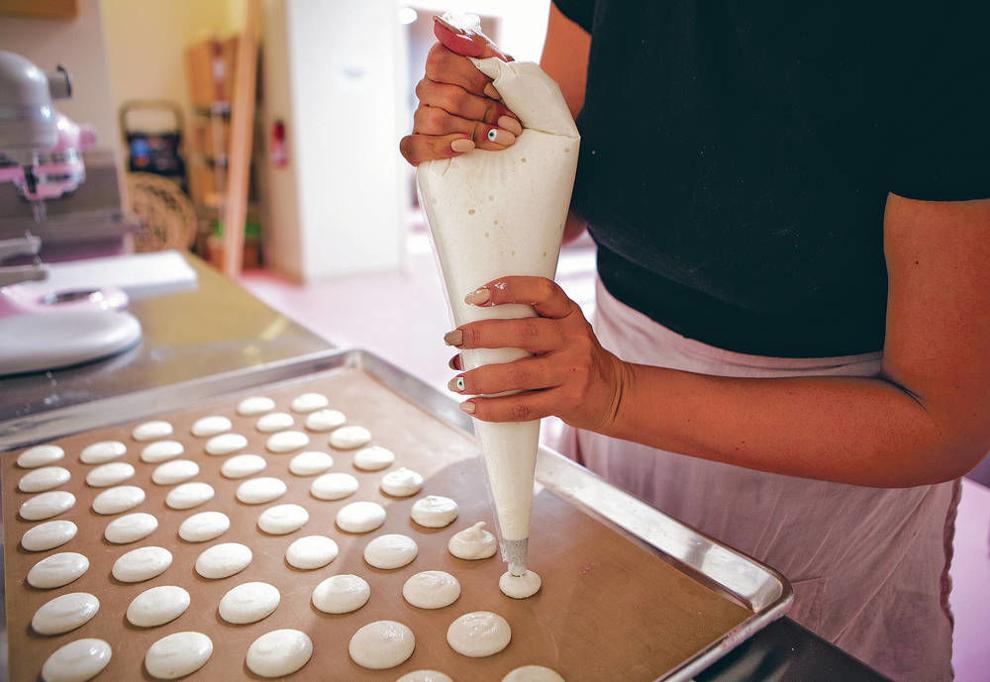 "There's a lot of thought in the details, and there's a lot of intention, too," she said. "I'm very mindful of food and how it should be prepared, and using ingredients as least processed as possible is really important to me."
For the strawberry and rosé macarons ($2.75, like all the varieties), for instance, Peña uses fresh strawberries and a bottle of Gruet that she's reduced to one-fourth cup of alcohol-free simple syrup. And while many macarons contain a single type of filling, she often takes the extra time and effort to use two, as in her lemon-lavender macaron, with a from-scratch Meyer lemon curd center surrounded by a local-lavender cream.
"I love the two flavors because I want the distinction between the elements," she said. "I want it to be this complexity of a dessert in just two little bites."
During her years as a yoga instructor, Peña began offering her macarons to friends and family, then began catering and hosting pop-ups. She quickly gained a following on her Instagram account and began to hear the same question again and again: Where can I buy these?
She began by looking for commercial kitchen space and a tiny storefront, but eventually her search led her to the West Water Street location, across the street from nearby Coyote Cafe & Cantina. She overhauled the place, infusing it with soft pinks, pops of florals and botanicals, and welcoming, striking seats and settees.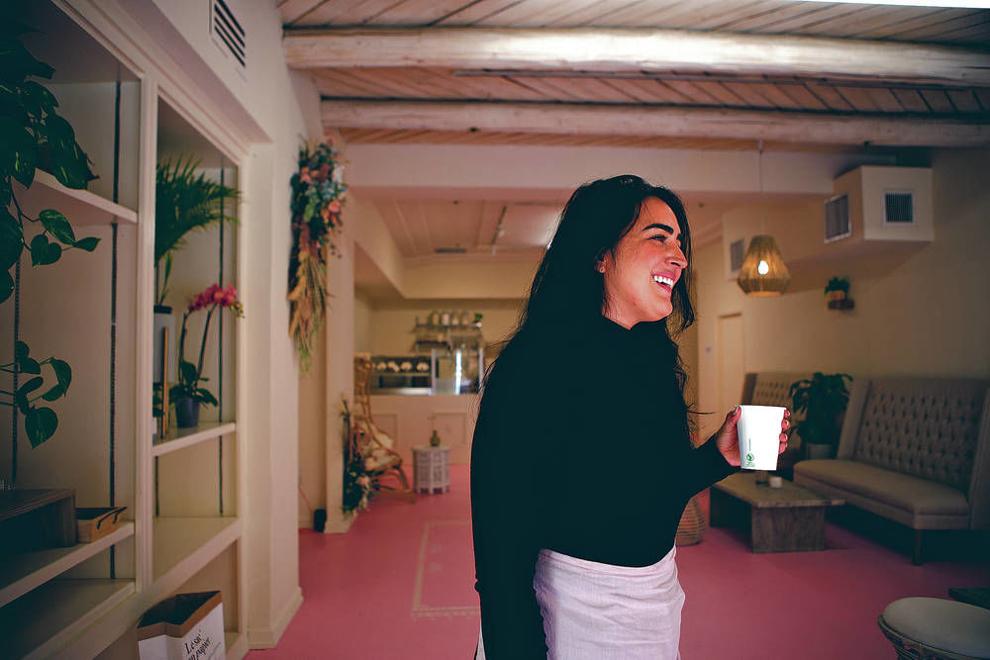 It's the sort of space that cries out for a baby or bridal shower (and a few pint-sized chairs make clear little ones are welcome here, too). Peña plans to welcome parties and host events here, including an upcoming pop-up at which an admission ticket grants guests a macaron, a cup of freshly made chai and a yoga session by one of her friends.
But it's also a space to breathe, to sip, to savor. There's no Wi-Fi at Chainé, and that's on purpose. Macarons, served here on elegant slivers of agate and served with chai or a prepared coffee drink, are all about relishing life's small pleasures, Peña said: They take time to make, and they should take time to be eaten.
"I wanted to make a space of beauty, a place where people could take a moment out of their regular lives to slow down," she said. "I want this space to offer time to enjoy, to indulge and to really be present in the moment."
What hasn't been slow, however, is the pace of business. Peña sold about 600 macarons her first day of business to a mix of friends and family, locals and tourists just passing by. Kids flocked to the raspberry lemonade and birthday cake macarons; others snapped up the churro flavor (really a nod to her great-grandmother's natillas pudding) with its cinnamon cream and dulce de leche center, and the mango Tajin, which pairs the sweetness of fresh fruit puréed into white chocolate ganache and is topped with a tangy sprinkle of the much-loved Mexican seasoning. More adventurous tasters tried the red chile chocolate macarons, with a rich chocolate ganache balanced by the complex warmth of Chimayó chile.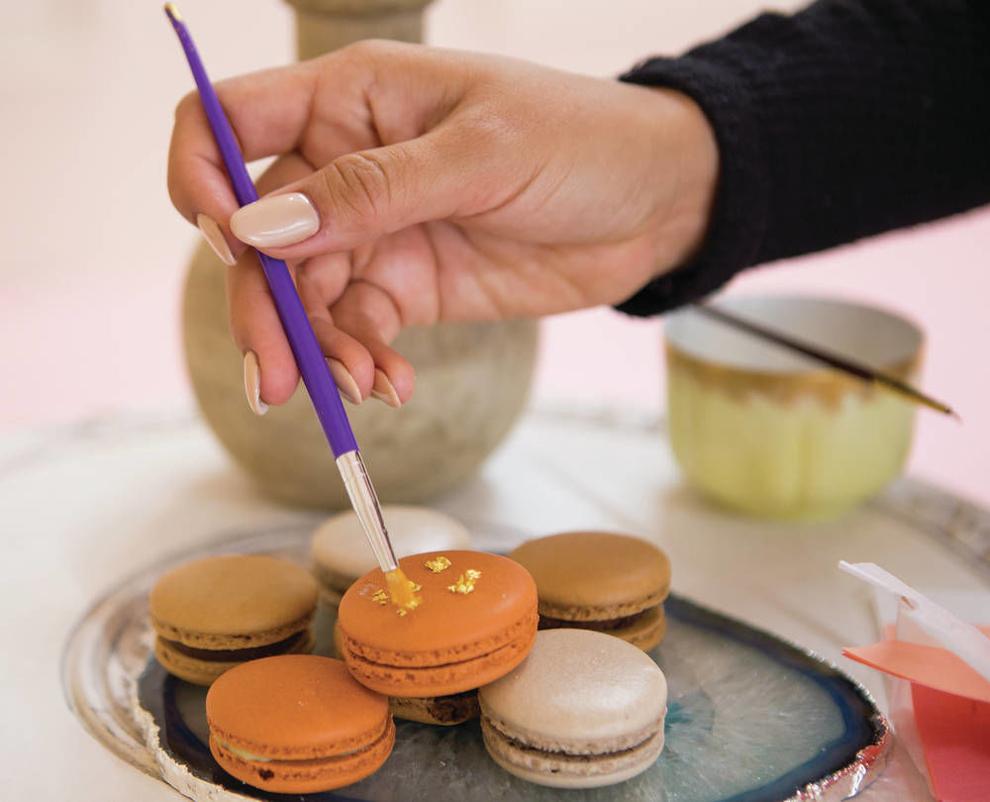 The macaron flavors will change with the seasons, and Peña plans to add two other specialty cookies to the menu: a creme brulee cookie with a soft sugar cookie base and a creme patisserie center that she actually torches, and a piñon chocolate chip cookie with sea salt that's a family recipe. She's quick to point out that Chainé is a specialty cookie shop, not a full bakery, offering "one thing that's done very bespoke, very special to you." She'll bake custom creations for special events and can even use her artistic background to hand-paint, say, Frida Kahlo faces or intricate moons on the surface of the macarons.
Peña credits family with playing a key role in bringing the venture to life, from her mother helping to craft floral decorations to her fiancé prepping for the opening as she ducked out for dress fittings.
Even the shop's open kitchen, with its minimalist design and complementary pinks and grays, is a tribute to her abuelita and memories of her baking "way too much" food for her loved ones.
Her grandmother, now 73, stopped by on opening day to show her support, tearing up at the sweetness of the moment.
"That was the root of my family: The life and the love was in the kitchen," she said. She glanced around at the open ceiling and cozy nooks. "Here, I want you to feel like this is my kitchen, like this is my living room, like I'm welcoming you home."