Behold, the checklist for the perfect cheeseburger: good meat, salt and pepper, a nice melty cheese and spicy green chile.
That recipe for heaven on a bun comes straight from Kathleen Crook, executive chef and co-owner of Market Steer Steakhouse. And she should know: In addition to helming the kitchen of her Santa Fe steakhouse, she's one of seven finalists of this year's Green Chile Cheeseburger Smackdown, taking place Saturday at Santa Fe Brewing Co.
"That's what I think of when I think of a green chile cheeseburger, that's what encompasses it to me," Crook said as she prepared one of her burgers last week. "That's my philosophy with all my food: Keep it simple and buy really quality ingredients and enhance them, not try to make it taste like something it's not supposed to."
Her half-pound burger, the "Johnny C," is topped with muenster cheese, a green chile jam and pickled red onions. It's served on a brioche bun from Boultawn's Bakery. On Saturday, she and a small team will cook 200 of them on-site and cut them into quarters for guests, who will vote on the winner of a People's Choice award. Judges will sample the seven finalists' burgers as well before declaring a "Reigning Chomp."
Last year, chef Marc Quiñones of Albuquerque's MAS Tapas y Vino took home the judges' prize for his Honey Bomb, whose toppings included housemade honey bacon; and David Sellers of Street Food Institute won People's Choice for the second year running with his roasted garlic, bacon and onion green chile cheeseburger, said Stephanie Cameron, publisher of Edible magazine, which hosts the competition.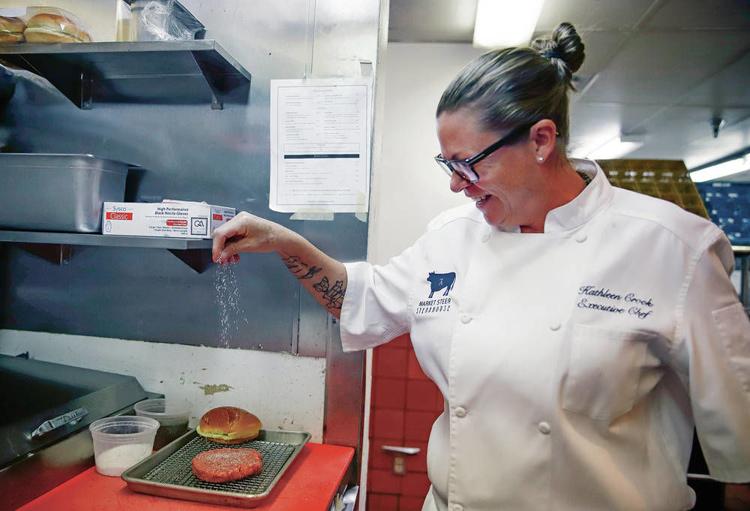 Quiñones makes an appearance again this year among the chef finalists, along with Crook, Jason Stewart of Santa Fe's Luminaria, Sean Sinclair of Las Vegas' Bar Castañeda, Peter Knaus of Pajarito Brewpub and Grill in Los Alamos, Isaac Sandoval of The Skillet in Las Vegas and Jason Baczkiewicz of Albuquerque's Steel Bender Brewyard. Winners get $500 and — new this year — a Big Green Egg grill. Proceeds from the event benefit Cooking with Kids and the Southwest Grassfed Livestock Alliance, Cameron said.
A group of 15 burgers was narrowed to seven by a top-secret panel of lucky judges who traveled the state incognito and tasted each offering.
This year's finalist entries run the length of the green chile cheeseburger spectrum: They come stuffed and topped, served on bakery buns and housemade rolls and tortillas, and dressed up with everything from arugula to queso to "special sauce."
That creativity is the beauty of the burger, said Luminaria's executive chef Stewart.
"Hamburgers are amazing," he said. "Because everyone likes a good burger, but you can customize it however you like."
Stewart created a "Green Chile Juicy Lucy" for the competition, a half-pound burger stuffed with local cheddar jack cheese, jalapeños and green chile, and topped with a host of ingredients including a spicy aioli, crispy opinions and a Chimayó red chile- and cayenne-rubbed bacon, served on a Fano Bakery bun, he said.
Stewart agrees that one of the biggest factors in building a great burger, whether it's in a professional kitchen or at a backyard barbecue, is quality ingredients. Another tip: Only season the outside of the burger, he said. Seasoning the inside will pull out the moisture and make the patty tough. And he recommended "a nice hot pan to get a nice crust."
A little fat doesn't hurt, either. Crook likes to use a coarsely ground 80/20 blend of meat, giving both sides of the patty a generous sprinkle of salt and pepper.
"Always season both sides," she advised during her recent burger demonstration. "A friend of mine asked a chef one time, 'Why do you season both sides?' And he just looked at her and said, 'Because you eat both sides.' "
She slid the patty onto the flat top, using a weight to help it cook evenly. A brioche bun received a coating of butter — "If you have margarine at your house," she said with a grin, "just throw it away and start over" — before she toasted both sides of each half. She recommended home cooks try a cast iron pan for their burger, and toasting the buns in the pan with the fat.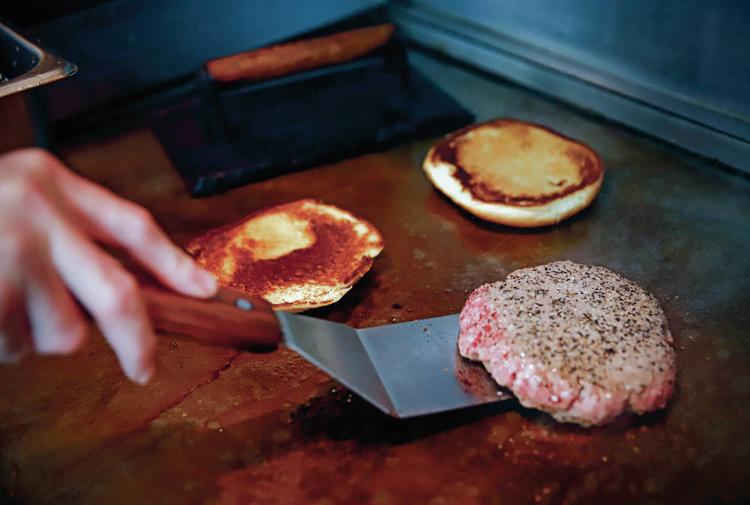 For the chile component, Crook uses Bueno's Autumn Roast to make a green chile jam (her grandmother's recipe) using low-sugar pectin, which binds the chile to the burger. She spooned it over the burger and topped it with a slice of muenster, then squirted a bit of white wine onto the cooking surface and covered the burger with a bowl to help the cheese melt.
Then came assembly time. A simple but piquant pile of pickled red onions atop the patty added brightness and pulled the burger's flavors together, she said.
The result? Just what a chile cheeseburger should be: salty and spicy, buttery and tangy, rich and juicy. And all in less than 10 minutes.
Of course, heaven on a bun looks different to everyone. On Saturday, Smackdown ticket holders will get to try seven versions already guaranteed to have gotten pretty darn close.