Angel's Bakery and Cafe opened its shop in June in the Chamisa Center on Airport Road, and quickly began drawing a devoted following of customers who stopped by to grab an eye-popping croissant or buttery Danish and a cup of coffee on the way to work.
But this family-owned business has been a Santa Fe institution for 15 years, with previous storefronts on St. Michael's Drive and Water Street. Angel's also has been offering its baked goods wholesale to places like hotels, restaurants and coffee shops.
Tradition is baked into the work at Angel's, whether you recognize the name or whether this sweet little spot on the south side is new to you. So is family. The family's patriarch, Jorge Perez, is a lifelong baker who started the business, said son Javier Medrano. His mother, Martha Dominguez, took decorating classes, which allowed Angel's to offer specialty and wedding cakes.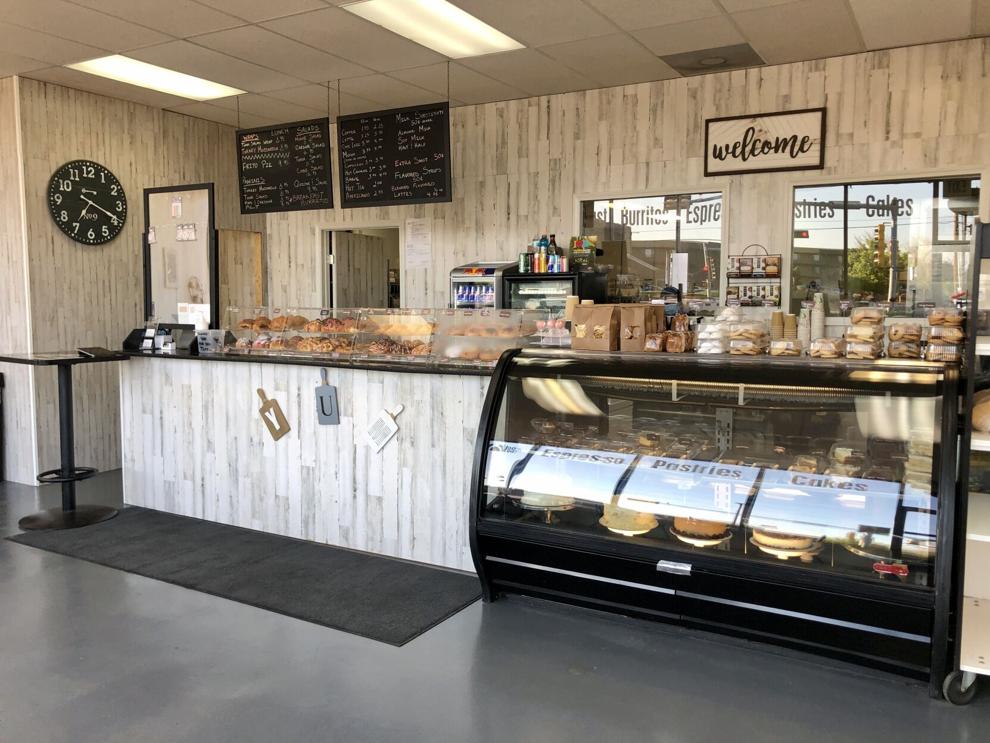 Dominguez has a soft spot for angels, even giving Javier's younger brother the name Angel. Twenty-year-old Angel, who has muscular dystrophy, is the bakery's namesake, Medrano said.
"My mom is an angel fanatic," said Medrano, who works in the front of the cafe with his wife, Yuki Jalalon. "It's always been a family business. My parents have been involved since Day One."
And in this case, it's very, very good to be on the side of angels.
I stopped by just after 7 a.m. on a recent weekday, making my way down largely empty streets that would soon be bustling with school traffic and folks heading in to work or to start their day. (Come early, Medrano advises, to get the best variety, as the goodies are often mostly sold out by day's end.) The clear display cases were packed with rows of choices: big, beautiful sweet and savory croissants, cinnamon rolls and cinnamon sticks, Danishes and bear claws and empanadas. To the side, a few pink cake pops sat next to bags and boxes of cookies, including Mexican wedding cookies, shortbread, chocolate chip, pecan and biscochitos. A glass case housed whole cakes and slices of tarts, key lime pie, raspberry chocolate cake and tres leches cake.
Those weren't all the baked goodies and sweets on offer that morning, and it's not all that Angel's sells, either. It serves espresso drinks using Santa Fe's Aroma Coffee, hot tea and other beverages. And there's a food menu full of grab-and-go favorites, including handheld breakfast burritos and breakfast sandwiches (yes, you can get that on a croissant), wraps, panini-style sandwiches, salads, quiche and Frito pies.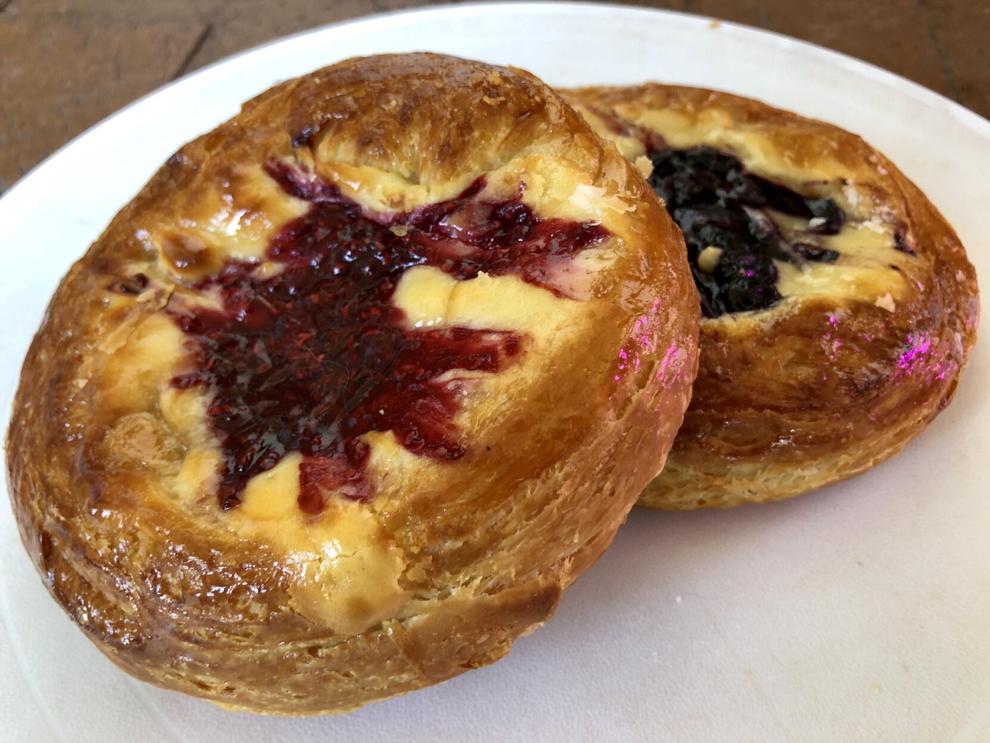 There are so many offerings that Medrano offered a cheat sheet to some of the highlights: The cream puffs are excellent; the raspberry and blueberry cheese Danishes are the top pastry sellers; and the sheer variety of sweet and savory croissants means it's easy to find one you love. (Think chocolate almond, raspberry, green chile and cheese, tomato basil and more.)
And then there's the rice cake, a signature specialty item so popular a few local restaurants have added it to their menus. Developed by Medrano's dad, it's a curious, craveable, creamy combination of cheesecake and rice pudding, with hints of both caramel and cinnamon.
Sliced cakes and tarts are $3.95; pastries are $2.75; savory pastries are $3.95; and a box of cookies is $4.25. Signs at the door and above the counter list prices for drinks and other menu items.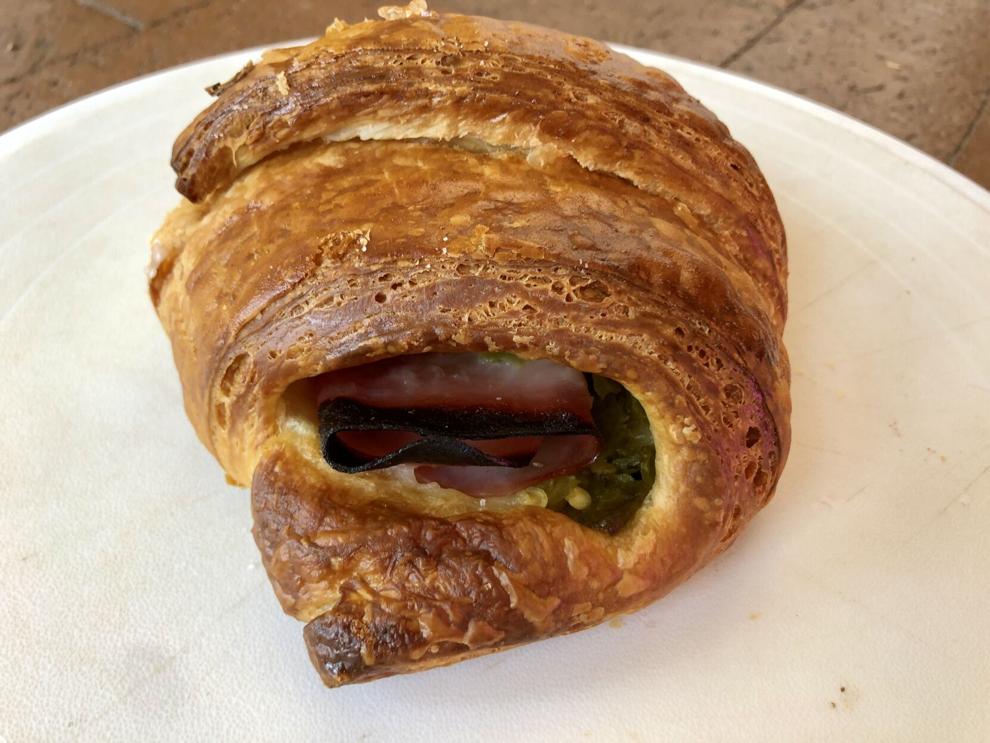 It's impossible to pick a favorite from the array of treats I sampled from Angel's. Was it the rich heartiness of the croissant packed with sliced ham, mild green chile and cheese? The feathery-light cinnamon roll or the perfectly baked empanada with its surprising, bright burst of pineapple inside? The huge cheese danishes and almond wheel that transported me to the work conferences and breakfast banquets of a blissful pre-pandemic time? My kids demolished the burger-sized cream puff, whose delicate layers of pastry, cream and dark chocolate somehow stacked up to just the right amount of sweetness. And that slice of rice cake disappeared by the bite into the stuff of legends.
My favorite — and yours — will depend simply on your taste and your mood. It'd be easy to arrive early and pick out a box full of assorted pastries to star in a special brunch (or to play the role of office hero), but harder to pick the perfect one to go with that morning latte.
Up next for Angel's: working to make smaller-sized pastries that would be great for big groups or even kids. As it expands, Angel's is looking to bring in more crew members, too — but it will still retain that family foundation that's at the heart of the business.
"We want our customers to feel good when they come in and order," Medrano said, "and for them to know that they'll be treated like family."