When I taste, smell or think about Easter pie, I think of my grandmother, Mary Palombo. I think of the family brownstone in the Bronx where she made a version of this pie that was reserved for the most festive occasions of the year. I think of her soft, wrinkled hands holding a white box with red and white butcher twine tied into a knot, and how whenever anyone in my family saw this, we knew what was inside — a flaky, crusted pie filled with thin layers of ham, egg, cheese, salami and sometimes capocollo, also called "gabagool" to my New York family.
This is one of my core food memories, but it's about so much more than the pie itself. I think about the box of Red Rose black tea in the cupboard and what a treat this was with milk and sugar, sitting at the kitchen table covered in a vinyl tablecloth, my grandfather sitting at the head of the table with his magnifying glass and book of stamps.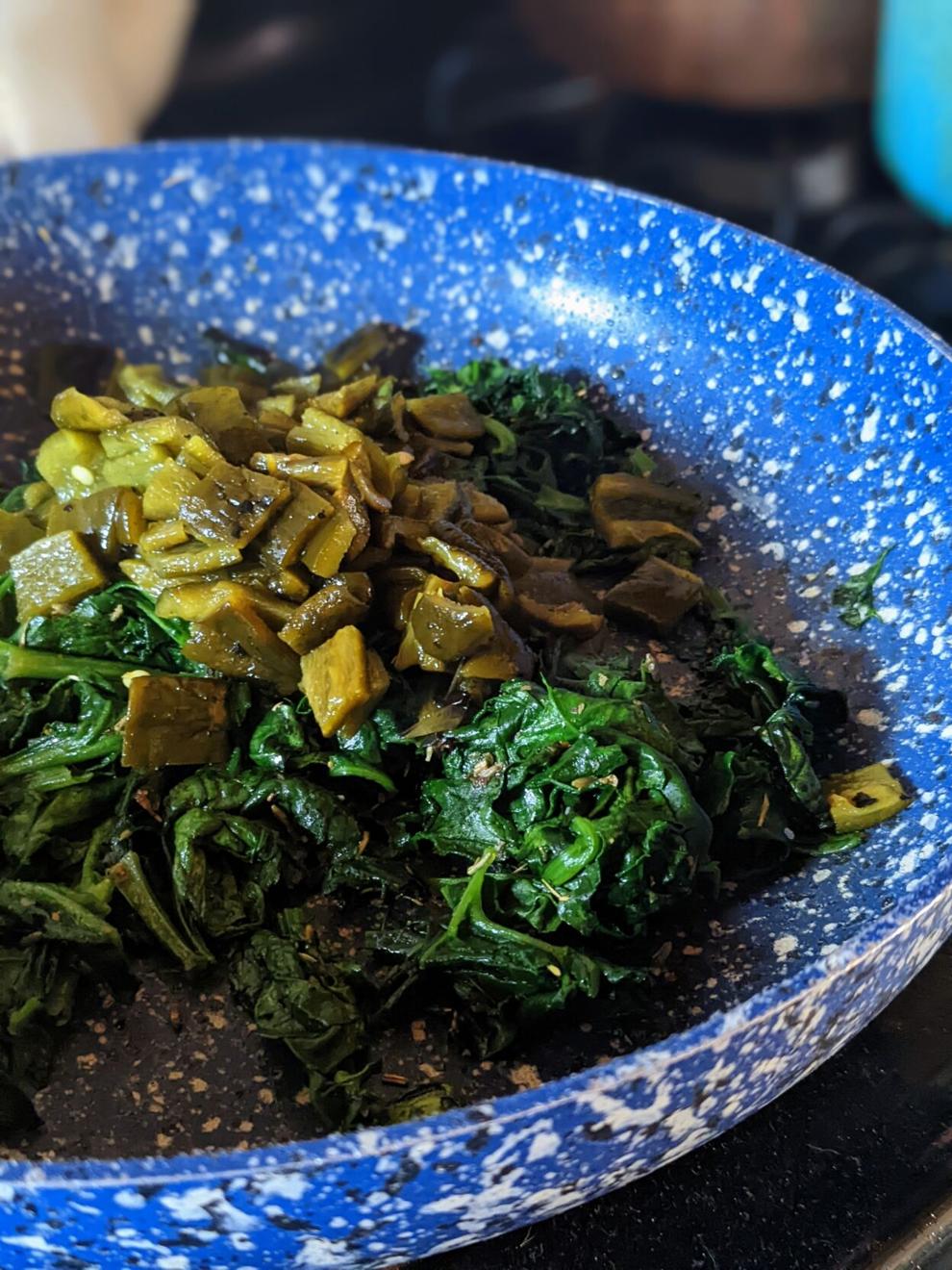 Food lives on a spectrum. At one end resides utility and on the other, sentiment. This simple pie my grandmother made year after year (with store-bought pie dough) resides on the far end of the sentiment spectrum for me, containing memories that would otherwise be forgotten. While sentiment tends to be frowned upon, I cannot help but think this is the best of what food has to offer: A place where nourishment and memories meet, making a path for our children to follow, a living history in the middle of our kitchens.
Normally Easter pie is reserved for, well, Easter. But somehow our family ignored this rule and we called it meat pie, but it is also commonly called pizza rustica and about a dozen other names depending on what region in Italy it comes from. This recipe is a more traditional take on the pie my grandmother used to make and includes a ricotta cheese mixture that bakes similarly to a quiche. I added a layer of spinach and fire-roasted poblanos (when in Rome) and I added a bit more structure to the pie dough by adding some eggs, which makes a strong crust to hold the weight of all the meat and cheese inside.
You'll notice you have some leftover scraps of dough. If you wish, roll this out and make any decorations you want. The day I made this pie also happened to be the day my family was going to visit some new friends who had recently had a special experience at Cerro Pedernal. Even though I was a little nervous, I had an idea. Of course, thoughts were running through my mind like, would it turn out? Would it look weird? Would they think I was weird? But in the end, I decided to go for it and attempted to decorate the pie with the shape of the mesa and the moon, and feeling inspired by the hole I had cut in the middle for steam to escape, I ended up making an upside-down sun. It was a pie to share as the sun was setting over Lamy, but it was something else, too, and I'm reminded of what the American poet Richard Hugo famously said, "Dare to be sentimental."
Easter Pie
Makes: 1 pie, 10-12 servings;
3½ cups all-purpose flour
½ cup (1 stick) unsalted butter, cold and diced
¼ cup cold water, as needed
1 pound whole-milk ricotta cheese
½ cup freshly grated Parmesan cheese
2 cups shredded mozzarella cheese
3 fire-roasted poblano chiles, peeled, seeded and diced
2 teaspoons herbes de Provence or High Desert Herbs
Salt and pepper, to taste
1 tablespoon softened butter, for greasing the pan
¾ pound (12 ounces) any combination of salami, pepperoni or other Italian cured meats
Preparation: First, make the crust. In a large bowl, crumble together the flour, butter and salt until it resembles coarse sand. Add the eggs and water and lightly knead just until it forms a ball of dough. If needed, you can add an additional splash of cold water if the mixture is too dry. Wrap the dough in plastic wrap and refrigerate for 30 minutes.
While the dough is resting, make the ricotta filling: In a medium bowl, stir together the ricotta, salt, nutmeg, Parmesan, mozzarella and 2 eggs. Crack the third egg into a small ramekin, stir and set aside. We'll use this for egg washing the pie right before it goes in the oven.
Now let's make the spinach layer: In a large sauté pan over medium-high heat, add the olive oil. After a minute, add the spinach and fire-roasted poblanos, dried herbs and a pinch of salt and pepper, and cook this until almost all of the water has evaporated from the spinach. Set this aside.
Preheat the oven to 350 degrees. Grease the sides and bottom of a 9-inch springform pan with the softened butter. Pull the dough from the fridge and cut a piece around three-quarters of the dough and wrap the remaining quarter with the plastic. On a lightly floured surface, roll out the larger piece into an 18-inch-diameter circle. Lay this in the bottom and up the sides of the pan, trimming off any excess dough hanging over the edge.
Now it's time to build the pie: Lay 12 slices of prosciutto evenly over the bottom of the crust. This will help keep the bottom of the crust from getting soggy. Now spread half of the ricotta mixture evenly over the prosciutto. Next, add a layer using half of the salami, then evenly sprinkle the spinach and chile mixture. Add the remaining ricotta mixture, spreading it evenly across, and finally a layer of the remaining salami.
Roll out the remaining piece of dough into a 9-inch circle and lay this on top of the pie like a lid. Use any remaining scraps of dough to make decorations for the top if you wish. Make sure to cut a slit or hole in the pie dough to let steam escape. Brush the entire top generously with the egg wash, being sure to brush any decorations with egg wash as well. Sprinkle the top with flaky salt and bake the pie for 75 minutes. Let cool to room temperature (around an hour) before transferring to the fridge to finish cooling, ideally at least 2 hours before serving. This is best served cold, but it's still delicious if you are unable to wait and serve it warm.