Aside from a perfectly ripe nectarine or plum, my favorite fruit (well, technically, a vegetable) for any baked good is rhubarb. It's naturally tart and easily transitions into a perfect combination of sweet and sour with the addition of something sweet, in this case brown sugar. If the idea of rhubarb on its own is too pucker-inducing for you, feel free to add strawberries, blueberries, apricots or a sweet apple variety to mix it up.
There are a handful of flavors that go exceptionally well with rhubarb, so I would encourage you to think about what sounds exciting to you. Flavors like lemon, black pepper, ginger, rose, coconut, cardamom, cinnamon and caramel are some of the first that pop to mind. In this version, I love bringing in elements of the Southwest in the form of lavender and red chile powder to the crisp topping. The floral notes from the lavender and the slight heat from the chile bounce off the bright fruit that has mellowed and melted into a decadent, slightly caramelized saucy delight.
Because the window for growing rhubarb outdoors is short, when I see it at the grocery store or the market, it's hard for me to pass up. It's a celebration of early spring and a reminder of the bounty of summer fruits ahead when rhubarb days will be a distant memory.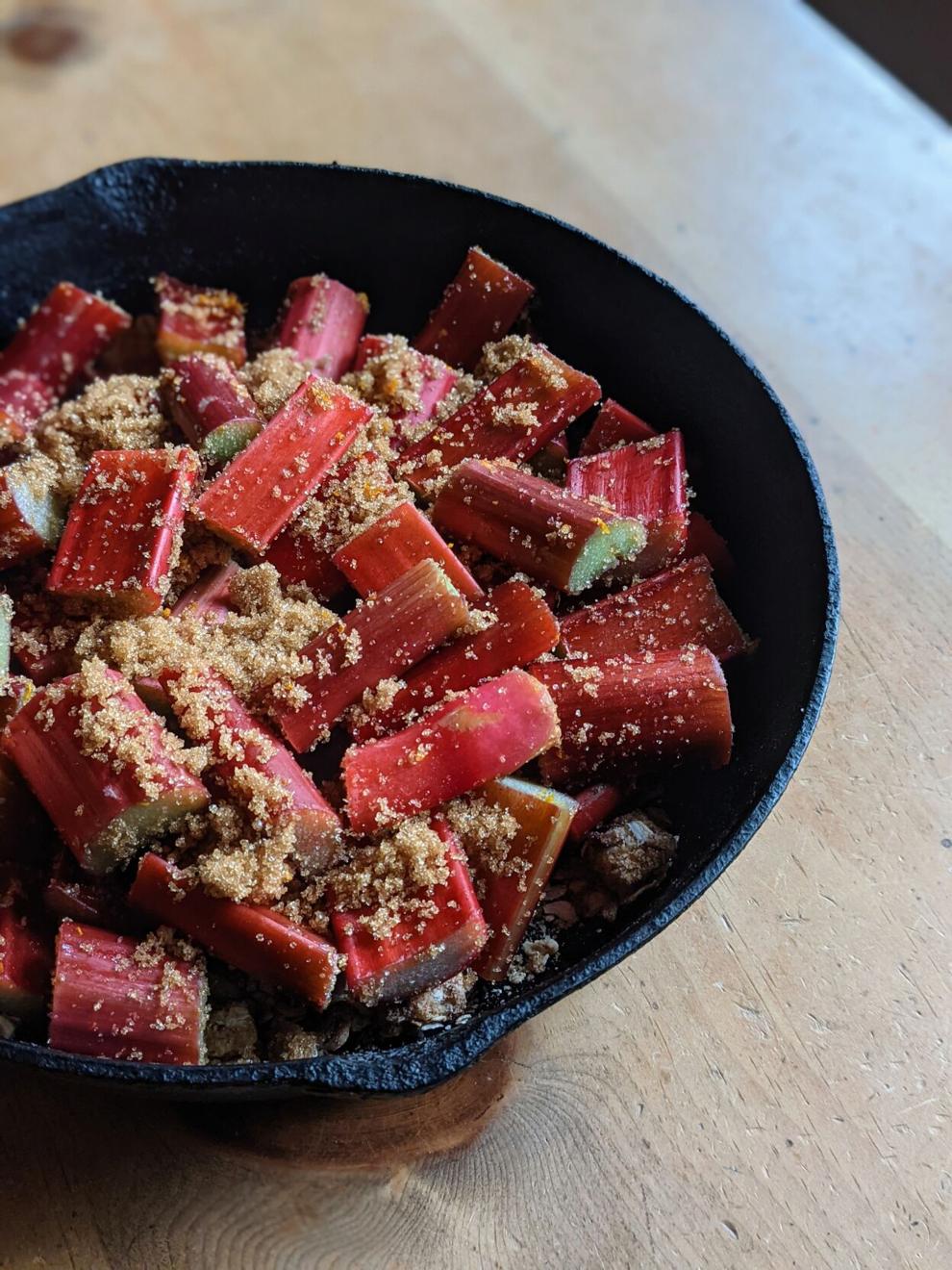 When I make this at home, we usually have it for dessert the first night with vanilla ice cream or fresh whipped cream. As if that is not wonderful enough, we pull the leftovers out of the fridge the next morning and have it for breakfast with a spoon of Greek yogurt and a drizzle of raw honey. I still can't decide which is my favorite.
Rhubarb, lavender and red chile crisp
Makes 6 servings; total time: 1.25 hours
2 pounds rhubarb, cut into 2-inch pieces
1 cup flour of your choice (all-purpose, coconut flour or almond flour)
2 teaspoons ground cinnamon
2 teaspoons New Mexico mild or medium red chile powder
2 teaspoons ground dried culinary lavender
½ cup almond or pecan pieces
Preparation: Preheat the oven to 375 degrees. Butter a 9- to 10-inch baking dish, cast iron or other oven-safe skillet.
In a large bowl, mix together the rhubarb, brown sugar and orange zest. Transfer this mixture to your buttered pan.
With your hands or a wooden spoon, stir together the flour, cinnamon, red chile powder, lavender, brown sugar, oats, nuts and melted butter. With your hands, crumble this evenly over the top of the fruit.
Bake the crisp for around 50 minutes or until the fruit is bubbling and the top is golden brown. Let it cool for 10 minutes before spooning into bowls and serving.