It's a humbling and majestic thing to live in New Mexico as an Italian chef from the Midwest. It's like landing on a different culinary planet. A planet where flavors transcend, reach deeply into the land and sky, then reappear in a simmering pot of green chile sauce.
Take, for instance, lavender. I mostly had experienced lavender in restaurant kitchens as an unexpected flavor profile meant to wow guests, or by getting a whiff from a lotion or candle in a city shop. For almost 20 years I considered it to be my least favorite smell and taste. Then four years ago I moved to New Mexico. There were two different varieties of lavender in my yard, and they smelled nothing like I expected. The high floral notes were grounded with traces of grass and wood, soft musk and worn leather. The flowers were not alone like I had often seen them. They were part of a family, connected to long green stalks and twisting roots. They were growing next to chives and mint. Honeysuckle grew a few feet away. Sometimes there were other scents, too, like roasting chiles and piñon fires wafting from neighboring yards. In the summer, with all these high-desert scents bumping and bouncing off each other, for the first time lavender didn't just make sense and smell good. I was enchanted. It became one of my favorite flavors.
Because of this interconnected Southwest ecosystem where history, ingredients, landscape and people meet, learning about New Mexican food feels like an extraordinary gift. With Christmas around the corner, I wanted to share a special recipe from a special chef.
Over recent months, I have had the privilege of learning about Native cuisine from Lois Ellen Frank and Walter Whitewater through virtual culinary tours hosted by Heritage Inspirations (heritageinspirations.com/virtual-inspirations). Frank, who earned a doctorate in culinary anthropology from the University of New Mexico, has spent more than 25 years documenting foods and life ways of Native American tribes from the Southwest and regions throughout the Americas. In 2007, she started Red Mesa, a catering company specializing in Native American cuisine. I'm grateful she was willing to share her recipes for green chile sauce, tortillas and stacked enchiladas, a dish that has become a staple in my house.
Since the pandemic reached New Mexico, Red Mesa has gone virtual and offers hands-on cook-along classes, demonstration-style cooking classes, holiday family classes, along with a beautiful collection of local food products, cookbooks and posters available on its website, redmesacuisine.com.
"Since we can't get together with other people socially, it's a really fun way to get together virtually," Frank says of Red Mesa's classes. "We're going to talk about what you think when you touch the food, and how those happy thoughts and love goes into everything we make together. When you cook together as a family, it unifies your bond and calls in the wisdom of the ancestors."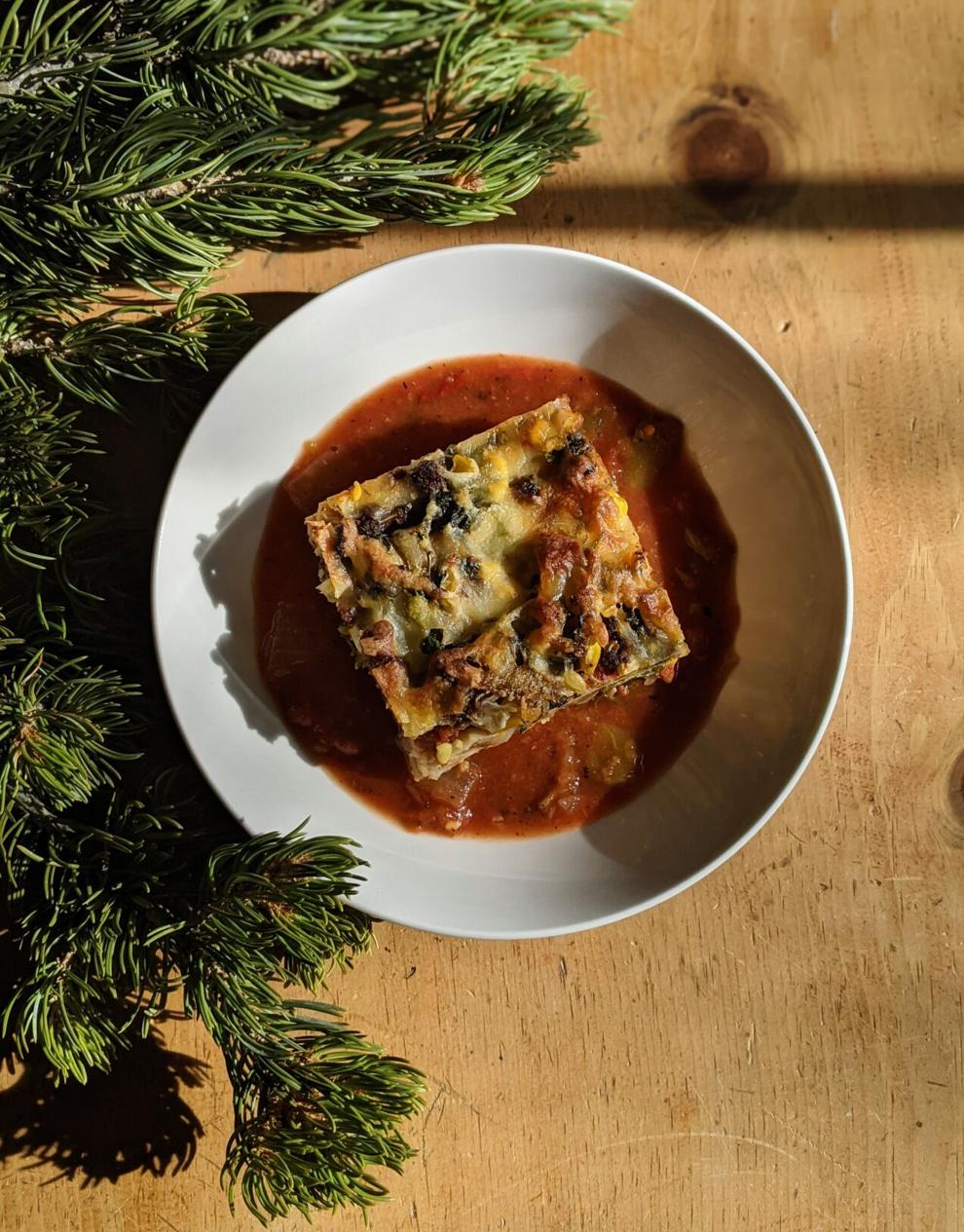 Green Chile Chicken Enchiladas
Yield: 10-12 servings; total time: 21/2 hours
For the green chile sauce:
6 cups New Mexico or Anaheim green chiles, roasted, peeled and chopped
1 28-ounce can chopped tomatoes
1 tablespoon sunflower oil
1 medium white onion, diced (approximately 2 cups)
1 tablespoon chopped garlic (approximately 6 to 8 cloves)
¼ teaspoon freshly ground black pepper
3 cups corn masa flour for tortillas
1½ teaspoons kosher salt (or to taste)
1 rotisserie chicken (meat picked from the bones)
4¾ cups Jack cheese, grated
Make the green chile sauce: Roast the green chiles until completely charred (this can be done over an open flame on the stovetop or by using an oven broiler or an outdoor grill) and then place in a glass or metal bowl covered with plastic wrap to allow the chiles to sweat and cool down. Once the chiles have cooled, peel, seed and chop them. In a medium-size saucepan, heat the sunflower oil until hot but not smoking. Sauté the onion over medium to high heat until it begins to brown. About 3 minutes. Add the garlic and sauté for another minute. Add the tomatoes and cook for another 5 minutes stirring to prevent burning. Add the chopped green chile and sauté for another 3 minutes. Add the water and bring to a boil. Reduce the heat and simmer for approximately 15 minutes. Add the salt and pepper to taste. Remove from heat. In a blender place half the sauce and blend on high for several minutes until completely smooth. Return the blended mixture to the saucepan with the unblended sauce. Makes approximately 2½ quarts sauce for the enchiladas with some sauce on the side.
Make the corn tortillas: In a medium-size mixing bowl, combine the corn flour, salt and water and mix together until you have formed a dough. You can do this with a spoon, but I always use my hands. After the ingredients are completely mixed, use your hands to form balls just smaller than golf ball and set aside. Preheat your seasoned cast iron skillet so that it is very hot. In a tortilla press, place one ball in the center of the tortilla press and press together to make one corn tortilla. I use a plastic bag that I cut in half leaving a seam on one side so that I can place the corn masa ball inside the plastic so that it doesn't stick to the tortilla press. Remove the tortilla from the plastic and place on the cast iron skillet and cook the first side of the tortilla for 30 to 45 seconds, then turn over and cook for approximately 30 to 40 seconds and cook until it puffs and that is the sign that the tortilla is done. Place the cooked tortilla in a kitchen towel inside a basket or bowl and prepare the next tortilla following the same steps. Stack the tortillas on top of each other to keep them warm inside the towel. Makes approximately 21 tortillas.
Make the enchiladas: Preheat your oven to 350 degrees. In a casserole pan or half hotel pan, layer some green chile sauce to cover the bottom of the pan. Place tortillas on top of sauce (approximately 7 tortillas). Spoon more of the green chile sauce on top of the corn tortillas. Evenly place 1/3 the amount of shredded cooked chicken on top of the green chile sauce and then top with 1½ cups of the shredded Jack cheese. Begin another layer. First the corn tortillas (approximately 7 tortillas). Spoon some green chile sauce on top of the tortillas. Evenly place the second 1/3 of the shredded cooked chicken on top of the sauce. Top with another 1½ cups of the shredded jack cheese. Begin the final layer. Place the corn tortillas on top to start the next layer (approximately 7 tortillas). Spoon some green chile sauce on top of the tortillas. Evenly place the final 1/3 of the shredded cooked chicken on top of the sauce. Top with the final 1¾ cups of the shredded Jack cheese. Place in the preheated oven and bake until the cheese browns and you see bubbles on the side of the pan, approximately 30 minutes. Serve immediately.
Note: The bones can be made into chicken stock. Here is Chef Lois Ellen Frank's recipe for homemade chicken stock.
Yield: around 8 cups; total time: 11/2 hours
Bones from rotisserie chicken, broken into pieces
1 tablespoon sunflower oil
3 carrots, loosely chopped
3 celery, loosely chopped
Preparation: In a soup pan, heat oil until hot but not smoking. Add the onion and sauté the onion until it starts to turn brown, approximately 3 to 4 minutes. Add the carrots and celery and sauté for another 5 minutes, stirring to prevent burning. Add the chicken bones and cook for another 5 minutes, stirring to prevent burning. Add the 8 cups of water. Bring to a boil, then reduce heat and simmer for 1 hour. Strain and discard the contents of the strainer. Refrigerate for up to 3 days or freeze.
All recipes courtesy Lois Ellen Frank.