PEÑASCO — Hart Allex slopped a dollop of gasoline on a jumbled pile of snow-dampened ponderosa pine branches and pitched a match on it. The flames sputtered, then suddenly flared up with a crackle. Allex, a retired teacher and builder, had lit up a dozen piles by 8:30 a.m. on a chilly December morning. A crew of local men he's hired monitored the burning piles in the swath of forest Allex owns on a mountainside flanking this Northern New Mexico village.
The piles are the remains of hundreds of trees Allex and his team have cut and piled in the last few months. Allex loves trees, but he's killed a lot of them to help the remaining ones grow healthy.
"I bought this property as a tree hugger, not a tree murderer," Allex said. "It was a rough transition."
But after years of sacrificing some trees to save others, the dense forest he once couldn't walk through with his wife and sons is now open, with space between the pines and grass sprouting up.
Earlier this year, Hart and Utilia Allex were named the 2015 New Mexico Outstanding Tree Farmers of the Year for their work thinning and burning in their forest. It was the second time they've earned the honor given annually by the nonprofit New Mexico Tree Farm Committee and New Mexico State Forestry. Few people have heard of the Tree Farm organization or the award, but for tree farmers like Hart Allex, it's a big deal. "It's a huge 'attaboy' from the only people paying attention to this," Allex said.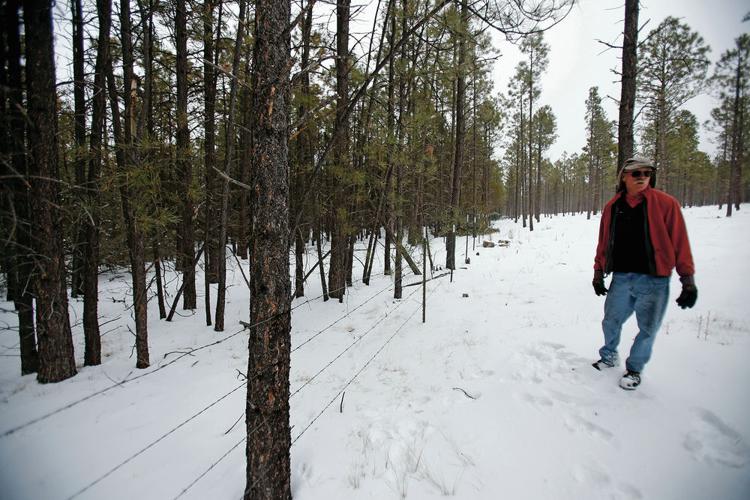 The committee is a chapter of the 75-year-old American Tree Farm System, which encourages private landowners to manage and protect private forests, watersheds and wildlife habitat through a certification program. The national group certifies tree farmers in each state. In New Mexico, the State Forestry Division monitors the private tree farmers and recommends them for certification.
When the Allexes bought their first property in the Peñasco valley in the late 1970s, the trees on it were packed together, growing thin and spindly. No grass grew underneath the shady canopy. No sunlight warmed the forest floor. Little rain or snow could hit the ground.
In the last 30 years, Hart Allex and his crews have thinned trees and brush and burned piles of slashed woody material on about 250 acres. He's paid for the work with a couple of small state grants but largely out of his own pocket. "After burning uncounted piles of slash and watching over 1,000 truckloads of wood go out, we can walk through the resulting park," said Allex, who grew up in Los Alamos and taught in Alaska with his wife, a native of Chimayó, for years before returning home to New Mexico.
Now the trees left behind have grown fatter and taller, he said. The trees are producing pine cones. Wildlife has returned.
"The forests up here are so sterile because of the lack of food that there's little wildlife," Allex said. "Once we break it open and the ground vegetation like shrubs grow, the turkeys, deer, squirrels and other animals have something to eat."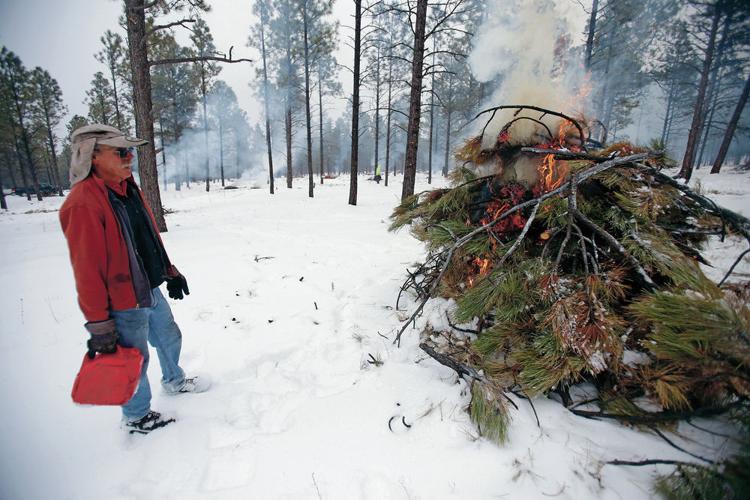 The Allexes are among 180 certified tree farmers in the state managing 143,291 acres of forested land. The New Mexico Tree Farm Committee works with the State Forestry Division to educate private landowners about making their forests healthier.
"We focus on the three W's," said committee chairman Matthew Silva. "Wildfire, wildlife and water."
About 10.8 million acres of New Mexico's 24.8 million acres of forest land are privately owned, according to a 2014 study from the U.S. Department of Agriculture.
Of that, about 280,000 acres of forests on private land are important to the water supply and are at high risk of wildfire, according to a 2016 report by the American Forest Foundation. The group estimates another 520,000 acres of forests on public land are also important to the state's water supply and especially vulnerable to catastrophic wildfires.
These forests, most of them ponderosa pine, historically had natural low-intensity, ground-level fires sweep through periodically, according to tree ring scientists and Southwest foresters. Those fires cleaned out brush and some of the young trees, stimulating grasses and giving space to remaining trees for sunshine and water.
The natural cycle that once kept private and public forests healthy was broken by decades of clearcut logging, livestock grazing and fire suppression. Since the 1980s, foresters have been trying to reverse the impacts, but restoring the cycle takes years.
On his small parcels of land, Allex is trying to re-create what scientists say the forests looked like a couple of centuries ago.
"What we are looking for and what is happening behind my house where we started the project, is the young ponderosa are beautiful, fully needled and happy," Allex said. "That's the complete opposite of what we find in the forest."
Overgrown forests where natural fires weren't allowed to burn for years now present a greater risk of major wildfires, especially during drought. Wildfires have grown increasingly large and catastrophic, burning on mountains that are the source of clean water for rivers and people. After wildfires blister through an area, it is vulnerable to rain washing sediment, ash and debris into reservoirs and rivers.
"If we don't thin or log and burn on a regular basis, then God burns it down by the millions of acres a year," Allex said.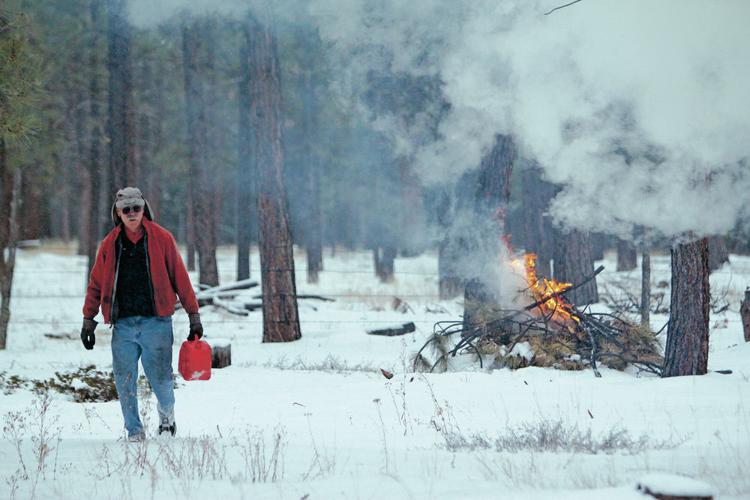 Managing forests is important in protecting watersheds.
"Watersheds are the source of all the water we use," said Andrew Fredrick, Resource Management Bureau chief for State Forestry. "Water enters the watershed as rain or snowmelt in the highlands. It soaks into the ground to replenish aquifers and gathers in ponds and creeks that feed larger streams and rivers.
"A healthy watershed acts like a sponge," he added, "absorbing, storing and slowly releasing water. Cooperatively managing the forests within watersheds can help ensure water quality and quantity for all end users."
The State Forestry Division provides free technical assistance to private forest owners. State foresters help private landowners craft Forest Stewardship plans, inventory trees on a property and suggest the best way to manage them into the future.
State Forestry also has teamed with New Mexico State University to create a New Mexico Prescribed Fire Council, open to anyone interested in learning how to safely use fire to help manage private property. The council offers prescribed burning workshops and is building a trailer that property owners can rent, filled with the tools needed "to safely conduct a pile or broadcast burn," said Doug Boykin, chief forester with the state's Socorro District.
Back at his property near Peñasco, Hart Allex walked to the next pile with his matches. His forest work isn't going to end anytime soon. The Allexes keep buying small parcels of land with dense forests. Trees keep growing. The forests need to be periodically thinned and burned, Hart Allex said.
Slowly, he's seeing the difference in the forests. "It was a laborious nightmare when we started," Allex said. "When I see the changes now, I get a hell of a rush."