One of the most exquisite productions Santa Fe Opera has mounted during the past decade was of Puccini's Madama Butterfly, which opened the 2010 season. It returned on Saturday night, now reflecting the passage of time. Lee Blakeley, who conceived and oversaw the original production, passed away last summer. Taking over as director is Matthew Ozawa, who has respectfully retained its salient features and its enchanting spirit while adjusting some of its details.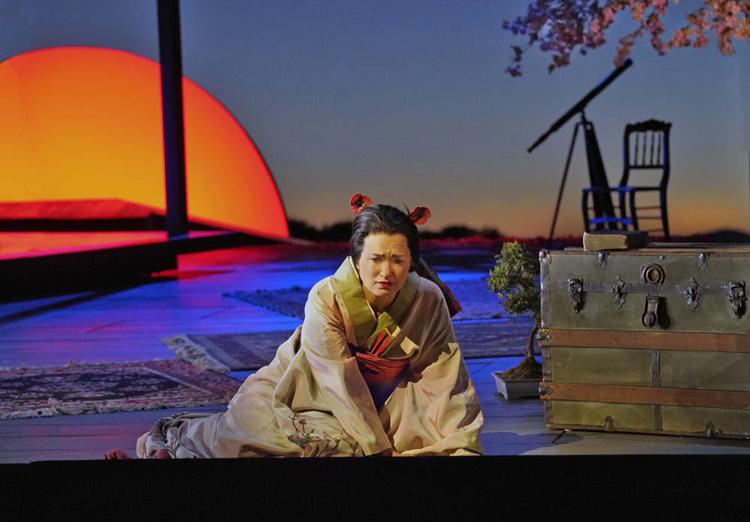 The sets, lighting, and costumes, crafted to evoke Japanese realism circa 1900, are as refined as we remembered them. Jean-Marc Puissant's sets, perfectly scaled for our stage, focus on a small, cube-like house that is easily reconfigured through the placement of shoji screens. The house can be rotated to yield different perspectives, an effective device. Costumes, by Brigitte Reiffenstuel, reflect punctilious historical style and are beautiful to behold — not just the sumptuous wedding kimono of Cio-Cio-San (Madama Butterfly) but also the earth-toned outfits worn by the other women. In the world of the stage, we often take little notice of lighting design. Here, Rick Fisher's illumination assumes a starring role in its own right, inspiring gasps of amazement without ever distracting from its main job, which is to enhance the drama being played out.
The opening tableau is gorgeous: at the little house recently leased by Lt. Pinkerton, workers buzz about delivering furniture while an immense sun hovers on the horizon. This being Santa Fe, it is a meta-image, a stage sun glowing against an actual sunset (a lovely one on Saturday); and Fisher's lighting infuses the stage sun with an ever more effulgent hue before it finally yields to nighttime. Before darkness falls, Cio-Cio-San and her female attendants make their entrance in a stately procession from the rear of the stage, a magical episode that makes the audience hold its breath.
So it goes throughout the evening, with conductor John Fiore and his orchestra providing dramatic sweep that lets the onstage action maintain long expanses of quietude without any depletion of dramatic energy. This opera includes a number of powerful confrontations and outbursts, to be sure; but, on the whole, the impression is one of disciplined composure. In this rendering of the sad tale of the Japanese maiden who weds — and is then deserted by — an American serviceman, Ozawa trains our attention on Cio-Cio-San's unwavering certitude, on her strength rather than her fragility. In this beloved heroine in her little house, Ozawa has found what T.S. Eliot called "the still point of the turning world."
The acting is consistently excellent throughout the cast, with Ozawa allowing no extraneous embellishments that might dilute the dramatic effect. The singing is commendable, characteristically American in style rather than innately Italianate. Soprano Kelly Kaduce reprises the title role, which she originated in this production eight years ago. Her tone has not quite realized the radiance it seemed to promise then, and her vocal production showed occasional effortfulness. No matter: her portrayal was powerful, rising to heartrending passion especially in her Act One love duet with Pinkerton ("Viene la sera") and, in Act Two, her scene with her son, Dolore (Trouble), and the extended cascade toward her demise. In 2010, she assumed a more Americanized character in Act Two, playing the part she imagined her husband would appreciate if he were there. (She does not comprehend until late in the game that he has deserted her.) This revival tames that idea; she wears her Americanized traits more lightly over a core than remains at heart the Butterfly of the opening act — an improvement that lends credibility and even intensifies the clash of cultures that is part of this story.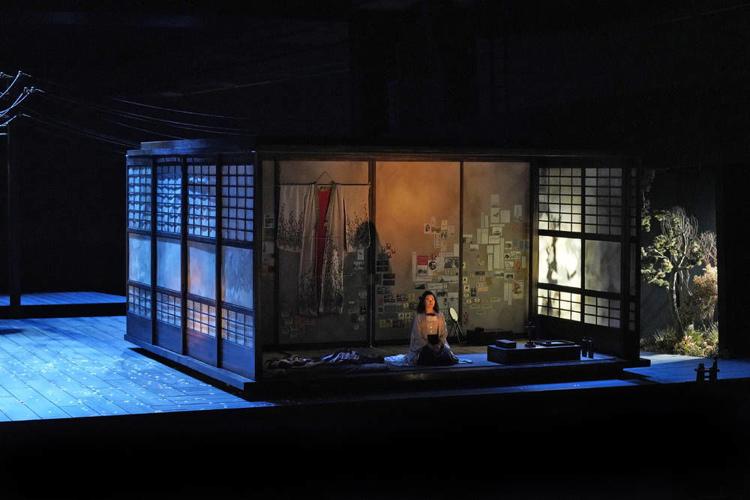 Tenor A.J. Glueckert appears as Lt. Pinkerton — here Francis Blummy Pinkerton rather than the Benjamin Franklin Pinkerton to whom we are accustomed, since Fiore has chosen to use a variant of Puccini's score that calls him that. He took a while to settle in vocally, and during his first half-hour the orchestra sometimes overpowered him. Once acclimatized, he displayed vocal security, yielding a robust, rather Germanic-sounding interpretation that was solid if not particularly suave. Firm singing also arrived from baritone Nicholas Pallesen, who brought rich, warm-hearted tone and benevolent bearing to his portrayal of Sharpless, the American consul who tries to clean up the mess Pinkerton leaves in his wake. Suzuki, Cio-Cio-San's devoted servant, is onstage a great deal, but Puccini did not provide her with a single solo aria. One regretted it here, as mezzo-soprano Megan Marino displayed a precise, tautly focused intensity. She and Kaduce blended to fine effect in their duet "Tutti i fior."
Small parts were also well served by tenor Matthew DiBattista, as the opportunistic marriage broker Goro, and mezzo-soprano Hannah Hagerty, an apprentice artist, who portrayed Kate Pinkerton with sympathetic dignity. Bass Soloman Howard made tremendous impact in his fleeting appearance as the furious Bonze. He appeared here in 2016 as the Commendatore in Don Giovanni, and we hope we may hear him soon in more than a walk-on-walk-off role.
Santa Fe Opera's production of Madama Butterfly continues with performances at 8:30 p.m. on July 6, 11 and 20; and at 8 p.m. on July 30 and August 4, 8, 13, 18, 22 and 24. Visit santafeopera.org or call 505-986-5900 for ticket prices and availability.