It was all pomp and circumstance Monday night as Mayor Alan Webber and four city councilors — three newcomers and one incumbent — took the oath of office before an audience of more than 800 at the Santa Fe Community Convention Center.
But starting Tuesday morning and for the next four years, they'll have to get to work.
"It won't always be mariachis, rainbows and unicorns," Pojoaque Pueblo Gov. Joseph Talachy advised the city's newly elected officials during the opening prayer, generating laughter from the crowd.
Webber and his new colleagues said they're ready to roll up their sleeves.
"The reality is I started work Wednesday morning [after last week's municipal election], and we're going to keep working for four years and be the mayor that people want and try to make change for everybody," Webber said in a brief interview while being ushered to a reception after the swearing-in ceremony.
Exactly what that change will look like is a big question mark that has some city employees feeling optimistic but others apprehensive. Webber, a successful entrepreneur who has been involved in politics but never held elected office before, is a relatively unknown figure at City Hall whose management style remains to be seen.
"We know change is coming," a city employee said privately. "We just don't know what it looks like."
City Manager Brian Snyder said there's a feeling of "hope and optimism" among city employees who are glad the election is over.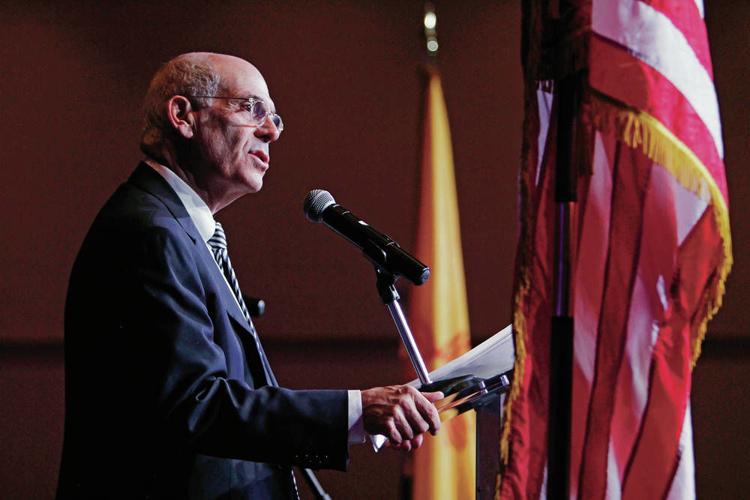 "I'd be naive to say that there wasn't apprehension or nervousness. There's always that with any change," he said. "Staff is used to change, and they're getting accustomed to it. At the same time, there's still the unknown of what it's going to shape up to be."
Webber, who was elected in a record turnout election, will be the city's first mayor under a new form of government that makes the position a full-time chief executive officer with new powers. Along with the new responsibilities comes a six-figure salary.
Webber, who plans to be at work at 8 a.m. "shaking hands with city employees" and "thanking them for their hard work," was coy when asked what the workforce should expect under his leadership. When pressed for an answer, Webber said city employees "should expect somebody who respects their hard work and who believes in listening and learning from them because they have a lot of knowledge about how to make the city better."
"We'll be opening up an ongoing conversation with the city employees and with people who really want to participate in city government at all levels," he added.
Webber won't be going at it alone.
Also sworn in Tuesday were incumbent Signe Lindell and newcomers Roman "Tiger" Abeyta, Carol Romero-Wirth and JoAnne Vigil Coppler.
"We all want the best for Santa Fe," Lindell, a former university professor and city planning commissioner, told the audience. "We sometimes disagree on how that looks or what the process is, but we all want good for the city."
Abeyta, a former Santa Fe County manager who is now the head of the Boys & Girls Clubs of Santa Fe/Del Norte, delivered the most rousing speech, saying he would use his voice to "protect" the southwest-side District 3.
"While it is not my intent to pit one district against another, there will be times I won't vote with some of you, and I will respect when you can't vote with me," he said. "Mayor Webber, if there is ever a proposal that I personally favor or support, but it is not in the best interest of my district, I will vote no."
"OK," Webber said from his front-row seat.
Abeyta addressed city employees directly and shared his story of starting his career in government as a dog catcher. As a city councilor, Abeyta, who is married to a city employee, said he would work to create advancement opportunities for them.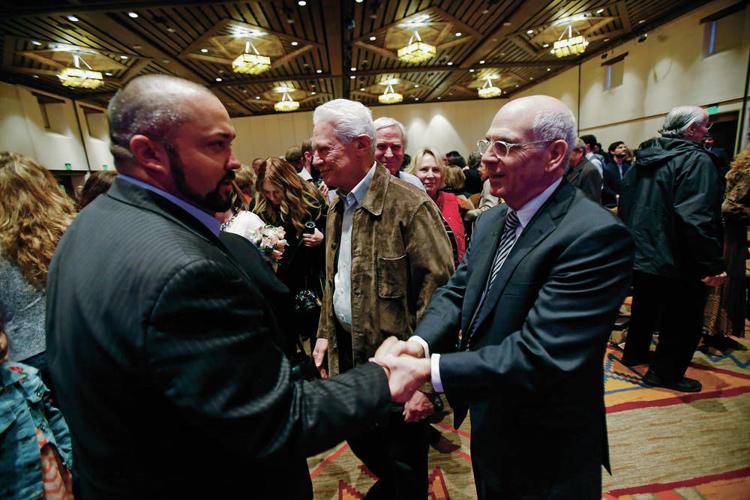 Abeyta noted that Santa Fe voters picked a full-time mayor for the first time, elected two more women to the eight-member City Council and participated in the city's first ranked-choice voting system.
"While this election will go down in our city's history with these milestones, of greater significance will be the next four years," he said. "May the voters, the residents of our city, and most importantly, our children, judge us not by the promises of the last six months but by our actions over the next four years," he said, generating applause.
During a nine-minute speech, Webber said Santa Fe's future is "hiding in plain sight."
"It is a future of unlimited potential," he said.
Webber spoke of a future of "equity and inclusivity" and "a future of compassion and respect and sanctuary for every member of our community — every member of our community."
"We take up this work because it is who we are, who we have always been, and because it is what we want for ourselves and our children," he said. "And when the presidential administration fails us, we will continue to take care of our own. Santa Fe doesn't care what race you are, what country you come from, or whom you choose to share your life with. All are welcome here, and we will care for one another. After all, that is how Santa Feans have survived for centuries."
Community leaders said they were excited about the future under Webber's leadership.
"I think the question is what happens when we get to work tomorrow," said William "Bill" Smith, president and CEO of the Santa Fe Community Foundation. "But I'm really hopeful about it. I think Mayor Webber is going to be a great leader. He's a visionary, and I think we have a real opportunity to transform our city and move it forward."