Currently closed. Opens Monday at 7:30 AM.Currently closed. Opens Tuesday at 7:30 AM.Currently closed. Opens Wednesday at 7:30 AM.Currently closed. Opens Thursday at 7:30 AM.Currently closed. Opens Friday at 7:30 AM.
1124 Calle La Resolana, Santa Fe, NM 87507
tel. 505-983-6670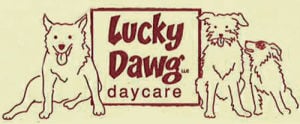 4 images
A quick glance at any sidewalk or dog run in Santa Fe might leave the impression that dogs outnumber people in New Mexico's capital city. The City Different loves dogs, but the thought of leaving an active dog inside all day while their owner is at work gives most owners pause. Fear not, because the staff at Lucky Dawg Day Care offer dog lovers a quality dog day care service to fit their budgets. To ensure a quality match for the daily group of canine friends, the staff at Lucky Dawg implements a temperament assessment, in addition to the typical immunization and health checks, before admitting new canine members. Dogs over the age of seven months must be spayed or neutered and be current on their immunizations to be considered for the day care program. Lucky Dawg caters to dog owners in Santa Fe, but welcomes canine guests from out of town as well. For owners looking for a better relationship with their canine companions, Lucky Dawg Day Care offers obedience classes for owners and their pets on the weekends. Dog owners can find information about classes and the class calendar on Lucky Dawg's website. If you have a canine family member in need of exercise and fun during the weekday, contact Kathy and the staff at Lucky Dawg Day Care today.